Do you have swollen and tender red streaks that start at an opening in the skin and radiate to the armpit or groin? If so, you may be suffering from lymphangitis, a bacterial infection that is commonly caused by the same bacteria that causes strep throat and cellulitis.
Lymphangitis is an infection that can spread within hours. In fact, in severe cases, it can spread into the bloodstream and infect the entire body, which can be life-threatening. However, when lymphangitis is treated quickly and properly, this bacterial infection in the lymphatic vessels will go away. And so will the red streaks. Although the most common form of conventional treatment is antibiotics, and in some cases this is necessary, there are also natural ways to fight bacteria, viruses and fungi that cause an internal infection like lymphangitis. And these natural remedies don't come with a slew of side effects and the threat of antibiotic resistance.
---
What Is Lymphangitis?
Lymphangitis is an infection that involves one or more of your lymphatic vessels. Streptococci bacteria that enter the lymphatic vessels through a scrape or cut in your arm or leg often cause it. First the bacteria  infect your skin and the tissues just beneath the skin. Then they spread to the lymph vessels. These are thin-tubed structures that carry lymph and white blood cells through the lymphatic system. (1)
The lymphatic system is in charge of protecting us from infection. Lymph travels around the body through a network of lymphatic vessels. These vessels drain fluid from the tissues and then transport it back to the lymph nodes. The lymph nodes then destroy any bacteria or other harmful substances before the lymphatic vessels carry the newly cleaned fluids back to reenter the bloodstream. In the case of lymphangitis, the lymphatic vessels become infected. This causes red streaks that radiate to the lymph nodes. (2)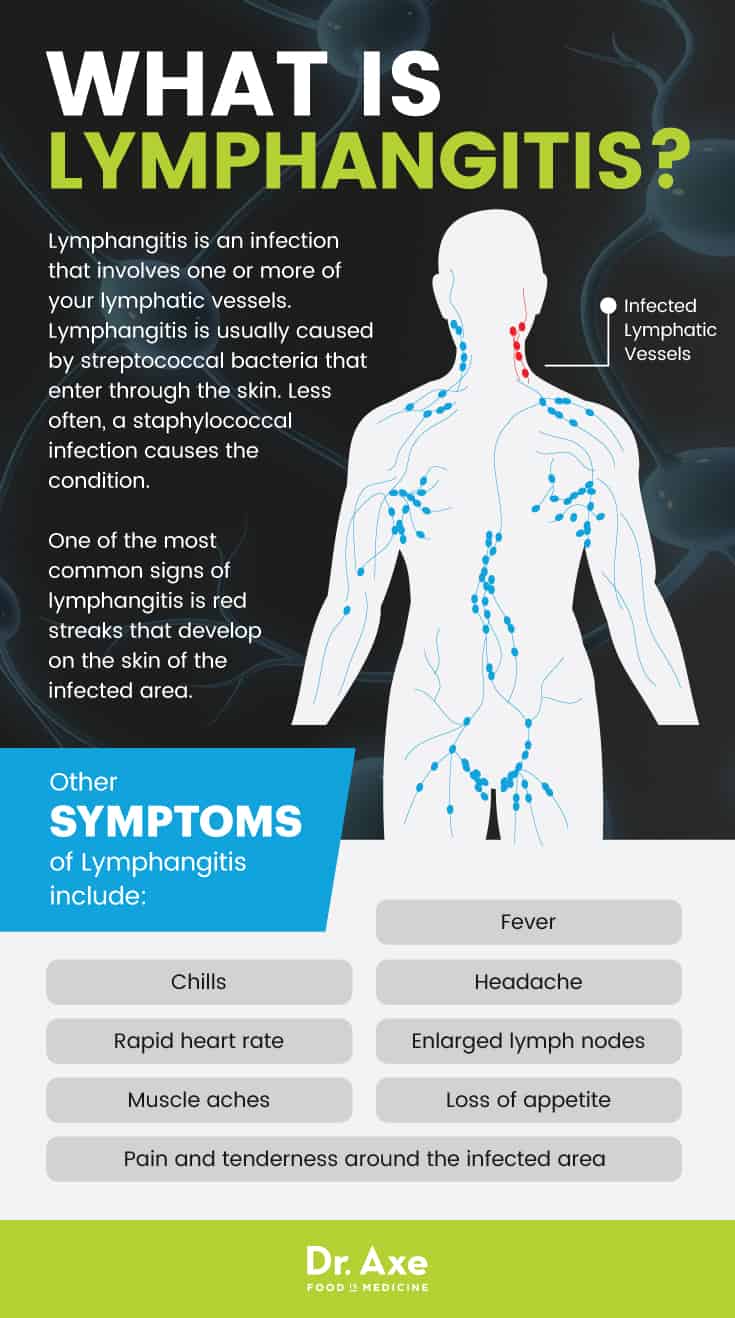 ---
Common Signs and Symptoms
One of the most common signs of lymphangitis is red streaks that develop on the skin of the infected area. These streaks may be warm, tender and enlarged. They usually stretch from the infected cut or wound to a group of lymph nodes, such as those in the armpit or groin. The infected wound will usually have a swollen, red circle around it. Then red lines will radiate from that area. These streaks usually follow lymphatic routes. So if several people have lymphangitis in the foot or in the same spot on the arm, the streaks will all be similar for all of them. (3, 4)
Other symptoms of lymphangitis include:
fever
chills
rapid heart rate

muscle aches

pain and tenderness around the infected area
loss of appetite
In severe cases, the infection spreads from the lymphatic system into the bloodstream, causing an infection throughout the body. This is called sepsis and it can be a very serious condition because it may lead to tissue damage, organ failure and even death. If the doctor suspects that a patient has sepsis, the patient will require immediate and urgent treatment with IV antibiotics. Some common signs and symptoms of sepsis include hypothermia, a heart rate greater than 90 beats per minute, a fast respiratory rate, confusion, edema and high blood glucose levels.
---
Causes and Risk Factors 
Lymphangitis is usually caused by streptococcal bacteria that enter through the skin. Less often, a staphylococcal infection causes the condition. Streptococcal infections can spread in a number of ways, causing many different health issues, including strep threat, scarlet fever, impetigo and cellulitis. The bacteria can spread by coughing or sneezing, during vaginal delivery, and in the case of lymphangitis, through contact with a cut or wound. (5)
Sometimes lymphangitis can develop from nonbacterial causes, like viral infections (such as herpes), fungal infections, and insect, tick and spider bites. These nonbacterial causes also lead to red, inflamed streaks over the affected area and leading to the armpit or groin. In these cases, patients are commonly misdiagnosed. They are often given antibiotics, even though they won't treat the infection. (6)
---
Conventional Treatment
Unless the infection has spread through the bloodstream, doctors have a difficult time identifying the organisms that are causing the issue. For this reason, lymphangitis is usually diagnosed based on its appearance.
The most common conventional treatment for lymphangitis is antibiotics. They are used to kill the bacteria that caused the infection. Antibiotics like oxacillin, dicloxacillin and nafcillin are usually prescribed. Although antibiotics are the first line of defense for most doctors in treating lymphangitis, we know that with the frequent use of such antibacterial drugs, many microorganisms have become highly resistant to these treatments. The scary thing about antibiotic resistance is that some of these microorganisms can cause fatal infections and multi-drug resistant strains of bacteria make them very difficult to treat. That's why we need to use alternative agents for treating bacterial infections before immediately turning to antibiotics. (7)
NSAIDs (nonsteroidal anti-inflammatory drugs) are sometimes used to reduce inflammation and swelling; these include drugs like Aleve, Motrin and Advil. Unfortunately, there are many dangers of NSAIDs, including an increased risk of heart failure, gastrointestinal damage, allergic reactions and renal failure. You may notice side effects from taking NSAIDS, like dizziness, decreased appetite, leg swelling, diarrhea and constipation. If you choose to use NSAIDs to reduce pain from lymphangitis, use the lowest effective dose for only a short period of time.
If an abscess develops, this may require surgical drainage. An abscess is a tender mass that is full of pus. The doctor must open and drain it to treat it properly. This occurs in cases of lymphangitis when bacteria gets into your glands and causes an inflammatory response.

---
7 Natural Treatments
1. Use Oregano Essential Oil
There's plenty of research to back up that oregano oil benefits are superior to some antibiotics, and oregano doesn't come with any harmful side effects, like causing leaky gut, destroying good bacteria and causing antibiotic resistance. Oregano oil contains carvacrol and thymol, two powerful compounds that have antibacterial and anti-fungal properties.
A 2013 study published in Evidence-Based Complementary and Alternative Medicine found that for people who choose to use aromatherapy or alternative medicine to treat a bacterial infection, oregano oil is one of the preferred antimicrobial agents. This is because it has exhibited significant antibacterial activity when tested against streptococcus, the leading cause of lymphangitis. (8)
If you choose to use oregano oil instead of antibiotics, do it under the guidance of your healthcare provider or natural health expert. I recommend taking oregano oil internally for a maximum of two weeks, diluting it with water or coconut oil.
2. Try Raw Garlic
Research shows that the chemical compounds found in raw garlic are highly effective against killing microorganisms that are responsible for skin and internal infections. The allicin in garlic is believed to play a role in garlic's protective abilities. Not only can garlic fight bacteria that cause infections, but it also has antiviral and anti-fungal properties for cases of nonbacterial lymphangitis.
Several studies suggest that garlic can be used as a natural antibiotic and therapeutic agent. And for those of you who choose to take antibiotics to treat lymphangitis, scientists have found that raw garlic extract has the potential to improve the effect of antibiotics on antibiotic resistant pathogens. (9, 10)
3. Avoid Inflammatory Foods
When your body is dealing with an infection, you want to eliminate any foods that promote inflammation and make the symptoms worse. This includes sugary foods, processed foods, alcohol, caffeine and trans fats. These foods will only add to the swelling, pain, heat and redness that are typical when you have lymphangitis.
Instead, focus on eating plenty of anti-inflammatory foods throughout the day. This includes green leafy vegetables, berries, broccoli, wild fish (like salmon), nuts and seeds (like walnuts, chia seeds and flaxseeds), coconut oil and bone broth. When you are preparing meals, cook with anti-inflammatory spices like turmeric, ginger and garlic, too. In fact, these foods will help to boost your immune system and allow your body to heal quickly. For an extra boost, try this anti-inflammatory juice recipe.
It's also important to drink plenty of fluids, which can help to remove toxins and keep you hydrated. This will also help you to get rid of a fever, one of the most common symptoms of lymphangitis.  But if you don't love drinking water alone, try coconut water or herbal teas like chamomile.
4. Apply a Warm Compress
Applying a warm, moist compress to the infected area will help to reduce inflammation and pain. Simply wet a clean hand towel with warm water, wring it out and apply it to the tender and swollen area for 10 minutes. You can do this 2–3 times daily to help reduce the pain associated with lymphangitis.
5. Elevate the Affected Area
To reduce inflammation that occurs as a result of the infection in the lymph vessels, elevate the affected area on a chair or by propping pillows next to you. This is especially effective if you have lymphangitis affecting your leg. Avoid using that limb as much as possible until the infection you treat the infection. This helps reduce pain and swelling.
6. Try Acupuncture
A study published in the Journal of Traditional Chinese Medicine indicates that lymphangitis is caused by the accumulation of internal toxicity and the external skin infection. Acupuncture practitioners focus on clearing away heat and toxin buildup in the body by blood-letting along the meridians, promoting "qi" and blood circulation and removing toxic heat. In addition, the burning of moxibustion is also performed to promote the flow of blood and remove the bacteria from the body. (11)
7. Clean Cuts or Wounds Properly
Lymphangitis is caused by bacteria that enter the skin through a scrape, cut or wound. To prevent this, make sure to always properly clean any opening in the skin, even the most minor scratches. Most of the time, scratches and small cuts are harmless. But take precautions because it's still an opening in the skin that could allow bacteria to enter and cause an infection.
One of the best ways to prevent an infection is to use antibacterial essential oils like tea tree oil and thyme oil. They both have potent antibacterial activity. You can apply them topically to the area of concern to protect you from infection. (12) Simply combine 1 drop of tea tree oil, 1 drop of thyme oil and 1 teaspoon of coconut oil in the palm of your hand.  Then apply it to the affected area outside the body twice a day. But if you notice any irritation, stop using the oils immediately. Your skin or the wound may be too sensitive.
---
Precautions 
Lymphangitis can spread quickly. When the infection isn't treated, it can even spread to your bloodstream and become life-threatening. That's why you should treat lymphangitis right away. If you choose to use these natural treatments for lymphangitis, do it under the guidance of your healthcare provider. However, if you choose to use antibiotics to treat the infection, you can still use some of these natural remedies to help your body heal faster and to minimize the side effects of antibiotic medications.
---
Final Thoughts on Lymphangitis
Lymphangitis is an infection that involves one or more of your lymphatic vessels. Streptococci bacteria that enter the lymphatic vessels through a scrape or cut in your arm or leg often cause it. Other forms of bacteria, viruses, fungi and even insect bites can also cause it.

One of the most common signs of lymphangitis is red streaks that develop on the skin of the infected area. These streaks may be warm, tender and enlarged. They usually stretch from the infected cut or wound to a group of lymph nodes, such as those in the armpit or groin.

Some other symptoms of lymphangitis include fever, headache, enlarged lymph nodes, rapid heart rate and pain around the infected area.
Lymphangitis is typically treated with antibiotics in order to kill that bacteria that has invaded the lymphatic vessels.
Natural treatments for lymphangitis include oregano essential oil and raw garlic. It's also important to avoid pro-inflammatory foods. Eat foods that will boost the immune system and reduce inflammation. Also drink plenty of water, use a warm compress on the infected wound and elevate the infected limb.
---
Today and tomorrow, I'm hosting a free presentation all about what I've created to be the fastest and most authoritative way to become a Certified Essential Oil Coach.
And you're invited! Click Here to Register
Whether you're in pursuit of essential oil mastery or you want to build an essential oil business, this is a must-see presentation. Plus, I've set aside a half hour to answer your questions.
Like I said, no charge and you can register here.
---
Source: dr axe