NOW Essential Oils - Anise Oil - 1 fl. oz (30 ml) by NOW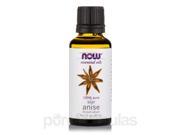 NOW Essential Oils - Anise Oil - 1 fl. oz (30 ml) by NOW Type: Alternative Healing Active Ingredients: 100% pure star anise oil. Extraction Method: Steam Distilled from ripened seed of plant. Form: ...
Buy Now
$8.79
Related Products
$13.35
The essential oil resides in the pericarp not in the seed. Spicy warm licorice-like aroma like anise seed but slightly stronger. Fishermen use it to mask human scent while fishing. Well known for its effect on the digestive system. May have a good effect on asthma and breathing difficulties. Anise has estrogen-like properties is an emmenagogue aids childbirth increases milk secretion and is antispasmodic for nerves and muscles. Blends well with: Blends well with Fennel Sweet Petitgrain and Rosewood (Indian). History: Star Anise is so named from the stellate form of its fruit. The Japanese plant the tree in their temples and on tombs; and use the pounded bark as incense. The homeopaths prepare a tincture from the seeds. 100% Pure Therapeutic Grade Capacity - 10 ml.
$11.85
Our pure essential oil is a delicious choice for food preparation remember, a little goes a long way. This highly concentrated allspice essential oil is also excellent for aroma therapy, candle making and crafting. Our essential oils are packaged in amber glass bottles with polyseal caps to insure maximum flavor and shelf-life. Quality -there are different grades of essential oils. One sniff and you will smell the difference. We sell the same high quality essential oils that we use to manufacture our popular flavored sugars, cocoas and salts. Price - how can we sell high quality essential oils at such a low price. It's simple. We buy essential oils in bulk to use in our manufacturing operation and are able to pass our savings on to you. This lets us sell a full ounce of high quality food grade essential oil for the same or better price than a small amount (10 ml) of a lesser grade essential oil. Our 4 ounce bottles are even more economical. Strength - are food grade essential oils different than other essential oils. Yes, because they are more refined and contain fewer impurities, you will often find you can use less to get the same impact. We recommend that you start with 1/3 to 1/2 of the amount of allspice essential oil you would normally use.
$8.63
Aroma: Licorice-like, spicy. Benefits: Uplifting, balancing, comforting.