Carrier Oil Apricot Kernel, 4 oz, Nature's Alchemy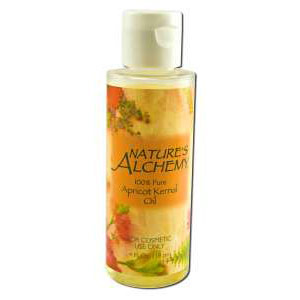 Buy Now
$6.68

Related Products
$13.59
Helps promote soft, radiant hair and soothe irritated skin; suitable for sensitive and prematurely aged skin.
$7.95
A lifetime of wrinkle-free and pure skin may be reserved for the botoxed elite of Beverly Hills but that doesn't mean we can't continue to love and care for ourselves. With a soft nutty aroma, Apricot Kernel is packed with vitamins A, B1, B2, B6 and E. In some studies it has shown to have a higher level of B17 than any other plant in the world. Apricot Kernel absorbs quickly as it moisturizes the skin and is a common ingredient in massage oils and beauty products. If you often experience itchy or dry skin, Apricot Kernel helps deeply moisturize without leaving oily residue. As it restores the appearance and texture of the skin, Apricot Kernel also purifies and cleanses. Native to Asia, the Apricot tree grows to about 35 feet in height and sprouts white and pink flowers and orange-yellow fruit. The Apricot Kernel is put through a cold pressed method to extract the oil. It's almost golden in color and is a wonderful addition to any beauty or wellness routine. BOTANICAL NAME: Prunus armeniaca EXTRACTION METHOD: Cold Pressed AROMA: Apricot Kernel has a very mild nutty aroma CONSISTENCY: Typical and characteristic of carrier oils COLOR: Pale yellow to golden yellow ABSORPTION: Absorbs easily into the skin. COMMON USES: Apricot Kernel is commonly used in lush massage oils and cosmetics. Upon application, it quickly absorbs and moisturizes the skin. Not only does it refresh dry or itchy skin without an oily residue, Apricot Kernel has a high level of natural antioxidants that cleanse and purify. SAFETY: Apricot Kernel is regarded as very safe but sensitive individuals should check with their doctor before use. SHELF LIFE: Apricot Kernel is slow to spoil and users can expect a shelf life of 6 months to 1 year with proper storage conditions.
$5.49
Hobe Labs Apricot Kernel Oil Directions Lightly massage Apricot Kernel Oil into skin ares requiring deep moisturization. Can also be used in a base for premium massage oils or aromatherapy products. Ingredients: 100% pure apricot kern oil, natural vitamin E. Warnings For external use only. Store tightly sealed in a cool, dry place.