Carrier Oil Apricot Kernel, 4 oz, Nature's Alchemy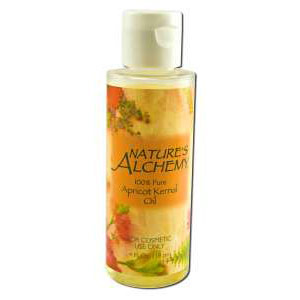 Buy Now
$6.68

Related Products
$16.99
Apricot oil, made from apricot kernels, is a light, pale-yellow liquid with a slight nutty fragrance. Benefits of Apricot Oil For the Skin ? Massages- It is easily absorbed into the skin, so it won't leave people feeling greasy afterwards. ? Protects the skin from harmful UV rays, while reversing the damage that may have already occurred. ? Removes impurities and dead skin cells. ? Moisturizer to soften and smooth the skin. ? Reduces skin irritation from dry skin. ? Helps reduce inflammation, itching and redness from eczema. ? Substitute for Hand and Foot Cream. ? Reduces wrinkles and fine lines. For the Hair ? Helps restore shine to damaged and chemically treated hair. ? Helps cure dry and flaky scalp. Our 'No Worries' Guarantee We are so confidant that you will love Renewalize® Apricot Oil, we guarantee it. Try the apricot kernel oil for yourself and if you do not see any improvements to your skin or hair after trying the entire bottle, simply contact us for a full refund.
$12.30
Use as massage oil for skin care
$10.99
Beauty Aura 100% Pure Apricot Kernel Oil is highest-quality oil obtained through cold-pressing of the dried kernels of the fruit of the apricot tree. It is rich in vitamin A and E as well as Oleic (C18:1) and Linoleic (C18:2) essential fatty acids. Condition: Dry itchy skin & dull hair in need of simple natural moisturizing. Solution: The light texture of apricot kernel oil makes it useful in face serums, or mixtures of oils used to moisturize the face to help reduce wrinkles and brighten the complexion. It help counteract and soothe skin conditions including itchiness, dryness and inflammation. Regular massages may help reduce stress, pain and inflammation and instilling an overall sense of well-being. Apricot oil is readily absorbed without leaving a greasy residue Lightly apply to damp skin before toweling off and keep skin moisturized all day. The essential fatty acids present in apricot oil makes it a very good oil for hair care. Massaging scalp with some warm apricot oil stimulates the follicles and improves hair growth. Regular use help keep hair roots and strands well nourished and moisturized making hair soft and shiny.