Carrier Oil Apricot Kernel, 4 oz, Nature's Alchemy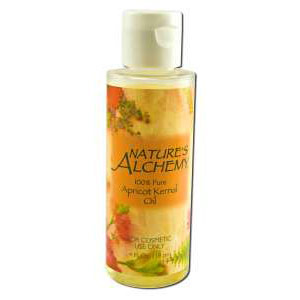 Buy Now
$6.68

Related Products
$13.50
Our organic, unrefined Apricot Oil is extracted from the kernel of the apricot and it is rich in fatty acids, Vitamins A and E. This light oil is similar to Almond Oil but is more suitable for sensitive and prematurely aging skin, and as a great massage oil for babies. Use it alone or as a fantastic carrier oil for your DIY skin care recipes.
$15.99
Extraction Method: Cold Pressed, Refined. Description: Apricot Kernel Carrier Oil is good for all skin types. It is very rich and nourishing - particularly in vitamin A. Common Uses: Apricot Kernel Carrier Oil is a very popular oil and is suitable for manufacturers, aromatherapists and massage therapists. It is a universal carrier oil used throughout the food, nutritional supplement and cosmetic industries. Cosmetically, Apricot Kernel Oil is known to be an effective emollient as it is easily absorbed into the skin. The oil is known to help counteract and soothe skin conditions including itching, dryness and inflammation. The soaping industry knows Apricot Kernel Oil to condition and provide stable lather to soap formulas. Traditionally, this oil has been used in massage therapy to soften the skin.As a result of its higher concentration of essential fatty acids, bulk Apricot Kernel Oil is relatively stable therefore used in the food industry for dressings and other culinary applications. We are buying our oils from organic certified supplier, made from organic ingredients. Shelf Life: Apricot Oil is slow to go rancid; users can expect a shelf life of 1 Year with proper storage conditions (cool, out of direct sunlight). Your item(s) will be shipped the same business day or next business day of confirmation of payment if received by 3:00 pm PST. (not including weekends or holidays). When you receive your item and are pleased with our transaction, please let us know by leaving positive feedback, we will do the same for you in return. Look forward to do business with you, H&B OILS CENTER Co.
$9.95
Why Our Cold-Pressed Apricot Kernel Seed Oil is Superior Many companies use pressing methods that introduce high levels of heat into extraction process. This reduces -or eliminates- many of the oil's natural benefits. We extract our Apricot Kernel Seed Oil using only cold-press methods, allowing us to maintain all the inherent qualities and benefits apricot oil has to offer. This is one of many reasons our pure apricot oil is of higher quality and provides more benefits than most other brands. Youthful Skin & Healthier Hair Apricot Seed Oil contains a large variety of benefits. Vitamins A, B, C, E and Omega fatty acids help promote skin moisture and reduce free radical cell damage. These qualities enable apricot seed oil to be effective as an anti-aging topical solution. Use Our Pure Apricot Seed Oil to prevent or reduce signs of wrinkles and fine lines. Apricot Seed Oil can also be applied to the hair and scalp to improve hydration, natural sheen, and hair growth. Experience these amazing benefits today with our cold-pressed Apricot Seed Oil. The Benefits: Our Pure Apricot Kernel Seed Oil 100% Pure Apricot Kernel Seed Oil - no contaminates or fillers - Cold-pressed for highest efficacy - Softens skin and nail cuticles - Contains vitamins A, B, C, and E - Non-greasy massage and aromatherapy oil - Perfect as a carrier oil - mix easily with other essential oils and lotions - Helps improve natural hair growth and shine - 100% Maple Holistics Money Back Guarantee Our 100% Money-Back Guarantee secures your purchase with a hassle-free policy from a reputable brand who prioritizes customer satisfaction.