Carrier Oil Apricot Kernel, 4 oz, Nature's Alchemy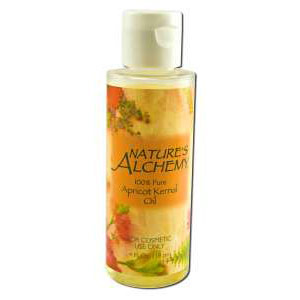 Buy Now
$6.68

Related Products
$7.99
Plant Therapy Apricot Kernel Cold-Pressed Pure Carrier Oil 2 fl. oz.
$10.99
Beauty Aura 100% Pure Apricot Kernel Oil is highest-quality oil obtained through cold-pressing of the dried kernels of the fruit of the apricot tree. It is rich in vitamin A and E as well as Oleic (C18:1) and Linoleic (C18:2) essential fatty acids. Condition: Dry itchy skin & dull hair in need of simple natural moisturizing. Solution: The light texture of apricot kernel oil makes it useful in face serums, or mixtures of oils used to moisturize the face to help reduce wrinkles and brighten the complexion. It help counteract and soothe skin conditions including itchiness, dryness and inflammation. Regular massages may help reduce stress, pain and inflammation and instilling an overall sense of well-being. Apricot oil is readily absorbed without leaving a greasy residue Lightly apply to damp skin before toweling off and keep skin moisturized all day. The essential fatty acids present in apricot oil makes it a very good oil for hair care. Massaging scalp with some warm apricot oil stimulates the follicles and improves hair growth. Regular use help keep hair roots and strands well nourished and moisturized making hair soft and shiny.
$11.89
Botanical Name: Prunus Armeniaca. Extraction Method: Cold Pressed. Processing Type: Refined. Obtained From: Kernels. Organic: Made without pesticides, GMO's, or hexane. Ingredients: Apricot kernel oil, 100% Pure with NO additives or carriers added. Description: Apricot Kernel Carrier Oil is good for all skin types. It is very rich and nourishing - particularly in vitamin A. Color: Pale yellow to golden yellow liquid. Aromatic Description: Apricot Kernel Carrier Oil has very little scent characteristic of most carrier oils. Common Uses: Apricot Kernel Carrier Oil is a very popular oil and is suitable for manufacturers, aromatherapists and massage therapists. It is a universal carrier oil used throughout the food, nutritional supplement and cosmetic industries. Cosmetically, Apricot Kernel Oil is known to be an effective emollient as it is easily absorbed into the skin. The oil is known to help counteract and soothe skin conditions including itching, dryness and inflammation. The soaping industry knows Apricot Kernel Oil to condition and provide stable lather to soap formulas. Traditionally, this oil has been used in massage therapy to soften the skin. As a result of its higher concentration of essential fatty acids, bulk Apricot Kernel Oil is relatively stable therefore used in the food industry for dressings and other culinary applications. We are buying our oils from organic certified supplier, made from organic ingredients. Shelf Life: Apricot Oil is slow to go rancid; users can expect a shelf life of 1 Year with proper storage conditions (cool, out of direct sunlight). Your item(s) will be shipped the same business day or next business day of confirmation of payment if received by 3:00 pm PST. (not including weekends or holidays). When you receive your item and are pleased with our transaction, please let us know by leaving positive feedback, we will do the same for you in return. Look forward to do business with you, H&B OILS CENTER Co.