Weleda Arnica Massage Oil 3.4 fl oz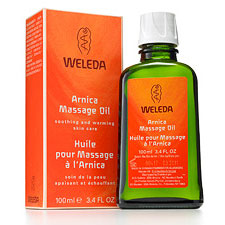 Buy Now
$22.35

Related Products
$29.49
Botanical Name: Arnica Montana Extraction Method: Infused in organic refined olive oil Country: USA Description: Arnica has been used for massage, skin care for centuries. It makes an excellent massage oil for sport injuries and sore muscles, as it helps to reduce bruising and relaxes tense muscles. Arnica oil is great for skin care and a fabulous addition to massage oil.
$12.99
Arnica is the most remarkable and universally accepted herb for bruises, overworked sore muscles, tendon injuries & sprains. Arnica quickly brings relief, promotes circulation, & hastens the disappearance of discoloration from bruising. Clove oil helps relieve pain. NET WT 1 oz INGREDIENTS: Certified organic arnica flowers and certified organic essential oil of clove in a base of certified organic olive oil and unrefined propolis beeswax. DIRECTIONS: Massage arnica salve gently into affected area. Caution: Do not use arnica salve on broken skin.
$10.90
Arnica Oil by Eclectic Institute 1 oz Liquid Arnica Oil 1 oz. Ingredients Fresh wildcrafted Arnica latifolia flower. Olive Oil. Fresh Herb Strength 1 1.