Weleda Arnica Massage Oil Travel Size, 0.34 oz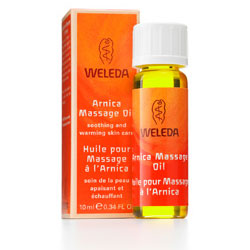 Buy Now
$2.69

Related Products
$12.99
Condition: Sore, achy muscles. Solution: Arnica Warming Relief Massage Oil captures the natural soothing essence of Arnica to provide immediate warmth and relief to tired, overworked muscles. Set in a base of antioxidant-rich Olive Oil, this deep-penetrating massage oil contains potent Arnica, in addition to a perfect collection of essential oils and other natural extracts. Arnica Warming Relief Massage Oil is perfect after a busy day or a strenuous workout, and can also be used as a daily skin softener.
$29.49
Botanical Name: Arnica Montana Extraction Method: Infused in organic refined olive oil Country: USA Description: Arnica has been used for massage, skin care for centuries. It makes an excellent massage oil for sport injuries and sore muscles, as it helps to reduce bruising and relaxes tense muscles. Arnica oil is great for skin care and a fabulous addition to massage oil.
$11.20
The herbs used to prepare this compound are Certified Organically Grown, or they are Sustainably Wildcrafted in their natural wild habitat. They are hand-harvested at their optimal potency, and are then promptly extracted in certified organic olive oil while still fresh & succulent or after being carefully shade-dried. All of the herbs in this formula are individually extracted to ensure a broad spectrum of therapeutic plant compounds. FOR EXTERNAL USE ONLY. Caution: Do not use during pregnancy, if trying to become pregnant or during nursing. Consult expert medical advice before using in children under 15 years of age. Do not use on broken or abraded skin. Discontinue use if irritation appears. Prolonged topical use or use on broken skin may cause skin irritation.