Aromatherapy Essential Oil Blend Energize .5 fl oz from Aura Cacia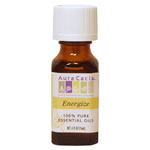 Buy Now
$7.76

Related Products
$17.97
The Signature Aromatherapy Starter Kit Our signature aromatherapy starter kit is perfect for all of your needs or use it as a gorgeous gift for a friend or family member. Inside you will find six luxurious brown amber bottles of 10ml each filled with the finest essential oils listed below: 1) Lemongrass 2) Tea Tree 3) Eucalyptus 4) Lavender 5) Sweet Orange 6) Peppermint Essential Oils - Nature's Most Beautiful Offering Essential oils are one of the most beautiful treasures nature offers us. Ovi develops the world's finest quality 100% pure aromatherapy essential oils. Our therapeutic grade premium essential oils are completely revolutionary and nothing like you've seen before. You must personally experience them to appreciate their ultra-premium quality. Our Process - Flawless Methods and Techniques We gently and carefully distill nature's most powerful elements to create flawless oils for people who care about improving their lifestyle, health, and overall well-being. We go through a meticulous process of planting, cultivating, harvesting, and distilling that results in potent & naturally beneficial essential oils. The Perfect Combination - Wisdom Meets Energy We have combined modern cutting-edge research with traditional time-tested wisdom. Bring new energy into your life and bring back your natural-radiance! About Ovi Oils Ovi was created to bring about a powerful belief in the significance of utilizing essential oils. For centuries naturalists have belief in the benefits of medicinal aromatherapy practices and we take them to the next level with only the most pure, authentic, and, therapeutic grade oils.
$12.00
Take it Easy With This Custom Blend
$29.99
This basic aromatherapy kit is the perfect starter set. Set comes with a total of 14 10 ml bottle. One each of Eucalyptus, Grapefruit, Lavender, Lemon, Lemongrass, Lime, Patchouli, Peppermint, Pine, Rosemary, Spearmint, Sweet Orange, Tangerine and Tea Tree. These essential oils are a great introduction to essential oil use and aromatherapy. Use them in a diffuser or with carrier oils. The set also makes a great gift! Essential oils are a natural way to promote personal and environmental well-being. They can provide a mood boost, calm stressed nerves and invigorate the senses.