Aromatherapy Essential Oil Blend Energize .5 fl oz from Aura Cacia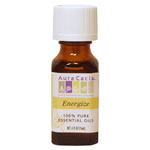 Buy Now
$7.76

Related Products
$79.95
*INCLUDES- 6) 10 ml of Breathe Easier, Good Night, Hope, Relaxation, Stress Relief and Sunshine Spice. *ABOUT THE SYNERGY BLENDS 6 SET- An introduction to our synergy blends, this set is perfect for essential oil newbies and long time aficionados alike. Each blend holds the most effective essential oils to achieve radical results. This particular sets includes Breathe Easier, Good Night, Hope, Relaxation, Stress Relief and Sunshine Spice. These six effervescent oils are our most popular synergy blends and favorites among the Edens Garden Community. *HERE'S THE DEAL- We are so savings-crazy at Edens Garden that these sets are 50% more affordable than buying each blend individually. Not only will your set include 6 top-selling synergy blends, but it will also include a handy insert to help you make the most of your blends. We want you to be fully informed about all of the dynamic uses. Add droplets into a sugar scrub, diffuse a blend to start the day off fresh, and improve your overall health by taking advantage of each oil's many medicinal and therapeutic benefits. Enhance your everyday with these all-natural and entirely pure synergy blends. When this set arrives at your house, apartment, mansion or secret mailbox, expect to find a little gift from us. With every set, we include a gorgeous "150 Ways to Use Essential Oils" brochure so you can learn more about your essential oils and show off your knowledge to beloved friends and family. To make sure the integrity of each drop of oil remains entirely intact, all of our oils are packaged in dark glass bottles. This prevents oxidization and light from creeping in. We also include a euro dropper lid so you don't get too much or too little from each bottle.
$4.95
DESCRIPTION: Whether it's allergy season or the cold is making its annual rounds, congestion and strained breathing typically arrives at lease once a year. If you're sick of cough syrup or just sick of being sick, try a natural approach with Breathe Easier. A restorative blend that actually helps promote circulation within the respiratory system, Breathe Easier can clear icky air passageways so you can effortlessly inhale and exhale. Its antiseptic qualities revitalize and soothe breathing. When you're sick in bed (or struggling in the elsewhere), Breathe Easier comforts with its warming and cooling effect while also strengthening the immune system. Although we can't promise that colds and coughs won't sneak up on you, Breathe Easier can simplify things. Breathe Easier is a healing mixture of Eucalyptus, Lemon, Peppermint and Rosemary. Made with care from our top quality oils and, as always, Edens Garden essential oils are never diluted or mixed with additives. CONTAINS: Eucalyptus, Lemon, Peppermint and Rosemary BE INSPIRED: It's a well-known truth that breathing calms the body and the mind. Improve your breath and reduce stress by inhaling Breath Easier in moments of tension. Or try placing a few drops Breathe Easier on a humidifier while you rest. You will wake with restorative breath, ready to breeze through the day.
$29.99
This basic aromatherapy kit is the perfect starter set. Set comes with a total of 14 10 ml bottle. One each of Eucalyptus, Grapefruit, Lavender, Lemon, Lemongrass, Lime, Patchouli, Peppermint, Pine, Rosemary, Spearmint, Sweet Orange, Tangerine and Tea Tree. These essential oils are a great introduction to essential oil use and aromatherapy. Use them in a diffuser or with carrier oils. The set also makes a great gift! Essential oils are a natural way to promote personal and environmental well-being. They can provide a mood boost, calm stressed nerves and invigorate the senses.