EO Everyone Aromatherapy Blends Essential Oils, Calm, 0.45 Oz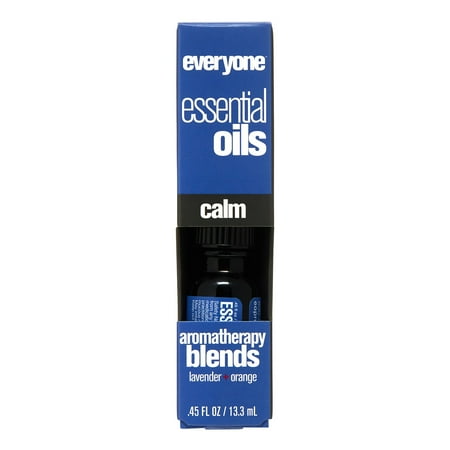 Everyone ¢ ¢ Aromatherapy Blend, 100% Pure Essential Oil Calm, Additive Free, Certified Gluten-Free, No Synthetic Fragrances, 0.45 oz Bottle with DropperAn aromatherapeutic blend targeted to be soothingNatural ingredientsAromatherapy for first timers or expertsBlends well with body oil, lotion, and soapComplex, floral and citrus scentAromatherapeutic essential oils100% pure oils sourced from trusted suppliers Certified B Corp organizationFeel free to visit our Green Glossary for an in-depth list of ingredients that go into our products: https://www. eoproducts.com/green-glossary/Everyone ¢ ¢Everyone ¢ ¢ thinks natural, affordable body care should be available to everybody. Everyone products are always GMO free, synthetic ...
Buy Now
$10.14

Related Products
$7.50
You can't help it Stomachaches, cuts, bruises, headaches, digestive problems, respiratory issues or any of the several ailments can weigh you down from time to time. You resort to synthetic drugs but little do you know that you may be doing your body and
$18.09
Let s start by clearing the lemon verbena scented air there s nothing mystical about aromatherapy. Yes, essential oils smell wonderful, but aromatherapy offers real, tangible health benefits rooted in science and experienced on a physiological level. Part reference manual, part recipe book, Aromatherapy for Natural Living is a comprehensive and straightforward guide to aromatherapy and essential oils. Whether you re just beginning to dip your toes in a fresh tub of lavender-tea tree bathwater, or if you are already immersed in minty rosemary-lemon mist, Aromatherapy for Natural Living offers: Over 400 aromatherapy recipes to try at home that will welcome you into deeper wellness and improved health in all aspects of life A past-to-present look at the history of aromatherapy and essential oils what s changed and what has stayed the same? Focused highlights of the 50 "most essential" essential oils for your aromatherapy practice Behind the scent science from chemical compound to your cellular response, find out how aromatherapy and each ingredient actually work Top 10 Benefits of Aromatherapy: Boost energy * Change cognitive states * Ease headaches * Enhance memory * Heighten immunity * Improve mood * Nourish skin * Promote healing * Reduce stress levels * Relieve discomfort and pain"
$27.95
Biofinest Sandalwood Essential Oil - 100% Pure Undiluted - Premium Organic - Therapeutic Grade - Aromatherapy - Clarity/Calmness - Meditation and Prayer - FREE E-Book (10ml /0.34 fl.Oz)