Nature's Truth Aromatherapy 100% Pure Essential Oil, Peppermint, 0.51 Fl Oz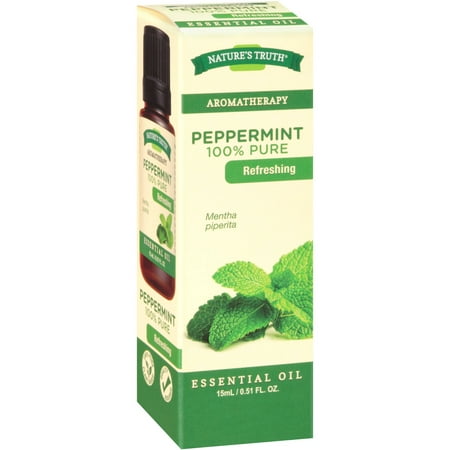 Nature's Truth ® Aromatherapy Peppermint 100% Pure Essential Oil 0.51 fl. oz. Box100% pure plant based. Quality assured. Refreshing. Stimulating. Cooling. Tantalizing and refreshing. Steam distillation of the flowering plant releases its strong cool and minty fragrance. Few scents are as revitalizing and vibrant. Cooling, refreshing, and great for use in massage. How to use oils: Aromatherapy. Topical use. DIY projects. Massage oil. Bath/shower. Air freshener. Gluten free. Paraben free.1-844-544-1030.naturestruthproducts.com. ©2015 Nature's Truth, LLC.
Buy Now
$6.46

Related Products
$12.90
LAVENDER OIL 2 OZ by Morning Pep 100 % Pure And Natural Therapeutic Grade, Undiluted PREMIUM QUALITY Aromatherapy LAVENDER Essential oil, Bottle designed to convenient release one drop at a time
£12.31
100% pure, vegan, organic Indian formula blend of Lavender, Ylang Ylang, Basil and Orange essential oils. US FDA approved and doesn't contain added synthetic color, harmful chemicals like silicone, or preservatives like parabens. Dreamcatcher Essential Oil has a calming and soothing aroma that promotes healthy and sound sleep. This blend is perfect for aroma therapy diffusion.It relaxes the muscles, giving you a calm sleep. It is perfect to diffuse this Essential Oil in kids' bedrooms. The product comes with one free and easy to use dropper. The package is double sealed to avoid spillage and to ensure that the product reaches you safely. The product is in only for external use. The essential oil bottle is seal packed. Carefully open the seal to avoid spillage on any body part or object. Essential oils cannot be used directly on any part of your body.
$9.97
Essential Oils Aromatherapy 101: Top Beauty Secrets for Your Health by Katie Lenhart is take-action practical information about pure essential oils that will rock your world A dazzling display of scientific backed deep dark secret knowledge supporting th