Nature's Truth Aromatherapy 100% Pure Essential Oil, Peppermint, 0.51 Fl Oz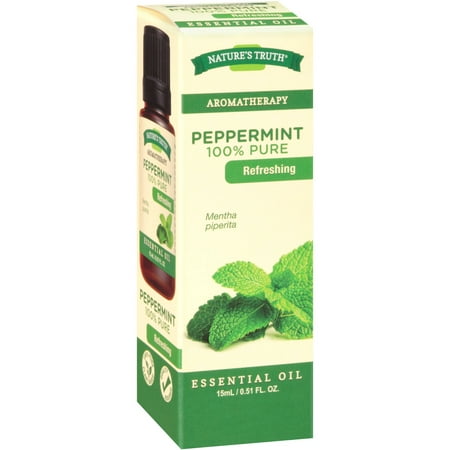 Nature's Truth ® Aromatherapy Peppermint 100% Pure Essential Oil 0.51 fl. oz. Box100% pure plant based. Quality assured. Refreshing. Stimulating. Cooling. Tantalizing and refreshing. Steam distillation of the flowering plant releases its strong cool and minty fragrance. Few scents are as revitalizing and vibrant. Cooling, refreshing, and great for use in massage. How to use oils: Aromatherapy. Topical use. DIY projects. Massage oil. Bath/shower. Air freshener. Gluten free. Paraben free.1-844-544-1030.naturestruthproducts.com. ©2015 Nature's Truth, LLC.
Buy Now
$6.46

Related Products
$5.34
School Specialty Aromatherapy Scent Inhaler with Pure Essential Oils, Multiple Types: Sold individuallyAn effective and discreet way to experience aromatherapy anywhereMade with pure, non-toxic essential oilsSmall size is ideal for putting in your purse or pocketGreat for children to take with them to school in their backpack
$5.94
Ingredients: 100% Pure Lavandula Angustifolia (Lavender), Ocimum Basilicum (Basil), Boswellia Serrata (Frankincense), Cedrus Deodara & Juniperas Mexicana (Cedarwood), Cymbopogon Flexuosus (Lemongrass) Essentional Oil and Prunus Dulcis (Sweet Almond) OilAroma: FloralTherapeutic Properties: RelaxingCaution: For external use only. Use caution if you suffer from skin issues such as hypersensitivity or damaged skin. Avoid if you are pregnant. Keep away from eyes and mucous membranes. Keep out of reach of children.
$34.95
Plant Therapy Rosehip, Extra Virgin, Carrier Oil 4 fl. oz. For Aromatherapy Essential Oil Massage