Nature's Truth Aromatherapy 100% Pure Essential Oil, Tea Tree, 0.51 Fl Oz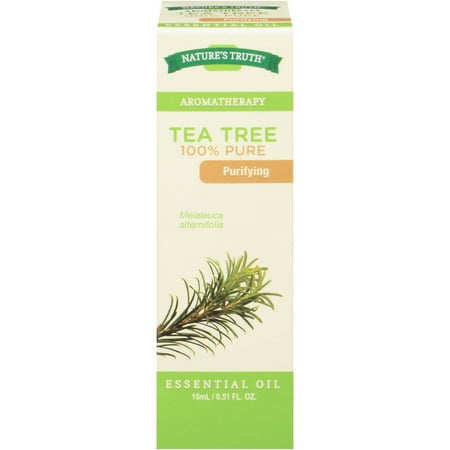 Nature's Truth Aromatherapy Tea Tree 100% Pure Essential Oil: Fresh scented oil is purifying UpliftingCleansing and soothing with an aromaThat is fresh and clear.
Buy Now
$5.00

Related Products
$11.71
PERFECT SET: Our Aroma2Go Essential Oil Travel Pack comes in 4 of your favorite aroma Lavender, Peppermint, Sweet Orange and Pine Scotch that will make your travel more fun and relaxing. Conveniently comes in a clear window case for easy packing and storage. THERAPEUTIC GRADE OILS: 100% Plant Based Oil that is carefully extracted to give you all the benefits a high quality essential oil should give to your bodyBENEFICIAL: We promise that our essential oils will help you relax, relieves your stress, keep you in a cool and calm mood and will help refresh the air in you surroundings. Thus giving you the most relaxing time of your life. CONCENTRATED: Our essential oils are the most potent oil you can find in the market, it is very well concentrated that we promise you that by just a small drop you will smell its relaxing aroma and will give you the most satisfying scent compare to other essential oils. LIFETIME WARRANTY AND GUARANTEE - We stand by the quality of our product, if ever you are not satisfied with our product we will be very happy to replace them or give you a refund for your purchase.
$13.80
EA AROMACARE - guarantees 100% pure essential oils to enhance your sensual journey Respire in Aroma- Invigorate your body & your senses ? Helps to remove odours from your home. ? Emotion or tired with mood. ? Buying essential oils first time. ? Seeking a special gift for a friend. ? Worried about purity & prices EA AROMACARE is the solution. EA AROMACARE -Essential Oils Set has all the answers ? Fill your home with fragrance using creative aromatherapy ideas. ? Premium quality packaging & high quality oils ensure an IDEAL gift for your loved ones. ? Get ideas from our E-book. ? Enhance your mood & wellness with the special therapeutic properties of each EA AROMACARE oils. How Authentic we are 100% Pure Essential Oils Certified by the GMPC & conform to IFRA standards- Intl Fragrance Association, Goods Manufacturing Practice of Cosmetics Our Responsibility and Duty - promote a wholesome yet luxurious experience using natural products. - take you on a heavenly, aromatic, sensory journey! - provide premium quality products for the best prices! Product for you Essential Oils Set 6x10ml: Lavender, Peppermint, Lemongrass, Tea tree, Eucalyptus, Bergamot Our Guarantee GUARANTEED 2 year shelf life! 100% MONEY BACK guarantee We have Limited Supply so be sure to CLICK on Add to Cart
$9.99
Paperback, Createspace Independent Pub, 2014, ISBN13 9781500403041, ISBN10 1500403040