Nature's Truth Aromatherapy Lemon Essential Oil, 0.51 Fl Oz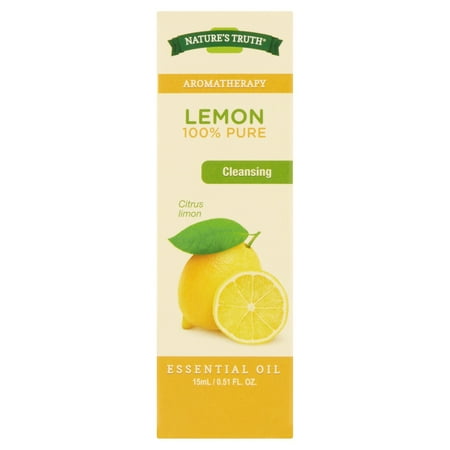 Nature's Truth ® Aromatherapy Lemon 100% Pure Essential Oil 0.51 fl. oz. Box: Gluten and paraben free100% pure plant basedHow to use: Diffuser, massage oil, topical use, bath/shower, DIY projects, air freshenerFor massage, dilute at a recommended rate of 5 drops of essential oil blend to 10 mL of Nature's Truth Unscented Base Oil.
Buy Now
$6.98

Related Products
$29.95
AROMATHERAPY STARTER SET - This set is perfect for yourself as a starters kit or as a gift. Package contain 14 bottles, 10ml each. Flavors included: Bergamot (Citrus bergamia), Spearmint (Mentha spicata), Lemon (Citrus limon), Tea Tree (Melaleuca alternifolia), Patchouli (Pogostemon cablin), Grapefruit (Citrus paradisi), Peppermint (Mentha piperita), Clary Sage (Salvia sclarea), Cinnamon Leaf (Cinnamomum zeylanicum), Eucalyptus (Eucalyptus Globules), Sweet Orange (Citrus sinensis), Lavender (Lavandula angustifolia), Lime (Citrus aurantifolia) , Rosemary (Rosmarinus officinalis). Packaged in dark amber bottles for retaining maximized freshness. 100% NATURE'S PURE ESSENCE - Each bottle contains 100% pure unadulterated essential oil; without any fillers, additives, bases or carriers. Calily Essential Oils are extracted utilizing the most advanced state-of-the-art distillation and extraction methods; maintaining the optimum integrity and natural fresh scents of the natural oils. Calily's artisan distillers and extractors specialize in producing the finest, therapeutic grade oils, using carefully controlled distillation and extraction methods. About Calily Calily was formed by a group of naturalists with a strong belief in the importance and benefits of using essential oils - and only authentic, pure, therapeutic grade oils - for medicinal aromatherapy practices. Pure Essential Oils maintain the balance of body, mind, heart and spirit. Utilizing planets earth's natural treasures of healing properties has an astounding effect on one's health and overall wellness. Calily conducts a vast amount of botanical research which enables us to extract the richest oils possible.
$6.99
Natural and 100% Pure essential oilPackaging made with Tree Free PaperParaben and Gluten Free, Non-GMO, Not Tested on Animals1% of sales donated to 1% for the Planet