Nature's Truth Aromatherapy Lemon Essential Oil, 0.51 Fl Oz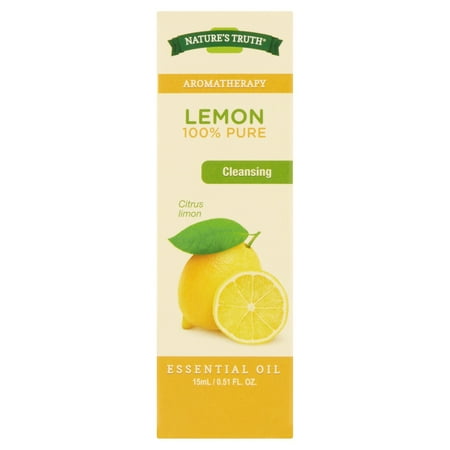 Nature's Truth ® Aromatherapy Lemon 100% Pure Essential Oil 0.51 fl. oz. Box: Gluten and paraben free100% pure plant basedHow to use: Diffuser, massage oil, topical use, bath/shower, DIY projects, air freshenerFor massage, dilute at a recommended rate of 5 drops of essential oil blend to 10 mL of Nature's Truth Unscented Base Oil.
Buy Now
$6.98

Related Products
$22.56
Aura Cacia Cheering Foam Bath Tangerine and Sweet Orange Essential Oils - Case of 6 - 2.5 oz Aromatherapy
$17.89
FOR ONCE, IT?LL BE NICE TO FEEL A LITTLE OILY With Virgo Essentials, being oily is what we?re all about; high quality and absolutely pure oils, that is. NATURE?S PICKER UPPER For fighting colds and clearing up those sinuses, there?s peppermint, lavender, and tea tree. For soothing sore, tired muscles, go for eucalyptus! Nauseous? Breathe in a little cinnamon. Lets not forget perhaps the most precious of the ancient oils, Frankincense. Not only does it help build a healthy immune system, but has even been shown to offer anti-aging properties as well as reduce the look of stretch marks and scars! KNOWLEDGE IS POWER< We know our oils, and you?ll reap the benefits of that. It?s about careful and concise extraction done the right way to preserve the integrity of nature in every bottle. We?ll never add anything to our oils because there?s no need to. Nature got it right without our help, and we plan to keep it that way! GUARANTEED THERAPY Don?t forget about our lifetime guarantee!! In the unlikely event that things just don?t work out, no hard feelings! WHAT ARE YOU WAITING FOR? START FEELING BETTER FROM THE INSIDE OUT TODAY WITH VIRGO ESSENTIALS AND CLICK THE ?ADD TO CART? BUTTON NOW!!
$10.14
Everyone ¢ ¢ Aromatherapy Blend, 100% Pure Essential Oil Calm, Additive Free, Certified Gluten-Free, No Synthetic Fragrances, 0.45 oz Bottle with DropperAn aromatherapeutic blend targeted to be soothingNatural ingredientsAromatherapy for first timers or expertsBlends well with body oil, lotion, and soapComplex, floral and citrus scentAromatherapeutic essential oils100% pure oils sourced from trusted suppliers Certified B Corp organizationFeel free to visit our Green Glossary for an in-depth list of ingredients that go into our products: https://www. eoproducts.com/green-glossary/Everyone ¢ ¢Everyone ¢ ¢ thinks natural, affordable body care should be available to everybody. Everyone products are always GMO free, synthetic fragrance free, cruelty free, gluten free, made with plant extracts, and scented with 100% pure essential oils. Gentle on you, your family, and the planet we all share. Product Commitment: Everyone ¢ ¢ is made by EO Products. Here at EO Products, we are dedicated to making personal care products that nurture the people who use them, respect people who make them, and honor the planet we all share. We think what we put on our bodies is as important as what we put in our bodies. We like to know what ¢ s inside our lotions, soaps, and shampoos. So, we research, develop, manufacture, and ship our own products. We didn ¢ t dream of being manufacturers-it ¢ s hard work and often thankless. But we learned that the only way to ensure that the quality inside every bottle was up to our standards was to make it ourselves. All products are gluten-free, cruelty-free, synthetic fragrance-free, GMO-free. Transparency is extremely important to us, which is why you can find a comprehensive green glossary on our website to help you understand every ingredient in our products. Sustainable Manufacturing: Here at EO Products we research, develop, formulate, make, and manufacture over 300 products right where we live-in Marin County, California. We ¢ re