Nature's Truth Aromatherapy Lemon Essential Oil, 0.51 Fl Oz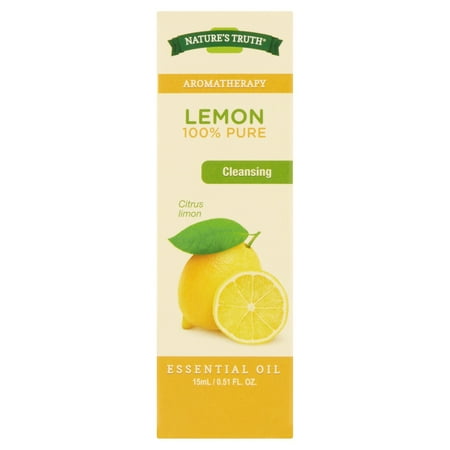 Nature's Truth ® Aromatherapy Lemon 100% Pure Essential Oil 0.51 fl. oz. Box: Gluten and paraben free100% pure plant basedHow to use: Diffuser, massage oil, topical use, bath/shower, DIY projects, air freshenerFor massage, dilute at a recommended rate of 5 drops of essential oil blend to 10 mL of Nature's Truth Unscented Base Oil.
Buy Now
$6.98

Related Products
$8.70
Aromatherapy smokeless candles Aromatherapy essential oil Wedding candles romantic scented candles
$6.85
Ceramic Fragrance Oil Burners Aromatherapy Scent Candle Essential Vaporizer New
$4.95
DESCRIPTION: Moments of stillness and peace can elude us when anxiety comes barging in and causes us to get stuck in our heads, lost in nervousness. It can make us feel weak even when all the evidence points to the opposite. Plainly, it's zero fun. The good news is that we are not alone and we can work out ways to relieve stress. It's estimated that nearly 40 percent of adults suffer from anxiety of some kind according to the Anxiety and Depression Association of America. Anxiety Ease was formulated to help calm the tension of stress and anxiousness. We can steal back those moments of clarity and confidence by slowing down and inhaling a few drops of Anxiety Ease. At Edens Garden, we hope that if you are suffering from anxiety that you seek help and let Anxiety Ease work as a tool in your life to find lasting peace. A balanced mixture of Lemongrass, Sweet Orange and Ylang Ylang. Made with care from our top quality oils and, as always, Edens Garden essential oils are never diluted or mixed with additives. CONTAINS: Lemongrass, Sweet Orange and Ylang Ylang BE INSPIRED: Stressful moments are soothed and loud days are pacified by simply inhaling a few drops of Anxiety Ease. Also try placing 10 drops of Anxiety Ease in a foot soak to relieve tired feet.