Nature's Truth Aromatherapy Mental Clarity Essential Oil Blend, 0.51 Fl Oz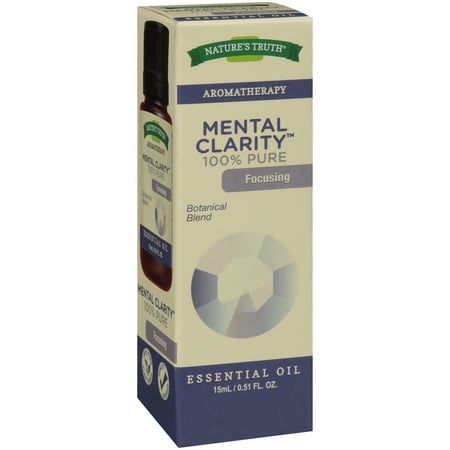 Nature's Truth Aromatherapy Mental Clarity 100% Pure Essential Oil: Made from a botanical blend of the finest essential oils, this blend's sweet and herbal scent contains refreshing floral notesFocusing and centering, it's the perfect oil for the big day ...
Buy Now
$6.98

Related Products
$6.99
Paraben and Gluten Free; Non-GMO; Not Tested on Animals
$11.99
Aromatherapy: A Handbook of Aromatherapy and Essential Oils
$11.14
Aromatherapy, the centuries-old practice of using botanical scents and oils for physical and physic benefit, is more popular than ever today. Roberta Wilson's essential resource for aromatherapy offers hundreds of healing recipes for compresses, baths, inhalants, air fresheners, and skin-care products specifically designed to help common disorders and complaints. Organized in a handy A-to-Z format, Aromatherapy is the most trusted sourcebook for this gentle healing art.