Soothing Lemongrass Infused Essential Oil for Aromatherapy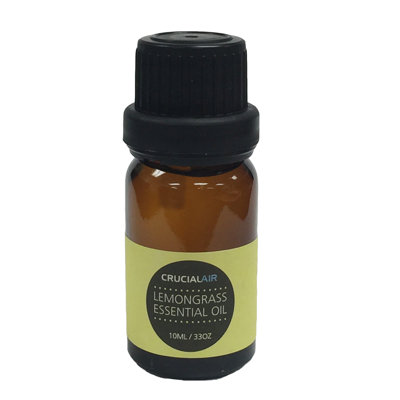 Rejuvenate the air quality that both nourishes your skin and allows you to breathe easier//Substantial aroma blending minty and top note freshness//Caution If pregnant, suffering from any medical condition, or taking medication consult a health care p...
Buy Now
$37.99
Related Products
$79.99
Lavender: It is the essence of pure calmness and relaxation. This versatile oil gives off a light scent, which uplifts the spirit while transitioning moods to the ultimate state of calmness. Tea Tree: Antiseptic properties, invigorating and refreshing scent. Lemongrass: A great herb for inducing relaxation and balance for the mind. Eucalyptus: Naturally anti-inflammatory, refreshing scent! Sweet Orange: Promotes positive attitudes and induces relaxation for a calm spirit. Peppermint: Calming aroma will liven up the mind, body, and soul.
$15.99
Ivation Hello to the spa! With its innovative double reservoir design, this Ivation steamer keeps hot and cool water separated within one space-saving unit. Independent power switches also make it easy toselect your preferred steaming session. Select hot steam to open up pores, remove oil and grime, and prevent blackheads and breakouts without the harmful chemicals found in exfoliating scrubs and facial peels. Select cool mist to tighten and brighten skin while providing soothing relief for skin made sensitive by weather, acne or sunburn. Skin moisturizer also glides on after exposing skin to cool mist. steamer features: â ¢ Quickest Start-to-Steam Time: Generates Full-Powered Steam in Under 30 Seconds, â ¢ Hot steam allows you to remove dirt, oil and grime from your skin. Hot steam can open and unclog your pores to prevent blackheads, breakouts and other imperfections. â ¢ Powerful, Efficient PTC Heating Element: Produces a Consistent 104 ° Mist (at 7-8 inches.â ¢ Hot steam can promote the regeneration of collagen and activate the hydrophilic factors to create skin that is more tender, smooth and delicate in appearance. Replenish moisture for anti-allergy and desensitization â ¢Ozone Function: Internal UV Lamp Sterilizes Steam Passing Through Heating Arm. â ¢ Intensify the skin elasticity with hot mist alternation. Package Includes: â ¢ Ivation facail steamer â ¢ Power Supplyâ ¢ User manual
$45.99
Healthy, neroli, basil and lemongrass. Like walking into a fresh kitchen with the inviting smells of basil and refreshing orange, the healthy candle will delight your sense of well-being. Feel confident in your healthy decisions in life to stay energized, focused with this invigorating blend of neroli, basil and lemongrass essential oils.Features: Pure essential oils, soy wax and cotton wick in a 7.5oz frosted glass container Burns 50 to 60 hours, contains no synthetic fragrances, toxins or chemicals Hand poured Made in the USA Candle Type: Jar Flame Type: Flame Color: White Candle Material: Soy;100% Pure essential oils Number of Candles Included: 1 Pieces Included: Scented: Yes Scent Name: Orange basil Type of Scent: Aromatherapy Dripless: Yes Smokeless: No Burn Time: 60 Insect Repellent: No Number of Wicks: 1 Holder Included: Yes Holder Material: Glass Lid Included: Yes Battery Operated: No Number of Batteries Needed: Battery Type: Battery Included: Timer: No Hand Poured: Yes Recycled Content: Yes Country of Origin: United States Outdoor Use: Yes Holiday / Occasion: No HolidaySpefications: Commercial OR Residential Certifications: No ADA Compliant: CE Certified: CPSIA Compliant: EPP Compliant: CPG Compliant: Certifications: No CSA Certified: GREENGUARD Certified: California Proposition 65 Warning Required: No General Certificate of Conformity (GCC): Dimensions: Overall Height - Top to Bottom: 3.5 Overall Width - Side to Side: 3.5 Overall Depth - Front to Back: 3 Overall Product Weight: 0.63Assembly: Warranty: