Wallys Natural Products ECW1691963 0.33 oz Aromatherapy Blend Organic Roll On Essential Oils Calming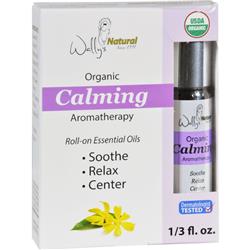 We bring to you a wide assortment of Nutrition and Dietary products to meet your nutrition and diet requirements. Our quality supplements and healthcare products are all authentic and ensure that you stay fit and healthy.Features High quality and reliable products Exclusive range to find the best match Authentic items at affordable prices Amazing value for money This organic blend of essential oils is made with the relaxing blend of organic Bergamot Mandarin and Ylang Ylang This unique essential oil blend is easy to use Feel a sense of peace as this relaxing blend of essential oils infuse into ...
Buy Now
$19.72

Related Products
$12.95
AROMATHERAPY STARTER SET - This set is perfect for yourself as a starters kit or as a gift. Package contain 6 bottles, 10ml each. Flavors included: Lavender (Lavandula angustifolia), Tea Tree (Melaleuca alternifolia), Eucalyptus (Eucalyptus globules), Lemongrass (Cymbopogon flexuosus), Sweet Orange (Citrus sinensis), Peppermint (Mentha piperita). Packaged in dark amber bottles for retaining maximized freshness. 100% NATURE'S PURE ESSENCE - Each bottle contains 100% pure unadulterated essential oil; without any fillers, additives, bases or carriers. Calily Essential Oils are extracted utilizing the most advanced state-of-the-art distillation and extraction methods; maintaining the optimum integrity and natural fresh scents of the natural oils. Calily's artisan distillers and extractors specialize in producing the finest, therapeutic grade oils, using carefully controlled distillation and extraction methods. About Calily Calily was formed by a group of naturalists with a strong belief in the importance and benefits of using essential oils - and only authentic, pure, therapeutic grade oils - for medicinal aromatherapy practices. Pure Essential Oils maintain the balance of body, mind, heart and spirit. Utilizing planets earth's natural treasures of healing properties has an astounding effect on one's health and overall wellness. Calily conducts a vast amount of botanical research which enables us to extract the richest oils possible. Starting from the first step, our agricultural professionals identify the perfect geographical location and environment for our farms selection, to ensure we obtain only the most desirable oil quality and high medicinal potency.
$4.87
Essential Oil for Aromatherapy Jasmine, 1 FL. OZ.
£10.61
Gift yourself-or those favorite people in your life-an aromatherapy shop in a box: Art Naturals' Top 6 Essential Oils Set. Each of the 10 ml. bottles of essential oil provides healthy, natural benefits for skin and home. Frankincense Essential Oil calms, fights fatigue, and increases circulation. Used with a carrier oil, it helps heal eczema, psoriasis and dandruff, all alongside that lovely scent. Lavender Essential Oil's delightful fragrance reduces stress and creates a warm and welcoming environment. Used with a carrier oil, it helps heal minor burns, cuts, insect bites/bee stings, eczema, dandruff, dry skin, and soothes anxiety. Eucalyptus Essential Oil used in a diffuser or humidifier, befriends the weary cold and flu sufferer, and a few drops in shampoo or conditioner revs up your scalp and fights dandruff. Peppermint Essential Oil used as directed, can calm indigestion, re-live sinus congestion and headaches, and rev up energy levels. Its anti-inflammatory properties make it excellent for use with a carrier oil to massage tired, achy muscles. Tea Tree Essential Oil is in a class by itself when it comes to fighting infection, fungus and acne-and blends to become a phenomenal beauty product as well. Rosemary Essential Oil is invigorating, refreshing and stimulating. Used with a carrier oil for massage, it helps to relieve arthritis pain. Its antiseptic properties make it a natural healer, and it is believed to help improve memory.