Aura Cacia 194723 0.5 oz Unisex Essential Oils Cinnamon Leaf Essential Oil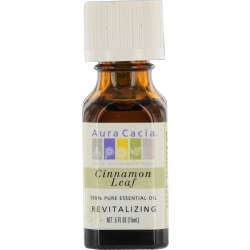 Health care has gained a lot more importance than it ever had. People are resorting to anything and everything in order to stay healthy. Monitoring health personally has become easier with our wide range of Health Care Products. Browse through our extensive collection of healthcare products which are safe and reliable. FeaturesCinnamon leaf-essential oil SpecificationsFragrance: Cinnamon Leaf Gender: Unisex Capacity: 0.5 ...
Buy Now
$23.27

Related Products
$28.91
This Australian tea tree relative offers the protecting power of tea tree with an uplifting aroma similar to lemon. The aromatherapy effects of its lemony-sweet citral and citronellol constituents have earned it the nickname "happy oil." Lemon tea tree's purifying properties make it ideal for air diffusion and homemade cleaning products. The cleansing power of tea tree with an uplifting citrus aroma. Origin - Australia Common Name - Lemon Tea Tree Form - Essential Oil Product characteristics include:Leptospermum petersonii (Lemon Tea Tree) Oil. Capacity - 0.5 fl oz.
$11.09
Aura Cacia Pure Essential Oil Bergamot Description: Uplifting Bergaptene Free LatinCitrus bergamia Origin Italy Aroma Fresh, fruity Body Cleanses the skin Mind Clarifies the mind Spirit Uplifts the spirit Disclaimer These statements have not been evaluated by the FDA. These products are not intended to diagnose, treat, cure, or prevent any disease.
$34.88
Essential Oils Aura Cacia Euphoria-essential Oil Blend .5 Oz By Aura Cacia