AURA(tm) Cacia 0326876 Organic Essential Oil - Lemon - .25 oz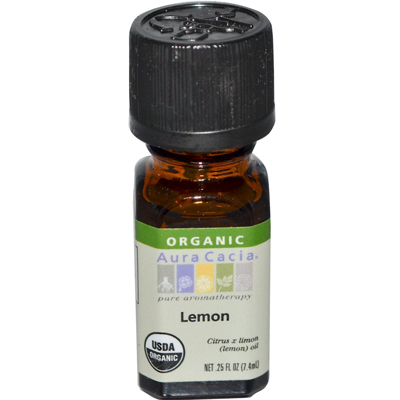 Botanical Name: Citrus x limon. Ingredients: Citrus x limon (lemon) oil. Directions: Dilute properly. Suggested Uses: Cooling Body Mist: 9 drops lemon 7 drops peppermint 2 drops lavender 1 oz. water in a mister. Recharge: Waft open bottle under nose. Caution: If Pregnant Suffering From Any Medical Condition Or Taking Medication Consult a Health Care Practitioner Before Use. Avoid Eyes And Mucous Membranes Aviod Direct Sunlight. Dilute Properly. May Irritate Skin. Not For Internal Use. Keep Out Of Reach Of Children. Notes: Cleansing. Origin: Italy. Organic: QAI Certified Organic. Common Name: Lemon. Plant Part: Fruit Peel. Form: Essential Oil.
Buy Now
$12.77

Related Products
$7.99
Calm and center yourself with this focusing blend of lavender, neroli and petit grain to relax, calm fears and keep a level head. No need to hit the panic .
$16.46
ESSENTIAL OILS AURA CACIA by Aura Cacia