AURA(tm) Cacia 0326876 Organic Essential Oil - Lemon - .25 oz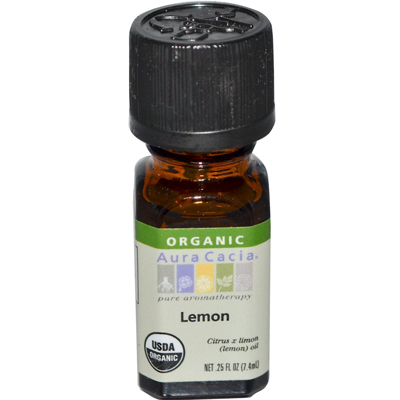 Botanical Name: Citrus x limon. Ingredients: Citrus x limon (lemon) oil. Directions: Dilute properly. Suggested Uses: Cooling Body Mist: 9 drops lemon 7 drops peppermint 2 drops lavender 1 oz. water in a mister. Recharge: Waft open bottle under nose. Caution: If Pregnant Suffering From Any Medical Condition Or Taking Medication Consult a Health Care Practitioner Before Use. Avoid Eyes And Mucous Membranes Aviod Direct Sunlight. Dilute Properly. May Irritate Skin. Not For Internal Use. Keep Out Of Reach Of Children. Notes: Cleansing. Origin: Italy. Organic: QAI Certified Organic. Common Name: Lemon. Plant Part: Fruit Peel. Form: Essential Oil.
Buy Now
$12.77

Related Products
$18.40
ESSENTIAL OILS AURA CACIA by Aura Cacia
$8.32
Possessing an intense, medicinal aroma, tea tree can be used by the drop directly on the skin to cleanse and purify
$28.91
This Australian tea tree relative offers the protecting power of tea tree with an uplifting aroma similar to lemon. The aromatherapy effects of its lemony-sweet citral and citronellol constituents have earned it the nickname "happy oil." Lemon tea tree's purifying properties make it ideal for air diffusion and homemade cleaning products. The cleansing power of tea tree with an uplifting citrus aroma. Origin - Australia Common Name - Lemon Tea Tree Form - Essential Oil Product characteristics include:Leptospermum petersonii (Lemon Tea Tree) Oil. Capacity - 0.5 fl oz.