AURA(tm) Cacia 0326876 Organic Essential Oil - Lemon - .25 oz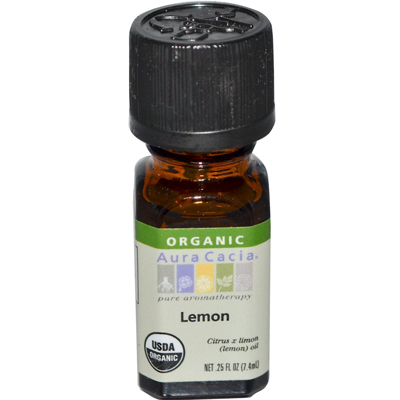 Botanical Name: Citrus x limon. Ingredients: Citrus x limon (lemon) oil. Directions: Dilute properly. Suggested Uses: Cooling Body Mist: 9 drops lemon 7 drops peppermint 2 drops lavender 1 oz. water in a mister. Recharge: Waft open bottle under nose. Caution: If Pregnant Suffering From Any Medical Condition Or Taking Medication Consult a Health Care Practitioner Before Use. Avoid Eyes And Mucous Membranes Aviod Direct Sunlight. Dilute Properly. May Irritate Skin. Not For Internal Use. Keep Out Of Reach Of Children. Notes: Cleansing. Origin: Italy. Organic: QAI Certified Organic. Common Name: Lemon. Plant Part: Fruit Peel. Form: Essential Oil.
Buy Now
$14.28

Related Products
$13.49
Aura Cacia Pure Essential Oil Red Thyme - 0.5 fl oz: HF
$7.55
Aura Cacia Pure Essential Oil Tea Tree Description: 100% Pure Essential Oil - Cleansing Latin Melaleuca alternifolia Origin Australia Aroma Spicy, Camphoraceous Body Cleanses the body Mind Clarifies the mind Spirit Purifies the spirit Disclaimer These statements have not been evaluated by the FDA. These products are not intended to diagnose, treat, cure, or prevent any disease.
$18.72
We always care for our beauty and personal care supplements. These products provide you health wellness and natural beauty with every day. They are unique for its flavors scents herbs their health appeal their multi- use capability simple elegant look and their uniqueness. Our products help you to picture the healthy ecosystems which provide you a healthy and happy life ahead. FeaturesWild Marjoram-Essential Oil SpecificationsCapacity: 0.5 oz