AURA(tm) Cacia 0713784 Pure Essential Oil Citronella Java - 0.5 fl oz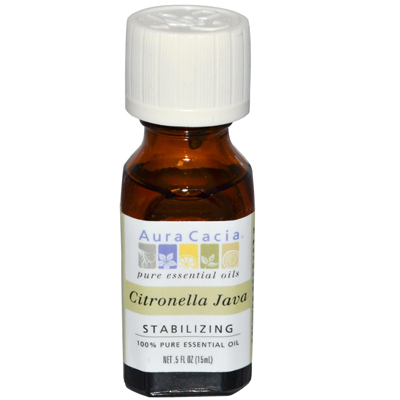 Botanical Name: Cymbopogon winterianus. Ingredients: Cymbopogon winterianus (citronella) oil. Directions: Dilute properly. Suggested Uses: Awaken senses: 3 drops citronella 3 drops rosemary 12 drops grapefruit 1 oz. water in a mister. Caution: If Pregnant Suffering From Any Medical Condition Or Taking Medication Consult a Health Care Practitioner Before Use. May Irritate Skin - Not For Internal Use. Keep Out Of Reach Of Children Avoid Eyes And Mucous Membrames. Dilute Properly. Mise En Garde: En Cas De Grossesse Probleme De Sante Ou Prise De Medicaments Consulter Un Medecin Avant lUsage. Risque dIrritation Cutanee Non Pour Usage Interne Garder Hors De La Portee ...
Buy Now
$10.54

Related Products
$17.64
Aura Cacia Pure Essential Oil Lime 0.5 fl oz Type: Alternative Healing Size: 12/.71 oz Pkts Active Ingredients: Citrus x aurantifolia (lime) oil Form: Oil
$11.79
Perhaps no flower is more recognizable and no aroma more evocative than that of the rose. Its rich fragrance has perfumed human history for generations, from ancient Persian gardens, where the rose was probably first cultivated to extravagant Roman banquets whose revelers feasted amongst soft piles of rose petals. The rose is common and unassuming, blooming carefree in a grandmother's rambling, overgrown garden. But the rose can also personify black tie elegance, its velvety blossoms lavish enough to keep company with champagne and caviar. The rose symbolizes innocence, love, passion, sympathy, desire, luxury and the ideal aesthetic.
$15.62
The Sweet Spicy Aroma Of Clove Is Familiar And Comforting And Evokes A Calm Energy That Can Motivate Action.