AURA(tm) Cacia 0713784 Pure Essential Oil Citronella Java - 0.5 fl oz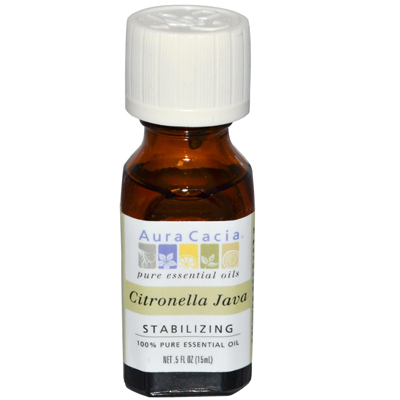 Botanical Name: Cymbopogon winterianus. Ingredients: Cymbopogon winterianus (citronella) oil. Directions: Dilute properly. Suggested Uses: Awaken senses: 3 drops citronella 3 drops rosemary 12 drops grapefruit 1 oz. water in a mister. Caution: If Pregnant Suffering From Any Medical Condition Or Taking Medication Consult a Health Care Practitioner Before Use. May Irritate Skin - Not For Internal Use. Keep Out Of Reach Of Children Avoid Eyes And Mucous Membrames. Dilute Properly. Mise En Garde: En Cas De Grossesse Probleme De Sante Ou Prise De Medicaments Consulter Un Medecin Avant lUsage. Risque dIrritation Cutanee Non Pour Usage Interne Garder Hors De La Portee ...
Buy Now
$10.54

Related Products
$22.49
Essential Oil Discovery Kit by Aura Cacia 4 (.25 fl oz bottles Kit Essential Oil Discovery Kit 4 (.25 fl oz bottles Kit Kit includes 1 (.25 fl. oz.) bottle each of lavender peppermint tea tree and eucalyptus essential oil and 1 learning guide. Please refer to safety guidelines for use. Warnings Keep out of reach of children. As with all dietary supplements consult your healthcare professional before use. See product label for more information. If pregnant nursing suffering from any medical condition or taking medication consult a health care practitioner before use. Avoid eyes and mucous membranes. Dilute properly. May irritate skin. Not for internal use. Keep out of reach of children.
$17.20
Aura Cacia Essential Oil Blend - Body - Freshen - .5 oz Essential Oils Type: Alternative Healing Size: 350 Grams
$9.64
Aura Cacia Essential Oil Relaxation, .5 OZ: Brought to you by Aura Cacia100% pure essential oilContains the beautiful aroma of sweet orange, langerine, lemon, bergamot, lavender, Roman chamomile, ylang ylang and sandalwoodEvening refresher or an all-day relaxer. Provide true aromatherapy benefits for the mind, body, and spirit. Ingredientscitrus sinensis (sweet orange) oil, citrus reticulata (tangerine) oil, citrus x limon (lemon) oil, citrus bergamia (bergamot) oil, lavandula angustifolia (lavender) oil, chamaemelum nobile (Roman chamomile) oil, cananga odorata (ylang ylang) oil, santalum spicatum (sandalwood) oil.