AURA(tm) Cacia 55295 Lemon Eucalyptus Essential Oil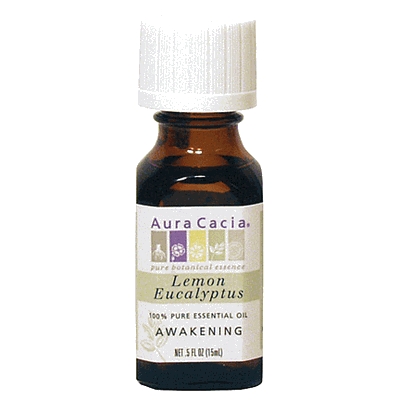 AURA CACIA 1x .5 OZ LEMON EUCALYPTUS ESSENTIAL OIL This oil contains citronellal which adds a lemon-like tone to the familiar penetrating aroma of eucalyptus: (Note: This product description is informational only. Always check the actual product label in your possession for the most accurate ingredient information before use. For any health or dietary related matter always consult your doctor before use.)
Buy Now
$15.09

Related Products
$13.28
Botanical Name: Cymbopogon winterianus. Ingredients: Cymbopogon winterianus (citronella) oil. Directions: Dilute properly. Suggested Uses: Awaken senses: 3 drops citronella 3 drops rosemary 12 drops grapefruit 1 oz. water in a mister. Caution: If Pregnant Suffering From Any Medical Condition Or Taking Medication Consult a Health Care Practitioner Before Use. May Irritate Skin - Not For Internal Use. Keep Out Of Reach Of Children Avoid Eyes And Mucous Membrames. Dilute Properly. Mise En Garde: En Cas De Grossesse Probleme De Sante Ou Prise De Medicaments Consulter Un Medecin Avant lUsage. Risque dIrritation Cutanee Non Pour Usage Interne Garder Hors De La Portee Des Enfants. evitez Le Contact Avec Les Yeux Et Les Muqueuses. Diluez Correctement. Color: Colorless to very pale yellow. Viscosity: Mobile. Top Note: Fresh sweet-lemony grassy. Middle Note: Rich citral sweet-lemony fresh. Dry Note: Sweet somewhat woody not very tenacious. Aromatherapy Actions: Purifying vitalizing. Safety Data: Non-toxic non-irritant. Mild skin irritant. Avoid during pregnancy. Regulatory Status: GRAS 182.20. Origin: Indonesia. Processing Notes: Essential oil is obtained by steam distillation of the fresh partially dried grass. Common Name: Citronella Java-Type. Form: Essential Oil.
$10.17
Essential Oil Cedarwood (Texas) - Aura Cacia - 0.5 oz - EssOil
$39.99
Plant Guru Set Includes 14 - Essential Oil 100% Pure Therapeutic Grade 10ml. Set includes- (Bergamot, Clary Sage, Cinnamon Bark, Eucalyptus, Grapefruit, Lavender, Lemon, Lime, Patchouli, Peppermint, Rosemary, Spearmint, Sweet Orange & Tea Tree).