AURA(tm) Cacia 55355 Lemongrass Essential Oil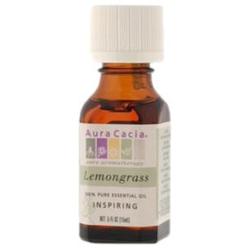 AURA CACIA 1x .5 OZ LEMONGRASS ESSENTIAL OIL Lemongrass is an effective cleansing and astringent ingredient in skin care preparations.: (Note: This product description is informational only. Always check the actual product label in your possession for the most accurate ingredient information before use. For any health or dietary related matter always consult your doctor before use.)
Buy Now
$16.40

Related Products
$9.44
Aura Cacia Pure Essential Oil Peru Balsam Description: 100% pure essential oil - empowering A soothing addition to skin creams and cleansers, this oil has a rich, vanilla-like scent. (Peru balsam contains a natural substance that can form white crystals in the oil. If this happens, warm the bottle slightly until the crystals dissolve.) Disclaimer These statements have not been evaluated by the FDA. These products are not intended to diagnose, treat, cure, or prevent any disease.
$12.73
FeaturesWhen used with Aura Cacia USB Essential Oil Diffuser-Aromatherapy Air Essential Oil Wicks effectively diffuse essential oils into your airspace 10 Count Essential Oil Wicks Label Directions:Follow the specific usage directions included with each diffuser. Safety Info:Keep out of reach of children. SpecificationsCase Size: 24 Kosher: Not Kosher
$9.37
A blend of lavender, coriander, geranium and rose absolute essential oils that fosters feelings of kindness and affection. Comfort the emotions or inspire love with a diffusion of this rosy blend.