Carrier Oil Avocado, 4 oz, Nature's Alchemy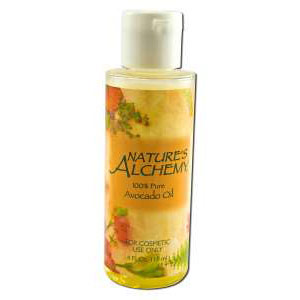 Buy Now
$7.85

Related Products
$12.99
Extraction Method: Cold Pressed. Avocado Carrier Oil contains Vitamins A, B1, B2, D, E, and Beta carotene. It is classified as a monounsaturated oil and is best suited for dry skin conditions in topical applications. Common Uses: Small amounts of Avocado Oil is typically added to other carrier oils in order to enrich protein and vitamin content. It is used predominantly by manufacturers (particularly great in soaps, lotions and creams) and massage therapists. We are buying our oils from organic certified supplier, made from organic ingredients. Shelf Life: Avocado Carrier Oil is slow to go rancid; users can expect a shelf life of 1 year with proper storage conditions (cool, out of direct sunlight). Your item(s) will be shipped the same business day or next business day of confirmation of payment if received by 3:00 pm PST. (not including weekends or holidays). When you receive your item and are pleased with our transaction, please let us know by leaving positive feedback, we will do the same for you in return. Look forward to do business with you, H&B OILS CENTER Co.
$11.99
Belleza Solutions Avocado oil is extracted from the creamy flesh of the Avocado fruit. Avocado oil a rich source of vitamin A, B1, B2, D, and E, amino acids and the essential fatty acid like Oleic Acid (C18:1). Condition: Dehydrated- sun damaged skin & dull hair in need of simple natural moisturizing. Solution: Avocado oil's healing and regenerating properties helps treat sun damaged, aged, dehydrated and undernourished skin. Regular use helps minimize fine lines and wrinkles, heal scars and fade stretch marks promoting skin suppleness. Rich vitamins A, D and E in Avocado oil are particularly beneficial for mature and dry skin. Combine with a few drops of Beauty Aura essential oils (like Lavender oil, Peppermint oil etc) to make great aromatherapy massage oil or after bath oil. The essential fatty acids present in avocado oil makes it very good oil for hair care. Massaging the scalp with avocado oil helps improves blood circulation which stimulates the hair follicles to grow rapidly giving a lustrous natural shine to the hair. It can help get rid of dry, frizzy and unmanageable hair.
$15.99
Avocado Oil by Now Foods 16 oz Liquid Avocado Oil 16 oz Liquid NOW Solutions Avocado Oil is a versatile food-grade cosmetic oil with remarkable soothing and softening properties that leaves no greasy residue. Our economical 16 oz. size makes it easy and affordable for you to enjoy this outstanding natural product. 100 Pure Avocado Oil is an all-natural vegetable oil with a heavy texture. It increases epidermal elasticity while thoroughly moisturizing and softening stubborn dry or cracked skin.