Silky Scents EO97-5ML Chamomile Maroc Essential Oil 100 Percent Pure Therapeutic Grade - 5 ml.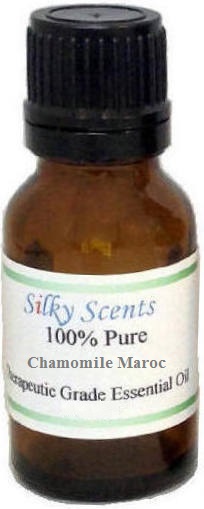 Aromatherapy Properties: (Uses) Although distantly related to the Roman and German Chamomiles Chamomile Maroc is a different botanical species and has a lighter sweeter aroma. The chemical composition of Chamomile Maroc is not similar to the more commonly used Roman and German varieties either but it can replace them where a wonderfully soothing sweet aroma is required. Chamomile Maroc essential Oil is good for using at night and when feeling low in spirits. Chemically and olfactory different from German and Roman Chamomile. Traditionally used as a muscle relaxant & skin conditioner. Blends well with: Lavender 40/42 Lavandin Cypress Vetiver and ...
Buy Now
$37.88

Related Products
$2.95
The lavender and chamomile plants are both world renowned for calming the senses and mind. This Oil Fragrance combines both aromas to create a relaxing blend of peaceful perfection.
$79.95
Plant Therapy Chamomile German CO2 Essential Oil 30 mL (1 fl. oz.) 100% Pure, Undiluted, Therapeutic Grade
$31.60
100% Pure. Anthemis nobilis.