EO17-10ML Eucalyptus Globulus Essential Oil, 100 Percent Pure Therapeutic Grade - 10 ml.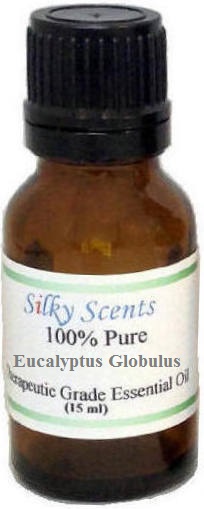 Its scent is camphorous, refreshing, energizing with a woody sweet undertone. Aromatherapy Properties: (Uses) Some of this oil's properties are expectorant, decongestant, insecticide, analgesic, antirheumatic and antiseptic. Inhibits proliferation of the cold virus. Deters mosquitoes and other insects. Cools emotions, aids concentration. Effective in all types of fever, lowers the temperature, makes breathing easier, loosens phlegm. It is one of the most valuable oils for treating the respiratory system. According to research, the spraying of a 2% emulsion containing eucalyptus oil kills off 70% of local, airborne staphylococci. Helps with cystitis. Clears up sinus congestion. Blends well with: Basil ...
Buy Now
$23.21

Related Products
$19.97
This exclusive blend of 6 essential oils works in a unique way to reduce temporary symptoms associated with occasional congestion, allergies & more. Our oils are undiluted to provide maximum benefits.  When your nose feels like it's blocked with cotton and your head is pounding like a bass drum, all you want is to feel better-FAST. But conventional OTC and prescription sinus remedies come with a price... they either make you feel drowsy or over-dry your nasal passages to the point of discomfort. Now there's a smarter way: V'daria Sinus and Respiratory Blend! Our sinus therapy features a blend of 6 essential oils: lavender, peppermint, eucalyptus, rosemary, sage and cedarwood. These have been used for centuries to reduce occasional symptoms related to sinus & chest congestion, sore throat, migraine & muscle aches. Some are also believed to have anti-bacterial & anti-inflammatory effects that may support better immune defense. Inhale our sinus blend directly from the bottle for speedy relief. Add some to a diffuser or bath water to enjoy a soothing vapor/steam. You can even mix a few drops into a carrier oil like coconut oil and create your own aromatherapy massage blend. Unlike cheaper oils that are watered down, V'daria Sinus and Respiratory Blend uses only 100% pure, undiluted essential oils. You get more therapeutic benefit out of every drop!  100% pure, undiluted essential oils May help alleviate temporary stuffiness in adults Refreshing fragrance (not overpowering) Won't cause drowsiness Light-block bottle to preserve freshness Euro-style dropper for measuring drops All oils naturally steam distilled No synthetics, fillers or additives Click "Add to Cart" to buy now!
$16.99
Mini Humidifier Wood Grain LED Ultrasonic Humidifier USB Multicolor Aromatherapy (Yellow). Feature: 1.Dry-burning-resistant protection, this product will automatically power off when there is no water in the tank. 2.Purification and humidification, make breathing easier and reduce cough and sinus congestion due to colds, allergies, and flu. 3.Multicolor humidifier, provide you with a new and different experience. 4.Wood grain design, simple but stylish, matches and fits in anywhere as a decorative piece. 5.A helpful product for keeping the proper humidity as well as freshening up the air quality and bring some fragrance to your room. 6.Idea for home mail, yoga, office, spa, bedroom, baby room, living room or office use. 7.After adding essential oil, it is used for aromatherapy. Specification: Item Type: Humidifier Material: ABS Rated Voltage: DC 5V Rated Power: 2W Capacity: 300ml Size: 110x110x115cm Weight: 0.3kg Note: 1.Please allow slight color differences due to different light and screen. 2.Please allow slight differences due to manual measurement. Package Included: 1 x Humidifier 1 x USB Cable 1 x User Manual
$32.49
Neti Mist KIDS Sinus Spray is a new homeopathic, all natural sinus spray formulated with ingredients to help soothe and relieve congestion in your nasal passages. It is designed to assist and facilitate easier and clearer breathing and may be effective for seasonal sinus support. Contains no Benzalkonium Chloride This product can be used prior to nasal irrigation with the Neti Pot in order to deeply flush out the sinus passages and at any time to extend and support the effects of nasal irrigation. FeaturesHelps relieve congestion in nasal passages Helps alleviate cold and allergy symptoms Helps keep nasal passages Free of pollen, dust, and other irritants This gentle isotonic spray: Is 100% all natural and non-addictive Contains the homeopathic remedy kali muriaticum Contains tangerine-ginger with Erythritol and Xylitol IngredientsKali muriaticum 6X (for upper respiratory mucus and congestion). InDeionized water, sodium chloride (99.99% pure pharmaceutical grade USP), aloe vera (Aloe barbadensis), erythritol, xylitol (non-GMO), grapefruit seed extract (Citrus paradisi), polysorbate 20 (vegetable source), tangerine essential oil (Citrus reticulata), ginger essential oil (Zingiber officinale). SpecificationsVegan: Yes Volume: 1 fl oz Dimension: 4.96" H x 1.36" W x 1.36" L Weight: 0.38 lbs