EO17-10ML Eucalyptus Globulus Essential Oil, 100 Percent Pure Therapeutic Grade - 10 ml.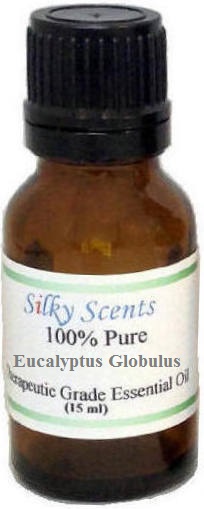 Its scent is camphorous, refreshing, energizing with a woody sweet undertone. Aromatherapy Properties: (Uses) Some of this oil's properties are expectorant, decongestant, insecticide, analgesic, antirheumatic and antiseptic. Inhibits proliferation of the cold virus. Deters mosquitoes and other insects. Cools emotions, aids concentration. Effective in all types of fever, lowers the temperature, makes breathing easier, loosens phlegm. It is one of the most valuable oils for treating the respiratory system. According to research, the spraying of a 2% emulsion containing eucalyptus oil kills off 70% of local, airborne staphylococci. Helps with cystitis. Clears up sinus congestion. Blends well with: Basil ...
Buy Now
$23.21

Related Products
$29.51
FeaturesWhite Fir Essential Oil Blends well with - Coumarin, galbanum, oakmoss and rosemary 100% Pure Essential Oil 100% Pure Therapeutic Grade Capacity - 15 ml. Aromatherapy PropertiesSilver Fir Needle is mainly used for treatment of respiratory system, bronchitis, coughs, sinusitis. Muscular aches and pains, and much used as a fragrance in perfumes for bath preparations, air fresheners, deodorants, detergents, room sprays, soaps, cosmetics, disinfectants.
$18.95
Sinus, Congestion, and Allergy Relief Blend by ?V? Essentials is 100% PURE, PREMIUM, and undiluted with no preservatives! This oil is vegan, all-natural, and therapeutic grade. Our respiratory support blend has incredibly diverse healing abilities with inherent antibacterial, antiviral and antifungal properties. This home remedy is used to naturally relieve: ? Allergies ? Respiratory illness ? Viral infections (respiratory) ? Lung regeneration and repair ? Bronchitis ? Cough ? Congestion ? Sinusitis ? Asthma ? Colds ? Croup ? Mucus ? Pneumonia Other products can contain harmful artificial ingredients and preservatives that you're trying to avoid. Our essential oils are undiluted and contain absolutely no additives. Steam distillation ensures potency, so that you can get more benefits from each drop. When you buy from ?V? Essentials, you're not just getting Premium Essential Oils. You'll also receive our outstanding product support and customer service. ? Your complete and continued satisfaction is our top priority. ? Finally, if you're EVER unhappy with our product, simply return it for a complete refund, no questions asked. Order now so that we can get your Sinus, Congestion, and Allergy Relief Blend on it's way!
$47.13
FeaturesHinoki Essential Oil Consistency - Thin Aromatic Description - Hinoki Wood Essential Oil has a sweet woody scent. Perfumery Note - Top Blends well with - Rosewood (Indian), Bergamot, Boronia, Cypress, Calamus, Cassia, Jasmine Absolute, Juniper Berry, Neroli, Mimosa Absolute, Labdanum, Frankincense, Clary Sage, Vetiver, Rosemary, and Ylang Ylang I. 100% Pure Essential Oil 100% Pure Therapeutic Grade Capacity - 15 ml. Aromatherapy PropertiesHinoki Essential Oil is non-toxic well known for its ability to naturally kill bacteria, viruses, viral infections and fungus. Hinoki Oil is said to have a relaxing and decongestant effect on the body, helping to relieve tension and stress. It is also excellent for alleviating sinus and chest congestion and respiratory problems. Hinoki Oil is considered to be gentle on the skin and is a very effective antiseptic for healing and treating skin problems, such as rashes, cuts, abrasions and minor skin irritations.