Silky Scents EO222-10ML 100 Percent Pure Therapeutic Grade Cubeb Essential Oil - 10 ml.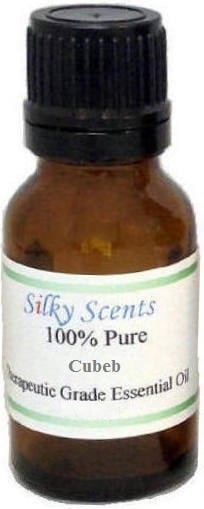 The oil is very effective in the treatment of urinary tract infections. Leucorrhoea gleer gonorrhoea are some of the infections that is treated by using this oil. Use this oil to heal symptoms of chronic laryngitis dyspepsia and inflammation of the bladder. Cubeb oil is very effective in minimizing urethra discharges. Other therapeutic properties of Cubeb oil make them useful in anti ageing products cooling and refreshing agents chewing gums toothpaste confectionaries. FeaturesCubeb Essential Oil Blends well with - Basil Holy Bergamot Allspice Black Pepper Cananga Galbanum Lavender 40/42 Ginger Geranium Jasmine Absolute Rose Absolute (Morocco) Rosemary and Ylang Ylang ...
Buy Now
$21.26

Related Products
$17.09
Pure Fir Needle (Silver Fir) Essential Oil- 15ml Botanical Name: Albies alba Country of Origin: Austria Extraction Method: Steam Distilled Aromatic Scent: Fresh, sweet, earthy, woody Perfumery Note: Middle Historical Uses / Properties: Analgesic, Anti-septic, Decongestant, Deodorant, Expectorant, Rubefacient, Stimulant, Tonic Body Systems Supported: Circulation, Muscles, Joints, Respiratory Blends well with: Lavender, Rosemary, Lemon, Scotch Pine, Marjoram, Orange, Frankincense, Bergamot Chemical type: Monoterpenes Can be used with children older than: 2 years Uses: A go-to oil for respiratory issues- can help with seasonal issues and acute illness. Has been used to improve bronchitis, sinusitis, colds Use in room sprays to deodorize the area May be helpful if dealing with winter blues or Seasonal Affective Disorder (SAD)- Bergamot is another good oil for this- try blending for maximum results All Destination Oils are 100-percent pure, therapeutic grade essential oils. Natural & Pure- Essentials YOU Can Trust Essential oils are incredibly concentrated and powerful so ensure safe use by properly diluting with a carrier oil. Always test for skin sensitivity prior to widespread use. Keep out of eyes, ears, or nose. Keep oils tightly closed and out of the reach of children. Do not ingest essential oils unless guided by a trained professional. The information provided on this website is only our opinion, and is not intended as medical advice or diagnosis. Statements have not been evaluated by the FDA and are not intended to diagnose, cure, treat or prevent any disease. Information on this page should not be interpreted as medical advice, meant for diagnosing illness, or for prescriptive purposes. Always discuss any essential oil use with your doctor or trained aromatherapist. Material: Oils States: Iowa Welcome to Destination Oils. Our goal is to bring great, high quality essential oils and unique aromatherapy jewelry to the online marketplace. Our oils are 100-percent pure, therapeutic grade with no fillers, preservatives, or chemicals. Just oil. The Destination Oils line of aromatherapy diffuser jewelry is one of the largest, most diverse available to ensure something for everyone. 90 day warranty on all pieces too. Destination Oils- Your Essential Journey Starts Here
$21.26
FeaturesEucalyptus Globulus Essential Oil Blends well with - Basil Sweet Cedarwood Atlas Lemon Vetiver Peppermint and Clary Sage.Aromatherapy 100% Pure Essential Oil 100% Pure Therapeutic Grade Capacity - 10 ml. Aromatherapy PropertiesSome of this oil's properties are expectorant decongestant insecticide analgesic antirheumatic and antiseptic. Inhibits proliferation of the cold virus. Deters mosquitoes and other insects. Cools emotions aids concentration. Effective in all types of fever lowers the temperature makes breathing easier loosens phlegm. It is one of the most valuable oils for treating the respiratory system. According to research the spraying of a 2% emulsion containing eucalyptus oil kills off 70% of local airborne staphylococci. Helps with cystitis. Clears up sinus congestion.
$21.95
DISCOVER THE NATURAL HEALING POWER OF ESSENTIAL OILS! THIS BLEND SUPPORTS YOUR WELLBEING! Essential Oils have been used for centuries as a holistic, natural path to wellness and healing. Essential Oils are plant-based oils that hold various qualities and strengths. · Allergy 3 features 100% therapeutic grade essential oils blended to ease the symptoms of allergies. · Apply diluted to back of neck and forehead to relieve seasonal allergies and other allergic reactions. · Used by both veteran and novice essential oil users, this well-known blend is frequently mixed together for its respiratory health benefits. · This blend will help reduce itchy, watering eyes, congestion, swelling and hives. · Relieve congestion, coughing, and difficult breathing with our pure, organic botanical blend. Breathe easy with our natural, aromatic remedy and say goodbye to drugs that make you feel drowsy during the day. · Our 100% natural, organic blend is formulated to fight cold, flu, allergies, bronchitis, sinus issues, asthma, lung infection and even pneumon Allergy 3 includes Lavender, Lemon and Peppermint. Risk-Free Guarantee: We stand behind our oils and blends. If you're not happy, return any Cure Oils product within 30 days for a full refund.