Silky Scents EO222-10ML 100 Percent Pure Therapeutic Grade Cubeb Essential Oil - 10 ml.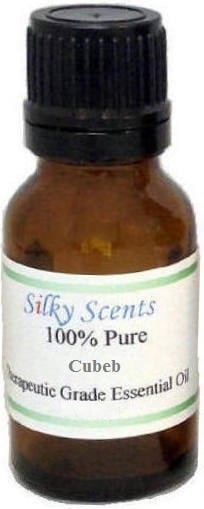 The oil is very effective in the treatment of urinary tract infections. Leucorrhoea gleer gonorrhoea are some of the infections that is treated by using this oil. Use this oil to heal symptoms of chronic laryngitis dyspepsia and inflammation of the bladder. Cubeb oil is very effective in minimizing urethra discharges. Other therapeutic properties of Cubeb oil make them useful in anti ageing products cooling and refreshing agents chewing gums toothpaste confectionaries. FeaturesCubeb Essential Oil Blends well with - Basil Holy Bergamot Allspice Black Pepper Cananga Galbanum Lavender 40/42 Ginger Geranium Jasmine Absolute Rose Absolute (Morocco) Rosemary and Ylang Ylang ...
Buy Now
$21.26

Related Products
$31.75
FeaturesEucalyptus Globulus Essential Oil Blends well with - Basil Sweet Cedarwood Atlas Lemon Vetiver Peppermint and Clary Sage.Aromatherapy 100% Pure Essential Oil 100% Pure Therapeutic Grade Capacity - 30 ml. Aromatherapy PropertiesSome of this oil's properties are expectorant decongestant insecticide analgesic antirheumatic and antiseptic. Inhibits proliferation of the cold virus. Deters mosquitoes and other insects. Cools emotions aids concentration. Effective in all types of fever lowers the temperature makes breathing easier loosens phlegm. It is one of the most valuable oils for treating the respiratory system. According to research the spraying of a 2% emulsion containing eucalyptus oil kills off 70% of local airborne staphylococci. Helps with cystitis. Clears up sinus congestion.
$14.50
Do You Want To Clear A Congested And Stuffy Nose? Adelle Sinus Relief Essential Oil By LoveNaturalMe Can Do That For You And More: We know how difficult it's to go through the day with a runny and stuffy nose. Headaches, fever, cough, fatigue, and that annoying pressure behind the eyes not to mention the loss of smell are all common signs of sinus infections. LoveNaturalMe has a natural solution for you. A true organic sinus relief: Adelle Essential Oil. What Can You Do With Adelle Sinus Relief? We Invite You To Read This List: Treat stuffy nose and nasal congestion. Unblock your congested nose. Stop bad breath. Prevent sinus headache. Regain the loss of smell. Combat persistent cough. Reduce swollen nasal passages. Prevent ear aches. Avoid facial pain due to irritation and inflammation. Prevent rhino sinusitis. Stimulate your weakened intra nasal nerve system. Strengthen your immune system. Never again use salt or harsh chemical mixtures to clear your sinuses. Why Choose Adelle? The Following Features Make This Essential Oil Unique: FDA (USA) and HACCP (Europe) process certified. Cold pressed pure natural and organic. Pleasant fresh aroma not overpowering or weak essence. True plant smell. Compared quality to doterra and young living oils. Harvested in private fields no synthetic additions. Electronic diffuser friendly. Long lasting undiluted oil. High quality glass bottle with dropper included. Click the - add to cart button - to order your essential oil and receive a free quick guide with all you need to know about your product. Plus a discount on your next purchase. Order now before our promotional price ends.
$18.95
DISCOVER THE NATURAL HEALING POWER OF ESSENTIAL OILS! THIS BLEND SUPPORTS YOUR RESPIRATORY SYSTEM TO STAY WELL! Essential Oils have been used for centuries as a holistic, natural path to wellness and healing. Essential Oils are plant-based oils that hold various qualities and strengths Clear Blend features 100% therapeutic grade essential oils blended to improve lung function. Clear Blend maintains feelings of clear airways and easy breathing while minimizing the effects of seasonal threats. Clear Blend can be applied topically to the chest, back, or bottom of feet, or diffused at nighttime to calm the senses and promote a restful sleep. Apply diluted to chest or diffuse to aid breathing, congestion and cough. Clear Blend includes premium Laurel Leaf, Peppermint, Eucalyptus, Tea Tree, Lemon, Basil, Ravintsara. Risk-Free Guarantee: We stand behind our oils and blends. If you're not happy, return any Cure Oils product within 30 days for a full refund.