Silky Scents EO222-10ML 100 Percent Pure Therapeutic Grade Cubeb Essential Oil - 10 ml.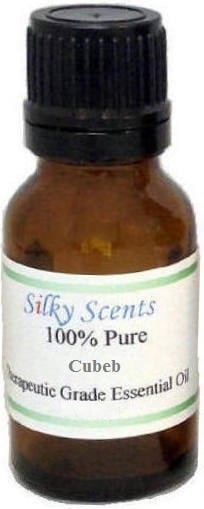 The oil is very effective in the treatment of urinary tract infections. Leucorrhoea gleer gonorrhoea are some of the infections that is treated by using this oil. Use this oil to heal symptoms of chronic laryngitis dyspepsia and inflammation of the bladder. Cubeb oil is very effective in minimizing urethra discharges. Other therapeutic properties of Cubeb oil make them useful in anti ageing products cooling and refreshing agents chewing gums toothpaste confectionaries. FeaturesCubeb Essential Oil Blends well with - Basil Holy Bergamot Allspice Black Pepper Cananga Galbanum Lavender 40/42 Ginger Geranium Jasmine Absolute Rose Absolute (Morocco) Rosemary and Ylang Ylang ...
Buy Now
$29.25

Related Products
£46.30
Breath a little deeper with this essential oil diffuser. This humidifier measures 7 inches high, so it's easy to store discretely on any bare table or shelf. Perfect for purifying the air in any room, this diffuser will provide a relaxing aromatherapy in your home. Features: States: New Jersey Colors/finish: White Materials: Plastic Setting: Indoor Dimensions: 5 inches diameter x 7 inches high Silently and powerfully diffuses essential oils - Helps purify and humidify the air - Relaxing and therapeutic - Humidifier provides moisture for Dry Cough, Sinus Irritation, Dry Skin + Ion Generator= to negatively charge airborne particles such as dust and bacteria helping you clean the air around you (you can notice the Ion generator vent in the back of the unit) Advanced Ultrasonic Diffusing Technology - High Vibration Frequency: 1.7 Mhz - Whisper-quiet Operation - Beneficial aromatherapy oils are dispersed into a micro fine vapor which allows oils to remain suspended in the air for an extended timeAdd essential oils for aromatherapy benefit and relax by Aroma of your choice - Your body will be gradually relaxed, and your skin will be moisturized at the same time Relax by the soothing soft rainbow colors created by rotating LED lights (which can be turned on/off) for a beautiful glow - Lights can be set to stay steady choose from 6 soothing color lights - Light can also be used as an optional night light About the Manufacturer: Founded in the summer of 2011 on the strong values of quality, innovation and customer care, we continue to evolve and expand on our mission. Today we are already recognized as a company that offers a unique home shopping experience that customers love and appreciate.
$151.99
Includes a fragrance dispenser to freshen the air with your favorite pure essential oil (no synthetic oil, please), creating a relaxing or invigorating atmosphereEnvironmentally-friendly? consumes low amounts of energy, emitting up to 2.4 gallons of moisture per day in spaces up to 540 square feet in size, counteracting the discomforting effects of a dry climate, such as dry skin, cracked lips, or sinus congestionFeatures 2 output levels, a memo function alerting you to replace the filters, and an automatic shut-off when the 0.9-gallon tank is emptyDimmable LED lights and an ultra quiet fan ensure an undisturbed night of sleepSuitable Accessories: Oskar Filter Pack, Water Cube, Zero Calc, or Stadler Form Pure Essential OilsDimensions: 9.7? W x 11.4? H x 9.7? D; Weight: 6.9 lbs.; Rated Power: 6?18 Watt
$16.39
Decongest Herbal Cough Syrup Menthol Zand 8 oz Liquid: Children under 2 Not recommended Or as directed by your healthcare professional. Other Ingredients Active Ingredients mentholum (menthol) 1x-congestion nasal discharge cough colds drosera rotundifolia (sundew)3x-relieves sinus pressure tightness of chest sneezing runny nose cough colds guiacum (guiacum)3x-relieves coughs bronchitis Inactive Ingredients citric acid eucalyptus essential oil fructose honey mullein leaf extract natural color sodium benzoate usp purified water usp grain alcohol (12 ) xanthan gum. Warnings Keep out of reach of children.