Silky Scents EO222-15ML 100 Percent Pure Therapeutic Grade Cubeb Essential Oil - 15 ml.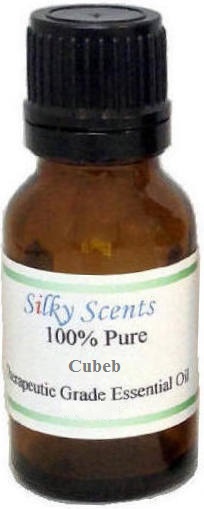 The oil is very effective in the treatment of urinary tract infections. Leucorrhoea gleer gonorrhoea are some of the infections that is treated by using this oil. Use this oil to heal symptoms of chronic laryngitis dyspepsia and inflammation of the bladder. Cubeb oil is very effective in minimizing urethra discharges. Other therapeutic properties of Cubeb oil make them useful in anti ageing products cooling and refreshing agents chewing gums toothpaste confectionaries. FeaturesCubeb Essential Oil Blends well with - Basil Holy Bergamot Allspice Black Pepper Cananga Galbanum Lavender 40/42 Ginger Geranium Jasmine Absolute Rose Absolute (Morocco) Rosemary and Ylang Ylang ...
Buy Now
$28.07

Related Products
$16.89
Aromatherapy Properties: (Uses) It is analgesic antiseptic bactericide cicatrisant insecticide decongestant and vermifuge. Stimulating uplifting clears the head and may aid in concentration. Niaouli is considered an excellent antiseptic for treating pulmonary infections such as bronchitis and sinus. Excellent for chest infections bronchitis asthma and sinusitis. May be used in place of Tea Tree when the smell of Tea Tree is found objectionable. Blends well with: For respiratory problems blends well with Peppermint Eucalyptus Globulus Pine White and Myrtle. Features100% Pure Essential Oil Raw Material - Niaouli Botanical Name - Melaleuca Viridiflora Therapeutic Grade Capacity - 15 ml.
£10.91
A highly effective essential oil that can lessen the severity of headaches, sinusitis, congestion and coughs. It is also believed to provide relief for nausea. On the skin, it refreshes and cools. We cannot accept returns on this product.
£33.30
Features: Add humidity to your air and use your favorite essential oil for health. It has an aroma mist and give the fresh air and relaxation mist. It can be a great gift for family and friends who like aromatherapy or can get well from aromatherapy healing. You can have a better sleep by using ti. Help to keep your family healthy Help to provide you relax and relieve stress, fight allergy, cold or flu symptoms. Unique 3D effect(Meteor Shower) with the automatic 16 color changes. It is so lightweight which is so portable to be taken. It is quiet and silent,will not disturb you. Descriptions: It can be used as a humidifier which can help to moisten your dry chapped skin, lips, and sinuses, offering you a fresh and comfortable environment. Wide range of applications,you can place it in your bedroom, office or many other area. It can be a great home decoration and add atmosphere. Specification: Size:11*11*15cm Package Size:23.5*11.5*10.5cm Item Color:wood color& silver Light color:8 Color lights Shape:cylindrical Model:ZY-02 Material: Glass cover, and PP Tank Capacity: 100ML Operating time: Spray volume 4 hours 1 hour Input Voltage: 100-240V Output Voltage: DC 24V Power: 12W Ultrasonic Frequency: 3MHz LED Number: Six full-color LED lights 16 gradual colors Package Includes: 1 x Aroma Diffuser 1 x UL certification Charger Adaptor 1 x User Manual Notes: Due to the difference between different monitors, the picture may not reflect the actual color of the item. We guarantee the style is the same as shown in the pictures.