Silky Scents EO222-15ML 100 Percent Pure Therapeutic Grade Cubeb Essential Oil - 15 ml.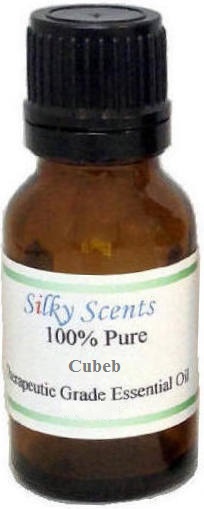 The oil is very effective in the treatment of urinary tract infections. Leucorrhoea gleer gonorrhoea are some of the infections that is treated by using this oil. Use this oil to heal symptoms of chronic laryngitis dyspepsia and inflammation of the bladder. Cubeb oil is very effective in minimizing urethra discharges. Other therapeutic properties of Cubeb oil make them useful in anti ageing products cooling and refreshing agents chewing gums toothpaste confectionaries. FeaturesCubeb Essential Oil Blends well with - Basil Holy Bergamot Allspice Black Pepper Cananga Galbanum Lavender 40/42 Ginger Geranium Jasmine Absolute Rose Absolute (Morocco) Rosemary and Ylang Ylang ...
Buy Now
$32.05

Related Products
$29.38
FeaturesFir Needle Essential Oil Blends well with - Basil Holy Cajeput Cedarwood Atlas and Frankincense. Aromatic Description - Rich balsamic and refreshing aroma. It is invigorating stimulating and Strengthening Perfumery Note - Middle 100% Pure Essential Oil 100% Pure Therapeutic Grade Capacity - 30 ml. Aromatherapy PropertiesAmong its properties are analgesic antiseptic deodorant and expectorant. it is good for Arthritis bronchitis colds coughs flu muscle aches rheumatism sinusitis. Useful as an inhalation for anxiety and stress. Ideal for respiratory difficulties. Has a beneficial effect on chest conditions especially obstructions of the bronchi such as mucus. Its warming effect is beneficial in massage blends for the relief of muscular aches and pains due to rheumatic or arthritic conditions.
£14.20
The cool, stimulating, minty aroma of our pure Peppermint Essential Oil helps to reduce fatigue and uplift the mind. This oil can help relieve sinus and respiratory congestion and soothe headaches. Used in a carrier oil, Peppermint Oil helps ease achy muscles and joints, and when rubbed on the abdomen, helps calm spasms, colic and irritable bowel. The Oil can also be used in a vaporizer or diffuser to aid in increasing alertness. The therapeutic properties of Peppermint (Mentha piperita) Oil are: Analgesic, anti-bacterial, antiemetic, antifungal, antioxidant, antispasmodic, antiviral, astringent, circulatory stimulant, cooling, decongestant, expectorant, ferbifuge, and immunostimulant. Humans have been using peppermint for centuries. Dried peppermint leaves were discovered in pyramids that date back to 1000 BCE. Its use was recorded in the 13th century Icelandic Pharmacopoeias, but it wasn't until the middle of the 18th century that it began to be cultivated for its medicinal properties. Peppermint is a hybrid of water mint and spearmint. It is indigenous to Europe and the Middle East. Over the ages, peppermint has been used for indigestion, nausea, infections, respiratory infections and pain.
$246.99
Oksar Big Humidifier, Black: Includes a fragrance dispenser to freshen the air with your favorite pure essential oil (no synthetic oil)Creates a relaxing or invigorating atmosphereEnvironmentally friendlyConsumes low amounts of energyEmitts up to 4.5 gallons of moisture per day in spaces up to 1100 sq ft in sizeCounteracts the discomforting effects of a dry climate such as dry skin, cracked lips or sinus congestionFeatures 2 output levelsA memo function alerts you to replace the filtersAutomatic shut-off when the 1.5-gallon water tank is emptySuitable accessories: Oskar filter pack, water cube, zero calc or Stadler Form pure essential oilsDimmable LED lights and an ultra quiet fan ensure an undisturbed night of sleepDimensions: 9.7"W x 11.4"H x 9.7"DWeight: 6.9 lbsRated Power: 6â 18W