Silky Scents EO222-15ML 100 Percent Pure Therapeutic Grade Cubeb Essential Oil - 15 ml.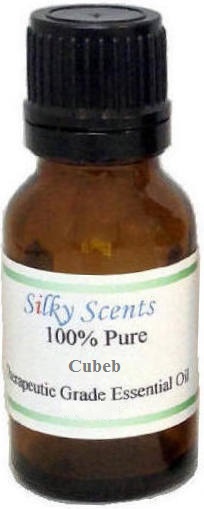 The oil is very effective in the treatment of urinary tract infections. Leucorrhoea gleer gonorrhoea are some of the infections that is treated by using this oil. Use this oil to heal symptoms of chronic laryngitis dyspepsia and inflammation of the bladder. Cubeb oil is very effective in minimizing urethra discharges. Other therapeutic properties of Cubeb oil make them useful in anti ageing products cooling and refreshing agents chewing gums toothpaste confectionaries. FeaturesCubeb Essential Oil Blends well with - Basil Holy Bergamot Allspice Black Pepper Cananga Galbanum Lavender 40/42 Ginger Geranium Jasmine Absolute Rose Absolute (Morocco) Rosemary and Ylang Ylang ...
Buy Now
$29.54

Related Products
$13.98
7 Jardins Allergy Reliever 100% Pure Therapeutic Essential Oil "Eucalyptus Globulus" (10 ml) Best Remedy For Stress Sinus & Congestion Treatment Enriched With Plant Based Natural Ingredients
$36.00
After harvesting and distilling Lavender Maillette essential oil it is then left to mature for several months before it is sold to the public. It has many therapeutic uses. When it is diffused it helps asthma headaches insomnia and kills the germs that cause sinus and lung infections coughs and colds. It calms reduces stress alleviates fear and soothes frustration and irritability especially in times of crises. Lavender Maillette's effectiveness in the treatment of burns cuts headaches and insomnia makes it a must in a first-aid kit. Choose Lavender Maillette when you want to find calm to release worries and concerns or to be truly committed to your health. Capacity - 30 ml.
$5.55
Pure Eucalyptus Globulus, Lavender Flower, Spruce, White Camphor and Cedarwood Virginiana essential oils. A nourishing blend for the respiratory system. Nurtures and strengthens the lungs, throat and sinuses by opening, dearing and soothing the tissues and membranes. When combining certain essential oils in a way that amplifies their power, the result is a synergistic therapeutic blend. Aromatherapy is creating blends for improving one's emotional and physical well-being. Starwest's eight synergistic Essential Oil Blends are specially formulated for specific therapeutic purposes, which are reflected in their names. Packaged in glass amber bottles to preserve the oils, the 1/3 ounce size has a fitted dropper insert and a tamper-evident, child-proof lid.