Silky Scents EO222-15ML 100 Percent Pure Therapeutic Grade Cubeb Essential Oil - 15 ml.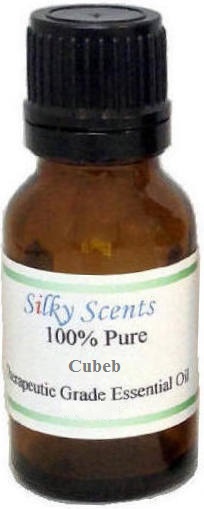 The oil is very effective in the treatment of urinary tract infections. Leucorrhoea gleer gonorrhoea are some of the infections that is treated by using this oil. Use this oil to heal symptoms of chronic laryngitis dyspepsia and inflammation of the bladder. Cubeb oil is very effective in minimizing urethra discharges. Other therapeutic properties of Cubeb oil make them useful in anti ageing products cooling and refreshing agents chewing gums toothpaste confectionaries. FeaturesCubeb Essential Oil Blends well with - Basil Holy Bergamot Allspice Black Pepper Cananga Galbanum Lavender 40/42 Ginger Geranium Jasmine Absolute Rose Absolute (Morocco) Rosemary and Ylang Ylang ...
Buy Now
$28.07

Related Products
$19.52
Its scent is camphorous refreshing energizing with a woody sweet undertone. Aromatherapy Properties: (Uses) Some of this oil's properties are expectorant decongestant insecticide analgesic antirheumatic and antiseptic. Inhibits proliferation of the cold virus. Deters mosquitoes and other insects. Cools emotions aids concentration. Effective in all types of fever lowers the temperature makes breathing easier loosens phlegm. It is one of the most valuable oils for treating the respiratory system. According to research the spraying of a 2% emulsion containing eucalyptus oil kills off 70% of local airborne staphylococci. Helps with cystitis. Clears up sinus congestion. Blends well with: Basil Sweet Cedarwood Atlas Lemon Vetiver Peppermint and Clary Sage. 100% pure therapeutic grade essential oil of Eucalyptus Globulus Capacity - 15 ml. Amber Bottle
$19.85
Aromatherapy Properties: (Uses)Peppermint Supreme is widely credited with being a digestive aid. Peppermint leaves contain menthol which is a proven aid to digestion. The familiar aroma of Mentha Piperita is known for both its warming and cooling properties. Friendly to the sinuses peppermint is also useful to the muscular system especially for women during monthly cycles or menopause. Peppermint is commonly known from peppermint tea chewing gum or candy but the Essential Oil is much more strong and concentrated and should be used in moderation. Very fresh and clean smelling. Refreshing mental stimulant energizing used to enhance well-being of digestive and respiratory system. Relieves bad breath. Good nerve tonic that helps with mental fatigue and nervous stress. Blends well with: Basil Holy Bergamot Cajeput Cedarwood Atlas Eucalyptus Globulus Lemon Lime Mandarin Red Marjoram Sweet Niaouli Organic Pine Black Wild Crafted Rosemary Spearmint and Thyme Red. History: Peppermint oil is one of the world's oldest medicinal herbs with documented use in ancient Egypt Greece and Rome. Features100% Pure Essential Oil Raw Material - Peppermint Supreme Botanical Name - Mentha Piperita Therapeutic Grade Capacity - 10 ml.
$6.48
Nature & #39s Nature's Alchemy - 100% Pure Essential Oil Eucalyptus - 0.5 oz (15 ml): Nature & #39s Alchemy 100% Pure Essential Eucalyptus Oil (Eucalyptus globulus ) has a distinctive fresh, medicinal, woody, earthy aroma. Eucalyptus Oil is effective against: arthritis, bronchitis, catarhh, cold sores, colds, coughing, fever, flu, poor circulation, sinusitis. Botanical Name: Eucalyptus globulus Common Method of Extraction: Steam Distilled Color: Clear Consistency: Thin Perfumery Note: Top Strength