Silky Scents EO222-15ML 100 Percent Pure Therapeutic Grade Cubeb Essential Oil - 15 ml.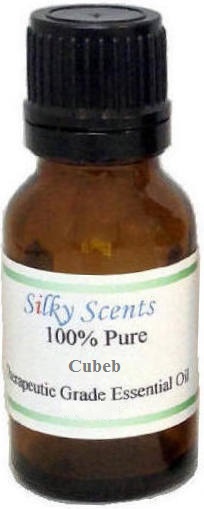 The oil is very effective in the treatment of urinary tract infections. Leucorrhoea gleer gonorrhoea are some of the infections that is treated by using this oil. Use this oil to heal symptoms of chronic laryngitis dyspepsia and inflammation of the bladder. Cubeb oil is very effective in minimizing urethra discharges. Other therapeutic properties of Cubeb oil make them useful in anti ageing products cooling and refreshing agents chewing gums toothpaste confectionaries. FeaturesCubeb Essential Oil Blends well with - Basil Holy Bergamot Allspice Black Pepper Cananga Galbanum Lavender 40/42 Ginger Geranium Jasmine Absolute Rose Absolute (Morocco) Rosemary and Ylang Ylang ...
Buy Now
$32.05

Related Products
$43.23
After harvesting and distilling Lavender Maillette essential oil it is then left to mature for several months before it is sold to the public. It has many therapeutic uses. When it is diffused it helps asthma headaches insomnia and kills the germs that cause sinus and lung infections coughs and colds. It calms reduces stress alleviates fear and soothes frustration and irritability especially in times of crises. Lavender Maillette's effectiveness in the treatment of burns cuts headaches and insomnia makes it a must in a first-aid kit. Choose Lavender Maillette when you want to find calm to release worries and concerns or to be truly committed to your health. Capacity - 30 ml.
$12.95
Peppermint Essential Oil (also known as Mentha piperita) is one of the most used and versatile of the essential oils. Due to the cooling sensation Peppermint Essential Oil leaves on the skin (which helps to numb pain), it is one of the more popular essential oils for pain relief. It also works to heal the wound itself, due to the anti-inflammatory compounds it contains. Peppermint Essential Oil is often useful for relieving headaches, migraines, sore muscles and arthritic joints. Peppermint Essential Oil also contains powerful disinfectant properties. Often used in dental hygiene products, when a few drops of peppermint oil are added to a toothbrush or mouthwash, it helps to cleanse the mouth and leave breath refreshingly crisp. Peppermint Essential Oil is commonly used in shampoos, conditioners, cosmetic applications, personal care formulations, perfumery, incense, insect repellents, candles and aromatherapy. Disclaimer: The above statements have not been evaluated by the FDA. This information is for educational purposes only, it is not intended to treat, cure, prevent or, diagnose any disease or condition. Nor is it intended to prescribe in any way. This information is for educational purposes only and may not be complete, nor may its data be accurate. Safety precautions: All products are for external use only. Consult a professional reference for correct dilution ratios prior to application. Avoid in pregnancy and lactation. Keep away from eye area. Keep out of reach of children.
$6.48
Nature & #39s Nature's Alchemy - 100% Pure Essential Oil Eucalyptus - 0.5 oz (15 ml): Nature & #39s Alchemy 100% Pure Essential Eucalyptus Oil (Eucalyptus globulus ) has a distinctive fresh, medicinal, woody, earthy aroma. Eucalyptus Oil is effective against: arthritis, bronchitis, catarhh, cold sores, colds, coughing, fever, flu, poor circulation, sinusitis. Botanical Name: Eucalyptus globulus Common Method of Extraction: Steam Distilled Color: Clear Consistency: Thin Perfumery Note: Top Strength