Silky Scents EO222-5ML 100 Percent Pure Therapeutic Grade Cubeb Essential Oil - 5 ml.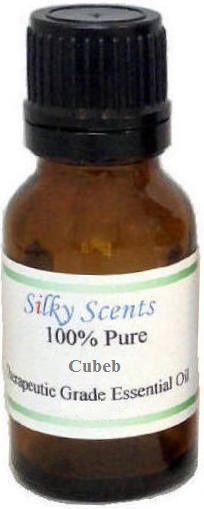 The oil is very effective in the treatment of urinary tract infections. Leucorrhoea gleer gonorrhoea are some of the infections that is treated by using this oil. Use this oil to heal symptoms of chronic laryngitis dyspepsia and inflammation of the bladder. Cubeb oil is very effective in minimizing urethra discharges. Other therapeutic properties of Cubeb oil make them useful in anti ageing products cooling and refreshing agents chewing gums toothpaste confectionaries. FeaturesCubeb Essential Oil Blends well with - Basil Holy Bergamot Allspice Black Pepper Cananga Galbanum Lavender 40/42 Ginger Geranium Jasmine Absolute Rose Absolute (Morocco) Rosemary and Ylang Ylang ...
Buy Now
$24.38

Related Products
$15.81
FeaturesNatural inhalation therapy for decongestation and symptomatic relief of respiratory discomforts Steam/vapor inhalation therapy is a natural aid for respiratory health and general well being 12 Per Case Directions:1 inhalator 10ml andas sinus oil instructions Ingredients:Essential oils of peppermint eucalyptus rosemary and camphor SpecificationsWeight: 0.67
$31.33
FeaturesLavandin Organic Essential Oil Perfumery Note - Top/Middle Blends well with - Bergamot Clary Sage and Lemon 100% Pure Essential Oil 100% Pure Therapeutic Grade Capacity - 15 ml. Aromatic DescriptionLavandin Organic has a softer smell than the conventional type. It is somewhat piercing camphor like smell with some light floral undertones characteristic of Lavender. Aromatherapy PropertiesLavandin is an aromatic evergreen shrub that is much larger than true Lavender. The flowering heads are more compressed with a dull gray blue color. It is a hybrid developed by crossing true lavender with spike lavender which grows wild in areas where true lavender is cultivated or grows wild. It is a good addition to cold and flu remedies with its germ killing ability as well as its ability to stimulate the respiratory system and ease breathing. Lavandin should be used as an inhalation for colds sinusitis and other respiratory problems. May clear headaches good for muscular stiffness. It can also be very effective against non-tubercular opportunistic mycobacteria (NTM) which is common in AIDS. Lavandin is used for treating headaches migraine. HistoryThis hybrid apparently evolved naturally near the seas in Spain Italy and France. It is now commercially produced in these same countries.
$24.38
Aromatherapy Properties: (Uses)The 1. 8 cineol chemotype of Rosemary is best used in connection with pulmonary congestion and to facilitate elimination from the liver and the kidneys. It is an expectorant and an antibacterial especially on staph or strep germs. Indicated for earaches sinus-bronchial-pulmonary infections and all aspects of the ear nose and throat. Blends well with: Basil Sweet Bergamot Cedarwood Atlas Frankincense Ginger Lemon Orange Sweet and Peppermint. Features100% Pure Essential Oil Raw Material - Rosemary Botanical Name - Rosemary CT Cineol Therapeutic Grade Capacity - 5 ml.