Silky Scents EO222-5ML 100 Percent Pure Therapeutic Grade Cubeb Essential Oil - 5 ml.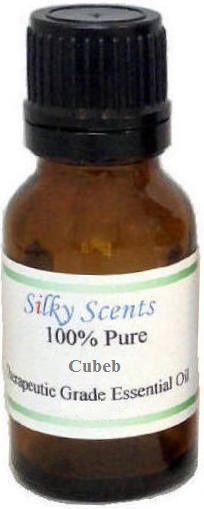 The oil is very effective in the treatment of urinary tract infections. Leucorrhoea gleer gonorrhoea are some of the infections that is treated by using this oil. Use this oil to heal symptoms of chronic laryngitis dyspepsia and inflammation of the bladder. Cubeb oil is very effective in minimizing urethra discharges. Other therapeutic properties of Cubeb oil make them useful in anti ageing products cooling and refreshing agents chewing gums toothpaste confectionaries. FeaturesCubeb Essential Oil Blends well with - Basil Holy Bergamot Allspice Black Pepper Cananga Galbanum Lavender 40/42 Ginger Geranium Jasmine Absolute Rose Absolute (Morocco) Rosemary and Ylang Ylang ...
Buy Now
$17.63

Related Products
$25.80
The oil is steam distilled from the leaves and twigs of the Cajeputi tree. The name Cajeput comes from the Malay 'Caju-Puti' meaning white tree. This oil was used as the traditional remedy for rheumatism and cholera and revered for its antiseptic qualities. It has been used since the 17th century by Europeans. The yellowish-green essential oil has a penetratingly, sweet, herbaceous aroma. It inhibits the spread of bacteria prevalent in sinus, throat, bronchial cough and respiratory infections, giving temporary relief to these symptoms. It is a germ killer, excellent for coughs and gives temporary relief to muscular and rheumatic aches and pains. Emotions/mind and nervous system: Cheering, sense enhancing, mildly euphoric. Aids relaxation and emotional balance. Calming, for insomnia. Genito-urinary: Cystitis, urinary infection, urethritis. Respiratory and immune system: Used for flu, asthma, catarrh, bronchitis, colds and coughs, sinusitis, sore throat, viral infections.Expectorant. Skin/hair: used for oily or spotty skin and insect bites. Actions: Mildly analgesic, antimicrobial, antineuralgic, antispasmodic, antiseptic (pulmonary, urinary, intestinal), anthelminthic, diaphoretic, carminative, expectorant, febrifuge, insecticide, sudorific, tonic. Blends well with: Bergamot, Cypress, Juniperberry, Lemon, Pine, and Rosemary. Essential and resin oils are volatile, fragrant materials extracted from the root, bark, wood, seed, fruit, leaf or flower of a single plant. Essential oils contain the odor, taste and medicinal properties of the plant itself, but in very concentrated form, with no base oil, alcohol, water or dilutants added. Steam distillation and cold pressing are used to extract the essential oil from the plant. Starwest Essential Oils are guaranteed to be 100% pure and undiluted. The distillation process occurs either at the site where the plants are grown or at a distillery. Each oil is tested for purity and strength using the gas chromatography method. Packaged in glass amber bottles to preserve the oils, the 1/3 ounce size has a fitted dropper insert and a tamper-evident, child-proof lid. The larger items are in amber glass or PET gallon containers, depending on the product. Starwest's pure essential oils are suitable for use in aromatherapy, cosmetic preparation, healing and body care, potpourris and more. Essential oils are very potent and should always be used sparingly and in conjunction with a reliable reference.
$19.87
FeaturesGingergrass Essential Oil Perfumery Note - Middle Blends well with - Ylang Ylang III (Cananga) Geranium Rosewood Sandalwood Cedarwood and essential oils that are floral in nature. 100% Pure Essential Oil 100% Pure Therapeutic Grade Capacity - 10 ml. Aromatic DescriptionGingergrass Essential Oil has a sharp green scent with pepper and lemon undertones. It is closely related to lemongrass and customers should look to purchase ginger root if looking for the powdered spice aroma. Aromatherapy PropertiesThe aromatherapy uses for Gingergrass Essential Oil include improvement of circulation and blood flow calming and reduction of stress as well as the opening of sinus passages. From a spiritual perspective Gingergrass Oil is viewed as mood uplifting euphoric and as relief oil. In the perfumery industry Gingergrass Oil is added to inject a sharp green scent - particularly in men's colognes.
$18.77
FeaturesLavandin Essential Oil Aromatic Description - The essential oil's aroma is powdery sweet floral Fresh and more herbaceous than lavender. Perfumery Note - Top/Middle Blends well with - Bergamot Clary Sage and Lemon 100% Pure Essential Oil 100% Pure Therapeutic Grade Capacity - 15 ml. Aromatherapy PropertiesLavandin is an aromatic evergreen shrub that is much larger than true Lavender. The flowering heads are more compressed with a dull gray blue color. It is a hybrid developed by crossing true lavender with spike lavender which grows wild in areas where true lavender is cultivated or grows wild. It is a good addition to cold and flu remedies with its germ killing ability as well as its ability to stimulate the respiratory system and ease breathing. Lavandin should be used as an inhalation for colds sinusitis and other respiratory problems. May clear headaches good for muscular stiffness. It can also be very effective against non-tubercular opportunistic mycobacteria (NTM) which is common in AIDS. Lavandin is used for treating headaches migraine. HistoryThis hybrid apparently evolved naturally near the seas in Spain Italy and France. It is now commercially produced in these same countries.