Silky Scents EO223-10ML 100 Percent Pure Therapeutic Grade Hinoki Essential Oil - 10 ml.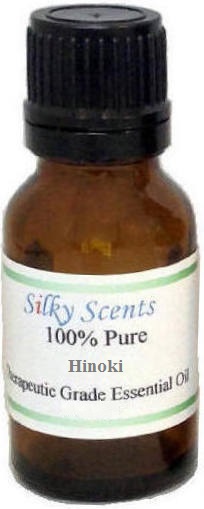 FeaturesHinoki Essential Oil Consistency - Thin Aromatic Description - Hinoki Wood Essential Oil has a sweet woody scent. Perfumery Note - Top Blends well with - Rosewood (Indian) Bergamot Boronia Cypress Calamus Cassia Jasmine Absolute Juniper Berry Neroli Mimosa Absolute Labdanum Frankincense Clary Sage Vetiver Rosemary and Ylang Ylang I. 100% Pure Essential Oil 100% Pure Therapeutic Grade Capacity - 10 ml. Aromatherapy PropertiesHinoki Essential Oil is non-toxic well known for its ability to naturally kill bacteria viruses viral infections and fungus. Hinoki Oil is said to have a relaxing and decongestant effect on the body helping to relieve tension and stress. It is ...
Buy Now
$26.64

Related Products
£22.65
Product Description 1 X INNOKA Ultrasonic Aroma Fragrance Essential Oil Diffuser, 110ml Portable USB Cool Mist Humidifier with Adjustable Modes [Humidification & Aromatherapy] for Home/Bedroom/Office/Car/Yoga/Spa, White Are you suffering from irritation of skin, teary eyes or any problems in the airway that caused by dry air? INNOKA Ultrasonic Mini Humidifier is the best solution to combat dry room air and increase the amount of moisture in the air; benefit to your sinus health and relieve allergies, dryness of skin & throat, nose bleed and cold & flu symptoms Cool mist humidifier operated without hot water which is the preferred option to warm mist humidifier; prevents hot water accidents to keep your children or pets safe as well as cool off your surrounding air Water Leakage Protection: Unique design to prevent water leakage within 90 degrees falling range, perfect to use in car or room Dual Operation Mode: LED light indicator to show the operation mode absolutely clear, Humidification Mode (Red Light; Up to 4 hours working time), Aromatherapy Mode (Blue Light; Up to 8 hours working time) Auto Shut Off: Features automatic shut off when water level drop below the standard level line to protect the humidifier from damage and ensure your safety Silent in use: Ultrasonic humidifier uses high-frequency ultrasonic vibrations to evaporate the water which makes it significantly quiet; Less than 36db which is perfect companion when you are sleeping or working long hours in front of your laptop/PC Portable & Lightweight: Ideal for home/bedroom/office/car/travel use; enjoy the health benefits while you are on the go and cannot carry your normal sized humidifier One Button Design: Easy to control On/Off/Operation Mode with single button Easy to Use: Simply fill the cup with water and add essential oil, connect the USB plug to any compatible power source, press the On/Off button then enjoy the moist air Sleek and delicate design to fit in your home decor Works with any USB Power Source: Can be powered by laptop/PC, power bank, USB AC adapter; convenient to use in workplace or on the go Container Volume: 110ml Spray Volume: 30ml/hour (Humidification Mode); 15ml/hour (Aromatherapy Mode) Power: 3W Voltage: DC-5V Material: PP Dimension: 2.75 x 5.75 inches Package include: 1x Mini Humidifier 1x Water Cup 1x USB Cable 1x User Manual Note: DO NOT use hot water/high purified & distilled water; Do NOT fill water through the spray hole or touch it when the item is in use All rights reserved. All trade names are registered trademarks of respective manufacturers listed. California Proposition 65 WARNING: This product may contain one or more chemicals known to the State of California to cause cancer, birth defects, and/or other reproductive harm.
$7.89
Breathe Blend is an excellent blend to help respiratory function by soothing airways and promoting clear breathing, Add 4-5 drops to a diffuser and see the difference. Some of the uses of Breathe Blend are : 1> Diffuse, inhale directly from palms, or rub on chest, throat or/and feet when seasonal and environmental threats are high. 2> Try placing few drops on your pillow, comforter, bed sheet at night OR Diffuse in room to promote clear breathing and at bedtime for a good night sleep. 3> You can place few drops on cotton swab or paper tissue or on back of your palm and sniff to support immunity or recover from cold and cough. The above statements have not been evaluated by the FDA. This information is for educational purposes only, it is not intended to treat, cure, prevent or, diagnose any disease or condition. Nor is it intended to prescribe in any way. Safety precautions : All products are for external use only. Consult a professional reference for correct dilution ratios prior to application. Avoid in pregnancy and lactation. Keep away from eye area. Keep out of reach of children.
$37.72
FeaturesGingergrass Essential Oil Perfumery Note - Middle Blends well with - Ylang Ylang III (Cananga) Geranium Rosewood Sandalwood Cedarwood and essential oils that are floral in nature. 100% Pure Essential Oil 100% Pure Therapeutic Grade Capacity - 30 ml. Aromatic DescriptionGingergrass Essential Oil has a sharp green scent with pepper and lemon undertones. It is closely related to lemongrass and customers should look to purchase ginger root if looking for the powdered spice aroma. Aromatherapy PropertiesThe aromatherapy uses for Gingergrass Essential Oil include improvement of circulation and blood flow calming and reduction of stress as well as the opening of sinus passages. From a spiritual perspective Gingergrass Oil is viewed as mood uplifting euphoric and as relief oil. In the perfumery industry Gingergrass Oil is added to inject a sharp green scent - particularly in men's colognes.