Silky Scents EO223-10ML 100 Percent Pure Therapeutic Grade Hinoki Essential Oil - 10 ml.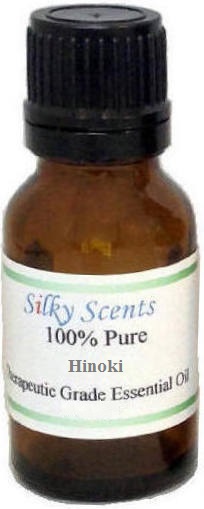 FeaturesHinoki Essential Oil Consistency - Thin Aromatic Description - Hinoki Wood Essential Oil has a sweet woody scent. Perfumery Note - Top Blends well with - Rosewood (Indian) Bergamot Boronia Cypress Calamus Cassia Jasmine Absolute Juniper Berry Neroli Mimosa Absolute Labdanum Frankincense Clary Sage Vetiver Rosemary and Ylang Ylang I. 100% Pure Essential Oil 100% Pure Therapeutic Grade Capacity - 10 ml. Aromatherapy PropertiesHinoki Essential Oil is non-toxic well known for its ability to naturally kill bacteria viruses viral infections and fungus. Hinoki Oil is said to have a relaxing and decongestant effect on the body helping to relieve tension and stress. It is ...
Buy Now
$34.06

Related Products
$9.52
Doctor Recommended. Soothes and Moisturizes with Aromatic Essential Oils & Xylitol. The Original Since 1972.
$21.58
Its scent is camphorous refreshing energizing with a woody sweet undertone. Aromatherapy Properties: (Uses) Some of this oil's properties are expectorant decongestant insecticide analgesic antirheumatic and antiseptic. Inhibits proliferation of the cold virus. Deters mosquitoes and other insects. Cools emotions aids concentration. Effective in all types of fever lowers the temperature makes breathing easier loosens phlegm. It is one of the most valuable oils for treating the respiratory system. According to research the spraying of a 2% emulsion containing eucalyptus oil kills off 70% of local airborne staphylococci. Helps with cystitis. Clears up sinus congestion. Blends well with: Basil Sweet Cedarwood Atlas Lemon Vetiver Peppermint and Clary Sage. 100% pure therapeutic grade essential oil of Eucalyptus Globulus Capacity - 5 ml. Amber Bottle
$31.85
FeaturesGingergrass Essential Oil Perfumery Note - Middle Blends well with - Ylang Ylang III (Cananga) Geranium Rosewood Sandalwood Cedarwood and essential oils that are floral in nature. 100% Pure Essential Oil 100% Pure Therapeutic Grade Capacity - 30 ml. Aromatic DescriptionGingergrass Essential Oil has a sharp green scent with pepper and lemon undertones. It is closely related to lemongrass and customers should look to purchase ginger root if looking for the powdered spice aroma. Aromatherapy PropertiesThe aromatherapy uses for Gingergrass Essential Oil include improvement of circulation and blood flow calming and reduction of stress as well as the opening of sinus passages. From a spiritual perspective Gingergrass Oil is viewed as mood uplifting euphoric and as relief oil. In the perfumery industry Gingergrass Oil is added to inject a sharp green scent - particularly in men's colognes.