Silky Scents EO223-10ML 100 Percent Pure Therapeutic Grade Hinoki Essential Oil - 10 ml.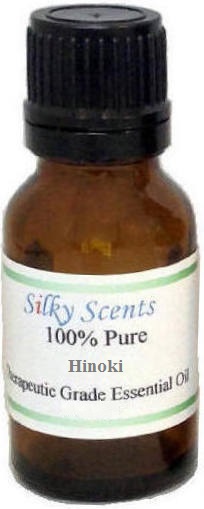 FeaturesHinoki Essential Oil Consistency - Thin Aromatic Description - Hinoki Wood Essential Oil has a sweet woody scent. Perfumery Note - Top Blends well with - Rosewood (Indian) Bergamot Boronia Cypress Calamus Cassia Jasmine Absolute Juniper Berry Neroli Mimosa Absolute Labdanum Frankincense Clary Sage Vetiver Rosemary and Ylang Ylang I. 100% Pure Essential Oil 100% Pure Therapeutic Grade Capacity - 10 ml. Aromatherapy PropertiesHinoki Essential Oil is non-toxic well known for its ability to naturally kill bacteria viruses viral infections and fungus. Hinoki Oil is said to have a relaxing and decongestant effect on the body helping to relieve tension and stress. It is ...
Buy Now
$28.09

Related Products
$19.83
MyPurMist ScentPad is designed to work effectively with the steam from MyPurMist to release soothing aromatic Eucalyptus and fresh Peppermint vapors for non-medicated comfort and a peaceful night's rest. Each MyPurMist ScentPad has 8 reservoirs of 100% natural essential oil that are uniquely designed to work with the steam from MyPurMist. One reservoir may be used multiple times in the course of a day. Steam delivers fast, natural relief from sinus congestion, colds and allergies. If you love essential oils and aromatherapy then MyPurMist ScentPad is for you!
$16.12
FeaturesLavandin Organic Essential Oil Perfumery Note - Top/Middle Blends well with - Bergamot Clary Sage and Lemon 100% Pure Essential Oil 100% Pure Therapeutic Grade Capacity - 5 ml. Aromatic DescriptionLavandin Organic has a softer smell than the conventional type. It is somewhat piercing camphor like smell with some light floral undertones characteristic of Lavender. Aromatherapy PropertiesLavandin is an aromatic evergreen shrub that is much larger than true Lavender. The flowering heads are more compressed with a dull gray blue color. It is a hybrid developed by crossing true lavender with spike lavender which grows wild in areas where true lavender is cultivated or grows wild. It is a good addition to cold and flu remedies with its germ killing ability as well as its ability to stimulate the respiratory system and ease breathing. Lavandin should be used as an inhalation for colds sinusitis and other respiratory problems. May clear headaches good for muscular stiffness. It can also be very effective against non-tubercular opportunistic mycobacteria (NTM) which is common in AIDS. Lavandin is used for treating headaches migraine. HistoryThis hybrid apparently evolved naturally near the seas in Spain Italy and France. It is now commercially produced in these same countries.
$17.97
"BREATHE EASY" by Aromatherapist, Tedd NeenanBreathe Easy has consistently received high acclaim since it was intoduced at Chicago's Aroma Workshop over 20 years ago.FIRST DO NO HARM! Cold and Allergy medications, pills and syrups often make you sleepy, unproductive and flood your body with chemicals that can be harmful. Breathe Easy won't knock you out or require stimulants to keep you awake. Use it alone or to complement any cold or sinus medication taken orally.SAFE, HOLISTIC, NATURAL - EFFECTIVE Breathe Easy's distinctively pleasant and comforting aroma cuts through congestion, stuffiness and blocked passages to support breathing clearly and deeply once again.FIVE 100% PURE Therapeutic Grade Essential Oils - Go To Work Peppermint, Lemongrass, Eucalyptus, Pine and Lavender relax contricted blood flow to counteract inflammation and irritation. This eases nasal pressure or stuffiness, supports clear breathing and soothes sinus headaches while boosting your ability to fight germs and bacteria.READY TO APPLY Many essential oils should not be applied directly to the skin without using carrier oils. Direct contact can cause a skin reaction and unpleasant irritation. Breathe Easy's ideal safe strength is ready to roll-on and soothe you.With over 200 treatments in a tiny leakproof bottle; refreshing comfort will be conveniently at hand for a very long timePURITY TESTED, HIGHEST QUALITY OILS All oils are obtained directly from the world's finest distilleries and were laboratory tested for purity, high potency and authenticity, using ultra accurate state of the art chromatography when appropriate.IT WORKS OR YOUR MONEY BACK Nutravana backs its products with a 90 Day Hassle-free Money Back Guarantee There is no risk to you when you order now. If you are not completely satisfied, simply return it, even empty, for a full refund. No questions asked. Our #1 priority is to make sure our customers are happy.