Silky Scents EO233-10ML 100 Percent Pure Therapeutic Grade Gingergrass Essential Oil - 10 ml.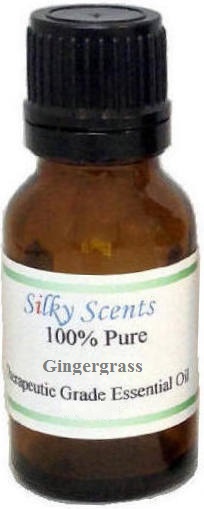 FeaturesGingergrass Essential Oil Perfumery Note - Middle Blends well with - Ylang Ylang III (Cananga) Geranium Rosewood Sandalwood Cedarwood and essential oils that are floral in nature. 100% Pure Essential Oil 100% Pure Therapeutic Grade Capacity - 10 ml. Aromatic DescriptionGingergrass Essential Oil has a sharp green scent with pepper and lemon undertones. It is closely related to lemongrass and customers should look to purchase ginger root if looking for the powdered spice aroma. Aromatherapy PropertiesThe aromatherapy uses for Gingergrass Essential Oil include improvement of circulation and blood flow calming and reduction of stress as well as the opening of sinus passages. From ...
Buy Now
$24.38

Related Products
$7.89
Breathe Blend is an excellent blend to help respiratory function by soothing airways and promoting clear breathing, Add 4-5 drops to a diffuser and see the difference. Some of the uses of Breathe Blend are : 1> Diffuse, inhale directly from palms, or rub on chest, throat or/and feet when seasonal and environmental threats are high. 2> Try placing few drops on your pillow, comforter, bed sheet at night OR Diffuse in room to promote clear breathing and at bedtime for a good night sleep. 3> You can place few drops on cotton swab or paper tissue or on back of your palm and sniff to support immunity or recover from cold and cough. The above statements have not been evaluated by the FDA. This information is for educational purposes only, it is not intended to treat, cure, prevent or, diagnose any disease or condition. Nor is it intended to prescribe in any way. Safety precautions : All products are for external use only. Consult a professional reference for correct dilution ratios prior to application. Avoid in pregnancy and lactation. Keep away from eye area. Keep out of reach of children.
$27.43
FeaturesHinoki Essential Oil Consistency - Thin Aromatic Description - Hinoki Wood Essential Oil has a sweet woody scent. Perfumery Note - Top Blends well with - Rosewood (Indian) Bergamot Boronia Cypress Calamus Cassia Jasmine Absolute Juniper Berry Neroli Mimosa Absolute Labdanum Frankincense Clary Sage Vetiver Rosemary and Ylang Ylang I. 100% Pure Essential Oil 100% Pure Therapeutic Grade Capacity - 5 ml. Aromatherapy PropertiesHinoki Essential Oil is non-toxic well known for its ability to naturally kill bacteria viruses viral infections and fungus. Hinoki Oil is said to have a relaxing and decongestant effect on the body helping to relieve tension and stress. It is also excellent for alleviating sinus and chest congestion and respiratory problems. Hinoki Oil is considered to be gentle on the skin and is a very effective antiseptic for healing and treating skin problems such as rashes cuts abrasions and minor skin irritations.
$26.65
FeaturesWhite Fir Essential Oil Blends well with - Coumarin galbanum oakmoss and rosemary 100% Pure Essential Oil 100% Pure Therapeutic Grade Capacity - 10 ml. Aromatherapy PropertiesSilver Fir Needle is mainly used for treatment of respiratory system bronchitis coughs sinusitis. Muscular aches and pains and much used as a fragrance in perfumes for bath preparations air fresheners deodorants detergents room sprays soaps cosmetics disinfectants.