Silky Scents EO233-10ML 100 Percent Pure Therapeutic Grade Gingergrass Essential Oil - 10 ml.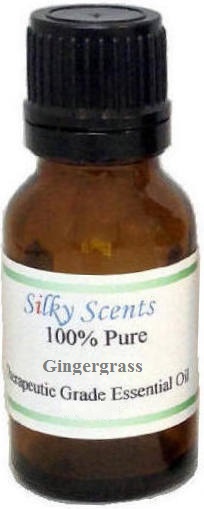 FeaturesGingergrass Essential Oil Perfumery Note - Middle Blends well with - Ylang Ylang III (Cananga) Geranium Rosewood Sandalwood Cedarwood and essential oils that are floral in nature. 100% Pure Essential Oil 100% Pure Therapeutic Grade Capacity - 10 ml. Aromatic DescriptionGingergrass Essential Oil has a sharp green scent with pepper and lemon undertones. It is closely related to lemongrass and customers should look to purchase ginger root if looking for the powdered spice aroma. Aromatherapy PropertiesThe aromatherapy uses for Gingergrass Essential Oil include improvement of circulation and blood flow calming and reduction of stress as well as the opening of sinus passages. From ...
Buy Now
$24.38

Related Products
$6.48
Nature & #39s Nature's Alchemy - 100% Pure Essential Oil Eucalyptus - 0.5 oz (15 ml): Nature & #39s Alchemy 100% Pure Essential Eucalyptus Oil (Eucalyptus globulus ) has a distinctive fresh, medicinal, woody, earthy aroma. Eucalyptus Oil is effective against: arthritis, bronchitis, catarhh, cold sores, colds, coughing, fever, flu, poor circulation, sinusitis. Botanical Name: Eucalyptus globulus Common Method of Extraction: Steam Distilled Color: Clear Consistency: Thin Perfumery Note: Top Strength
$6.95
Name: Breathe Synergy Blend * Contains: Eucalyptus (Eucalyptus Globulus), Peppermint (Mentha Piperita), Tea Tree (Melaleuca alternifolia), Lemon (Citrus limonum), Lavender (Lavandula angustifolia), Cardamom (Elettaria cardamomum), Bay (Laurus nobilis)* Characteristics: This essential oil synergy blend contains oils that together increase the lungs capacity to help breathe. It works well in a nebulizing diffuser at the office. Usage: This synergy blend contains 100% pure essential oils. We recommend a 3 to 5% dilution for topical body applications. * Cautions: It is possible that this blend may cause sensitivities; users are recommended to use these blends only in dilution and not as a replacement for traditional medicine. For external use only.
$45.59
Helps You Endure Seasonal Discomfort. Makes Nasal Passages Feel Cleaner. Natural. Original Swiss Essential Oil Formula. Power To Breathe. Powerful Vapors. Rapid Action. Swiss Formula.