Silky Scents EO233-10ML 100 Percent Pure Therapeutic Grade Gingergrass Essential Oil - 10 ml.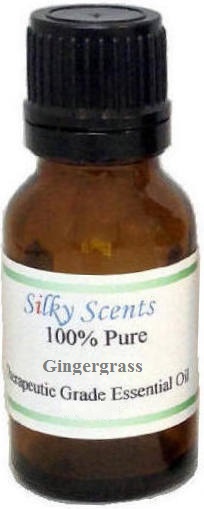 FeaturesGingergrass Essential Oil Perfumery Note - Middle Blends well with - Ylang Ylang III (Cananga) Geranium Rosewood Sandalwood Cedarwood and essential oils that are floral in nature. 100% Pure Essential Oil 100% Pure Therapeutic Grade Capacity - 10 ml. Aromatic DescriptionGingergrass Essential Oil has a sharp green scent with pepper and lemon undertones. It is closely related to lemongrass and customers should look to purchase ginger root if looking for the powdered spice aroma. Aromatherapy PropertiesThe aromatherapy uses for Gingergrass Essential Oil include improvement of circulation and blood flow calming and reduction of stress as well as the opening of sinus passages. From ...
Buy Now
$19.87

Related Products
$28.81
Fast-acting pain relief to safely treat headaches This is a very strong and fast acting headache remedy. It is comprised of certified organic medicinal plants and for topical application to provide immediate headache relief. The certified organic medicinal plants in this treatment provide a desired anti- inflammatory and analgesic effect. And because we are so confident that this unique proprietary formula will work every time. Delivers deep penetrating action Headache Pain Management features our unique dual modality approach to healing. It combines certified organic homeopathic medicines which activate immune parameters to help balance the system with certified organic essential oils which are soothing and nourishing. This dual modality approach expands and supports the action of the homeopathic medicine thereby delivering 2 actions in one. Our medicines are manufactured in our pharmacy and formulated by our Naturopathic Doctor and company Biologist specializing in plant medicine. Headache Pain Management is very powerful and delivers results. This breakthrough headache medicine is the world's first and only FDA registered certified organic headache remedy. It delivers a pronounced therapeutic effect to ease headaches upon application. The analgesic properties of the active ingredients deliver results time after time. In fact the University of Maryland Medical Center reports that more than 80% of those who used homeopathic remedies for headaches found significant improvement in their symptoms. Their study found several homeopathic preparations to be effective to remedy sinus and tension headaches. Symptoms treated include throbbing and burning head pain. We have included multiple homoeopathic remedies proven effective to remedy headaches in Headache Pain Management in order to deliver a broad spectrum healing effect. FeaturesTreats and
$15.00
Aromatherapy Properties: (Uses) It is analgesic antiseptic bactericide cicatrisant insecticide decongestant and vermifuge. Stimulating uplifting clears the head and may aid in concentration. Niaouli is considered an excellent antiseptic for treating pulmonary infections such as bronchitis and sinus. Excellent for chest infections bronchitis asthma and sinusitis. May be used in place of Tea Tree when the smell of Tea Tree is found objectionable. Blends well with: For respiratory problems blends well with Peppermint Eucalyptus Globulus Pine White and Myrtle. Features100% Pure Essential Oil Raw Material - Niaouli Botanical Name - Melaleuca Viridiflora Therapeutic Grade Capacity - 5 ml.
$17.69
The cool, stimulating, minty aroma of our pure Peppermint Essential Oil helps to reduce fatigue and uplift the mind. This oil can help relieve sinus and respiratory congestion and soothe headaches. Used in a carrier oil, Peppermint Oil helps ease achy muscles and joints, and when rubbed on the abdomen, helps calm spasms, colic and irritable bowel. The Oil can also be used in a vaporizer or diffuser to aid in increasing alertness. The therapeutic properties of Peppermint (Mentha piperita) Oil are: Analgesic, anti-bacterial, antiemetic, antifungal, antioxidant, antispasmodic, antiviral, astringent, circulatory stimulant, cooling, decongestant, expectorant, ferbifuge, and immunostimulant. Humans have been using peppermint for centuries. Dried peppermint leaves were discovered in pyramids that date back to 1000 BCE. Its use was recorded in the 13th century Icelandic Pharmacopoeias, but it wasn't until the middle of the 18th century that it began to be cultivated for its medicinal properties. Peppermint is a hybrid of water mint and spearmint. It is indigenous to Europe and the Middle East. Over the ages, peppermint has been used for indigestion, nausea, infections, respiratory infections and pain.