Silky Scents EO49-1OZ-30ML 100 Percent Pure Therapeutic Grade Spearmint Essential Oil - 30 ml.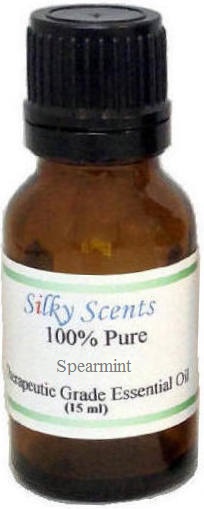 Aromatherapy Properties: (Uses) Antispasmodic emmenagogue insecticide parturient and stimulant. Indicated for all sorts of respiratory problems sinusitis and chronic bronchitis. If used in full body massage use only a minute amount; massage in local areas may be preferable. Possibility of eye irritation as well as an irritant on sensitive skin. Stimulates a tired mind. Helpful with digestive problems such as vomiting flatulence constipation and diarrhea. Seems to relax stomach muscles relieves hiccups and nausea. May help with travel sickness. Good oil to use externally on children with digestive problems such as nausea constipation and diarrhea. Blends well with: Basil Holy ...
Buy Now
$30.81

Related Products
$7.89
Breathe Blend is an excellent blend to help respiratory function by soothing airways and promoting clear breathing, Add 4-5 drops to a diffuser and see the difference. Some of the uses of Breathe Blend are : 1> Diffuse, inhale directly from palms, or rub on chest, throat or/and feet when seasonal and environmental threats are high. 2> Try placing few drops on your pillow, comforter, bed sheet at night OR Diffuse in room to promote clear breathing and at bedtime for a good night sleep. 3> You can place few drops on cotton swab or paper tissue or on back of your palm and sniff to support immunity or recover from cold and cough. The above statements have not been evaluated by the FDA. This information is for educational purposes only, it is not intended to treat, cure, prevent or, diagnose any disease or condition. Nor is it intended to prescribe in any way. Safety precautions : All products are for external use only. Consult a professional reference for correct dilution ratios prior to application. Avoid in pregnancy and lactation. Keep away from eye area. Keep out of reach of children.
$80.82
Inhaler Clip Strip Case of 12 - The Power To Breathe - Naturally! Original Swiss Essential Oil Formula Makes Nasal Passages Feel Cleaner Lessens Effects of Low Humidity Penetrating Vapors With Rapid Action Helps You Endure Seasonal Discomfort Natural Olbas vapors provide a pleasant refreshing and cooling sensation to your nasal passages. Especially beneficial during times of seasonal discomfort low humidity and other unwelcome nasal encounters. Fast-acting penetrating vapors provide an immediate fresh clean feeling in the nose sinuses and lungs. Convenient pocket-sized nasal inhaler. Aromatic vapors are present for a minimum of 3 months after first use. Keep container tightly closed to preserve freshness. For indivuidual use only since the use of this nasal inhaler by more than one person may spread infection. SpecificationsWeight: 0.4 SpecificationsSize: 16 x 20 Team Name: New York Yankees Weight: 1
$9.99
Breathe Blend 100% Pure, Best Therapeutic Grade Essential Oil - 10ml - Comparable to Doterra Breathe, Young Living Raven, Eden's Exhale, Inhale, Respiratory and Sinus Relief