Silky Scents EO49-1OZ-30ML 100 Percent Pure Therapeutic Grade Spearmint Essential Oil - 30 ml.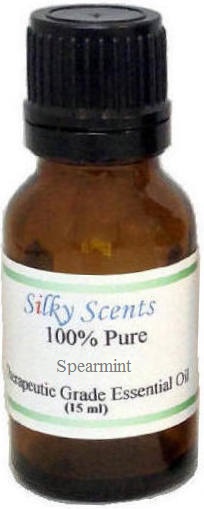 Aromatherapy Properties: (Uses) Antispasmodic emmenagogue insecticide parturient and stimulant. Indicated for all sorts of respiratory problems sinusitis and chronic bronchitis. If used in full body massage use only a minute amount; massage in local areas may be preferable. Possibility of eye irritation as well as an irritant on sensitive skin. Stimulates a tired mind. Helpful with digestive problems such as vomiting flatulence constipation and diarrhea. Seems to relax stomach muscles relieves hiccups and nausea. May help with travel sickness. Good oil to use externally on children with digestive problems such as nausea constipation and diarrhea. Blends well with: Basil Holy ...
Buy Now
$24.11

Related Products
$29.49
An international aromatherapy shop in a box? Art Naturals Top 16 Essential Oil Set is a hand-selected signature collection of our top therapeutic-grade oils. All oils are steam distilled for maximum effectiveness. Mixed with a carrier oil, or used in a diffuser or humidifier, each oil has its own unique healing and restorative properties. Bergamot Oil (Italy) Antidepressant and stimulant. Deodorizes and disinfects. Cinnamon Leaf Oil (Sri Lanka) Aids circulation, reduces drowsiness. With carrier oil in massage, eases aches. Grapefruit Oil (USA) Antioxidant and antiviral. Stimulates lymphatic system. Lime Oil (Mexico) Astringent, antiseptic and boosts the immune system. Patchouli Oil (Indonesia) Soothes inflammation, stimulates cell growth and is antidepressant. Pine Tree Oil (Austria) Helps heal eczema and psoriasis, boosts metabolism. Tangerine Oil (USA) Anti-toxin and tonic, relaxes and soothes. Eucalyptus Oil (India) Helps relieve cold and flu symptoms, fights dandruff. Frankincense Oil (India) Fights fatigue, helps heal eczema, psoriasis and dandruff. Lavender Oil (Bulgaria) Helps heal minor burns, cuts, insect bites, eczema, dry skin. Soothes anxiety. Lemongrass Oil (India) Fights bacteria, deodorizes. Fragrance soothes anxiety and depression. Sweet Orange Oil (Brazil) With carrier oil, perks up dull skin, healing for mouth and gums. Peppermint Oil (Greece) calms indigestion, relieves sinus congestion and headaches. Rosemary Oil (Morocco) With carrier oil for massage, relieves arthritis pain. Antiseptic properties, believed to help improve memory. Tea Tree Oil (Australia) With carrier oil, is a powerful anti-antiseptic, anti-inflammatory. Lemon Oil (Italy) Is detoxifying, sleep-inducing, stimulates circulation. Add oils to bath and shower products for morning or evening aromatherapy healing power.
$15.48
FeaturesWhite Fir Essential Oil Blends well with - Coumarin galbanum oakmoss and rosemary 100% Pure Essential Oil 100% Pure Therapeutic Grade Capacity - 5 ml. Aromatherapy PropertiesSilver Fir Needle is mainly used for treatment of respiratory system bronchitis coughs sinusitis. Muscular aches and pains and much used as a fragrance in perfumes for bath preparations air fresheners deodorants detergents room sprays soaps cosmetics disinfectants.
$15.30
Peppermint has a powerful, sweet, menthol aroma which, when inhaled undiluted, can make the eyes water and the sinuses tingle. Add few drops to car dashboard to help stay alert, clear thinking and fresh. Traditionally used as an insect repellent, emollient, antiseptic, muscle relaxant. A very widely employed aromatherapy oil, try peppermint in a cooling compress across the forehead or over the back of the neck. Blends well with bergamot, geranium, lavender, marjoram, rosemary, sandalwood. Aromatherapy benefits: vitalizing, refreshing, cooling. Some traditional uses: for energy, and brighter mood, reducing pain, to help breathing, improve mental clarity and memory. Peppermint oil is non-toxic and non-irritant in low dilutions but sensitization may be a problem due to the menthol content. It can cause irritation to the skin and mucus membranes and should be kept well away from the eyes. Peppermint oil should be avoided during pregnancy and should not be used on children under seven. Peppermint oil is excellent for mental fatigue and depression; it can help for apathy, shock, headache, migraine, nervous stress, vertigo and faintness. It is useful in general respiratory disorders as well as dry coughs, sinus congestion, asthma, bronchitis, pneumonia, tuberculosis and cholera. For the digestive system Peppermint oil can be effective for colic, cramps, dyspepsia, flatulence and nausea. The 1997 Commission E on Phytotherapy and Herbal Substances of the German Federal Institute for Drugs recommends Peppermint leaves for 'Spastic complaints of the gastrointestinal tract as well as gall bladder and bile ducts.' It can relieve pain in cases of toothache, aching feet, rheumatism, neuralgia, muscular pains and painful periods. Peppermint oil can be useful for dermatitis, acne, ringworm, scabies and pruritus. It can relieve itching, sunburn and inflammation of the skin. Peppermint oil can assist in nervous disorders, the respiratory tract, for muscle aches and pains and for skin problems. In vapor therapy Peppermint oil can help with: coughs, headaches, nausea, mental tiredness and as an insect repellant.. As a blended massage oil or diluted in the bath Peppermint oil can assist with: colic, cramps, back pain, inflamed bowel disorders, catarrh, colitis, circulation, constipation, coughs, diarrhea, sweaty and tired feet, flatulence, headaches, muscular pains, cramps and spasms, neuralgia, nausea, rheumatism and mental fatigue. A mouthwash with Peppermint oil added can help with: bad breath and gum infections. Peppermint oil blends particularly well with: Benzoin, Eucalyptus, Lavender, Marjoram, Lemon and Rosemary. Essential and resin oils are volatile, fragrant materials extracted from the root, bark, wood, seed, fruit, leaf or flower of a single plant. Essential oils contain the odor, taste and medicinal properties of the plant itself, but in very concentrated form, with no base oil, alcohol, wate