Silky Scents EO49-1OZ-30ML 100 Percent Pure Therapeutic Grade Spearmint Essential Oil - 30 ml.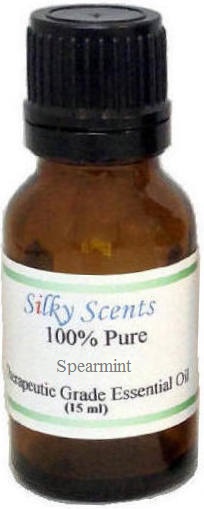 Aromatherapy Properties: (Uses) Antispasmodic emmenagogue insecticide parturient and stimulant. Indicated for all sorts of respiratory problems sinusitis and chronic bronchitis. If used in full body massage use only a minute amount; massage in local areas may be preferable. Possibility of eye irritation as well as an irritant on sensitive skin. Stimulates a tired mind. Helpful with digestive problems such as vomiting flatulence constipation and diarrhea. Seems to relax stomach muscles relieves hiccups and nausea. May help with travel sickness. Good oil to use externally on children with digestive problems such as nausea constipation and diarrhea. Blends well with: Basil Holy ...
Buy Now
$22.64

Related Products
$18.49
A unique combination of essential oils that eases sinus congestion.
$7.99
Peppermint is great for digestive problems, headaches, fevers, sinuses, muscle pain, and so much more. Peppermint has been known to have a cooling effect. It is refreshing, a mental stimulant and energizer.100% Pure peppermint essential oil. Relieves nasal congestion common cold and cough. Eliminates bad breath headaches and nausea. Aroma therapy and house hold useFrequently Asked Questions Can these oils be used directly on the skin?No. Essential oils are very
$2.86
1 oz (30 ml) bottle of eucalyptus oil essential plant extractJust add 1 or 2 drops of oil to your aroma diffuserNatural healing properties of eucalyptus plant help to speed up healing of sinuses, colds, flus, and stubborn allergiesHelps to cleanse the air in your home, killing mold