Silky Scents EO91-1OZ-30ML 100 Percent Pure Therapeutic Grade Turmeric Essential Oil - 30 ml.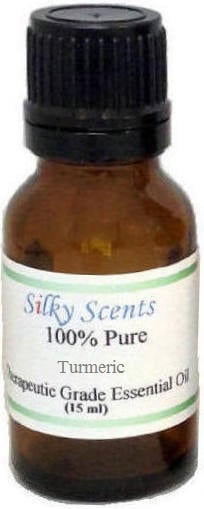 Aromatherapy Properties: (Uses) Turmeric Essential Oil has effects of eliminating and inhibiting gastrotympanites and improving stomach function. Furthermore it is a good cosmetic material used for preventing sunlight wrinkle and aging. Also it has good effects of resisting epiphyte and promoting tissue regeneration. This essential Oil is also Good for colds flu sinusitis hay fever bronchitis earache food allergies laxative fungal infections such as candida canker sores glandular swelling gum diseases morning sickness diabetes hypoglycemia and ulcers. Blends well with: Ginger Heliotrope Ylang Ylang I and Clary Sage. Features100% Pure Essential Oil Raw Material - Turmeric Botanical Name - Curcuma Longa Therapeutic ...
Buy Now
$40.42

Related Products
$16.12
FeaturesLavandin Organic Essential Oil Perfumery Note - Top/Middle Blends well with - Bergamot Clary Sage and Lemon 100% Pure Essential Oil 100% Pure Therapeutic Grade Capacity - 5 ml. Aromatic DescriptionLavandin Organic has a softer smell than the conventional type. It is somewhat piercing camphor like smell with some light floral undertones characteristic of Lavender. Aromatherapy PropertiesLavandin is an aromatic evergreen shrub that is much larger than true Lavender. The flowering heads are more compressed with a dull gray blue color. It is a hybrid developed by crossing true lavender with spike lavender which grows wild in areas where true lavender is cultivated or grows wild. It is a good addition to cold and flu remedies with its germ killing ability as well as its ability to stimulate the respiratory system and ease breathing. Lavandin should be used as an inhalation for colds sinusitis and other respiratory problems. May clear headaches good for muscular stiffness. It can also be very effective against non-tubercular opportunistic mycobacteria (NTM) which is common in AIDS. Lavandin is used for treating headaches migraine. HistoryThis hybrid apparently evolved naturally near the seas in Spain Italy and France. It is now commercially produced in these same countries.
$10.99
Instantly relieves migraines and headaches with soothing peppermint aromatherapy combined with gentle acupressure. Ideal for people who constantly suffer migraines or headaches from work, pregnancy, stress headaches, sinus headaches, tension headaches, cluster headaches, retinal migraines, and more. Looking for migraine headache relief without suffering the side effects of headache medicine? NoMo Migraine is your solution! Clinically proven to start working in 2 minutes with the cooling essential oils & the long lasting effects of acupressure all in 1 wristband.
$22.73
Its scent is camphorous refreshing energizing with a woody sweet undertone. Aromatherapy Properties: (Uses) Some of this oil's properties are expectorant decongestant insecticide analgesic antirheumatic and antiseptic. Inhibits proliferation of the cold virus. Deters mosquitoes and other insects. Cools emotions aids concentration. Effective in all types of fever lowers the temperature makes breathing easier loosens phlegm. It is one of the most valuable oils for treating the respiratory system. According to research the spraying of a 2% emulsion containing eucalyptus oil kills off 70% of local airborne staphylococci. Helps with cystitis. Clears up sinus congestion. Blends well with: Basil Sweet Cedarwood Atlas Lemon Vetiver Peppermint and Clary Sage. 100% pure therapeutic grade essential oil of Eucalyptus Globulus Capacity - 30 ml. Amber Bottle