Soi-Bio c201ch 25g Essential Oil Deodorant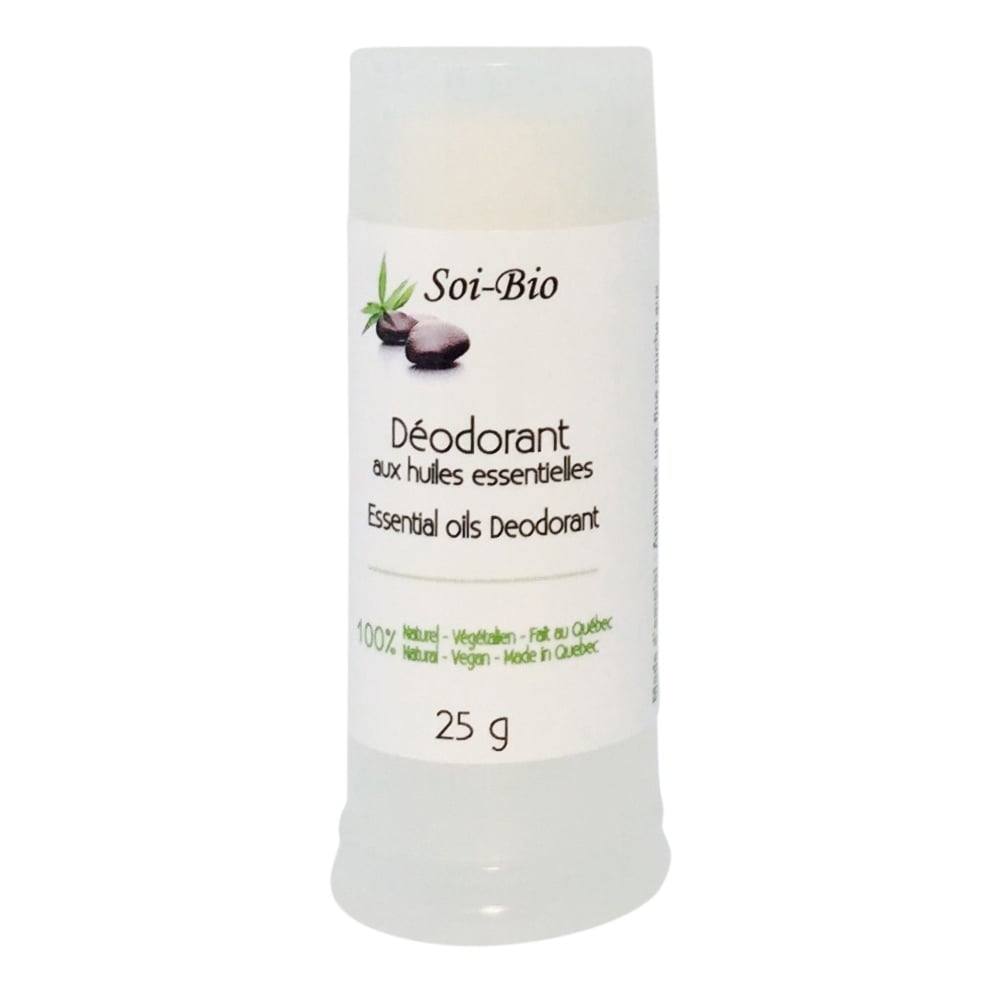 This deodorant will certainly meet your highest expectations in preventing embarrassing odors throughout the day whether it is an active sportive or relaxing one.This all-natural deodorant is made to stop odors while letting the body naturally evacuate its toxins. IngredientsAmaranth starch Shea butter Sodium bicarbonate Coconut butter Coconut oil Cymbopopogon martinii Lavandula x burnatii Pelargonium x asperum var DirectionsApply thin layer to underarms SpecificationsCapacity: ...
Buy Now
$15.50

Related Products
$8.65
Essential Oil Magic for Quick & Safe Cleaning: 75+ Homemade Sanitizer, Deodorizer, Disinfectant & Spritzer to End Your Fight with Germs, Bacteria, Fun
£8.91
Orange Ginger Deodorant begins with Coconut Oil for its antimicrobial properties that kill odor-causing bacterial, fungi and yeast. Aluminum-free Baking Soda is added to neutralize bacteria odor, while Arrowroot Powder absorbs moisture and draw out toxins. Zinc Oxide comes along to kill underarm bacteria and eliminate odor, while lavish helpings of Shea Butter and Vitamin E soothe the skin. Orange Ginger Deodorant has an uplifting aroma derived from essential oils that offer wonderful therapeutic properties. Orange Oil is excellent for dry, irritated skin and inhibits microbial growth, while Ginger Oil improves elasticity and evens skin tone. Features Dry, Normal, Oily, Sensitive Skin State: North Carolina Set includes: (1) n/a Size: 1 oz tube Targeted area: underarm Skin/hair type: Dry, Normal, Oily, Sensitive Skin Directions: Apply a thin layer to clean armpits. Only a little is needed to be effective. It goes on white and dries clear. Adjustment Period for Natural Deodorant Use: Only a small amount is needed. Over applying will make it not work as well. One to two rolls is ideal. Only twist-up the amount needed Armpit detox may be necessary for those new to natural deodorant. Please allow 2 weeks of continued use before deciding if it works for you If can become much softer in high temperatures, if it does, place in refrigerator to harden up This is a deodorant and will not stop you from sweating even though it does a great job at absorbing most of it, more importantly it keeps the armpits smelling delightful. Good things to know: Deodorant vs. Antiperspirants: Antiperspirants contain chemical substances that block the pores to prevent the release of sweat, thus leaving the thought of... No Sweat, No Odor Deodorant does what it says. It deodorizes by preventing unwanted odor that is produced by the bacteria breakdown of sweat Sweating should not be prevented. It is a natural function of the body to rid itself of toxins. Using an antiperspirant eliminates the body's natural defenses against sweat which can cause the growth of bacteria Therefore, if you're switching from an antiperspirant to a natural deodorant, your pores and glands will start to unclog so that they can function properly. During the transition period, toxin buildup is being released. You may find that you sweat more, which is the body's normal function. Karess Krafters is a handmade bath and body company located in North Carolina that is committed to nourishing and protecting your whole body.
$2.95
Our Lilac Premium Fragrance Oil is the true spring scent. A magically light, floral, clean aroma. This oil is ready to use as a perfume or as an addition to your candle, soap, bath, body or haircare formulations. Not intended for ingestion nor lip balm formulations.