Silky Scents EO113-10ML 100 Percent Pure Therapeutic Grade Cornmint Essential Oil - 10 ml.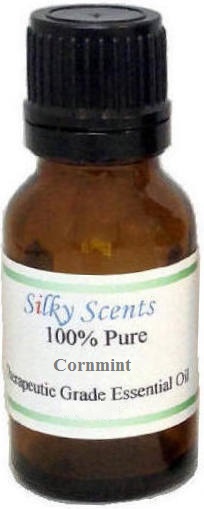 FeaturesCornmint Essential Oil Blends well with - Benzoin Rosemary Lavender 40/42 Marjoram Sweet Lemon and Eucalyptus Globulus. 100% Pure Essential Oil 100% Pure Therapeutic Grade Capacity - 10 ml. Aromatherapy PropertiesMenthol and menthyl acetate are the major constituents of this essential oil. Cornmint essential oil is used to treat rheumatic pain neuralgia toothache laryngitis indigestion colds bronchitis relieving earache treating tumors and some skin conditions. Not to be taken internally and it should not be used for Pregnant women and children. Cornmint is used as a Masking agent. It is used in Herbal Oral products (tooth paste and mouth washes) Mint ...
Buy Now
$22.43

Related Products
$10.95
Reduce Stress, Anxiety and Promotes Sleep. Zi essentials Lavender 100% Pure Therapeutic Grade Lavender Essential Oil (Lavandula Angustifolia). May Bring These Benefits: Improve Balance, Body systems balance, Relieve Bruises, Relieve Earaches, Reduce Fainting, Relieve Headaches, Reduce Hives, Relieve Insect bites, Relieve Bee stings, Repel Insects, Relieve Migraine, Improve Mental clarity, Reduce mucus, Improve Respiratory function, Enhance Skin. Common Uses: Apply to the bottom of feet or on a pillow before sleeping. Use to calm reactions to a bug bite. Use with bath salts for a relaxing spa bathing experience. Apply to wrists or inhale when traveling to ease motion upset. Lightly apply to soothe irritated skin. Apply to back, hands, or feet of a restless or agitated child. Use to calm and soothe minor skin irritations. Calm sensitive skin and soothe pores after hair removal. Apply to dry, chapped lips before applying lip balm. Use with Peppermint for a healthy scalp massage. Add to lotion for a stress-relieving hand massage. Application: Diffuser: Place 2-3 drops in water inside unit. Bath water: Place 2-3 drops and adjust as desired. Massage: Dilute with fractionated coconut oil for a full body massage. Dryer Cloth: Put two drops on a wet cloth and put the cloth in the dryer with washed laundry for great-smelling clothes. For Consumption: Place 1 drop in 4 fl oz. of liquid. Topical: Dilute with fractionated coconut oil when used on sensitive skin. Caution: Consult a physician if pregnant or under a doctor's care. Avoid sunlight or UV rays up to 12 hours after applying product. May cause skin irritation. For dietary, topical and aromatic use. Keep out of reach of children.
$24.77
Aromatherapy Properties: (Uses) Turmeric Essential Oil has effects of eliminating and inhibiting gastrotympanites and improving stomach function. Furthermore it is a good cosmetic material used for preventing sunlight wrinkle and aging. Also it has good effects of resisting epiphyte and promoting tissue regeneration. This essential Oil is also Good for colds flu sinusitis hay fever bronchitis earache food allergies laxative fungal infections such as candida canker sores glandular swelling gum diseases morning sickness diabetes hypoglycemia and ulcers. Blends well with: Ginger Heliotrope Ylang Ylang I and Clary Sage. Features100% Pure Essential Oil Raw Material - Turmeric Botanical Name - Curcuma Longa Therapeutic Grade Capacity - 5 ml.
$17.98
Lavender Population Essential Oil Lavender Population is a premium and highly therapeutic grade essential oil. It is considered to be the true and best Lavender. Lavender Population Essential Oil is one of the most powerful remedies in the plant world, offering both physical and emotional relief for many problems. My Green Origin My Green Origin is a holistic lifestyle brand that creates the most natural essential oils available on the market today. Our bottles are filled with nature's purest essential oils, captured at the peak of their potency, and delivered to you with the warmth of our passion. Our Lavender Essential Oil Our Lavender Population Essential Oil is 100% pure, authentic oil. This is not a 40/42 or any other lavender blend. Our oils are ethically produced and free from pesticides or chemical fertilizers. They do not contain fillers or artificial ingredients. The benefits of Lavender oil are endless and only a pure essential oil can deliver these benefits to you. Lavender Population Properties - Antidepressant - Antibacterial - Pain-relieving - Expectorant - Vulnerary - Motivating - Cicatrizing Most common uses of Lavender Population Essential Oil -Aching Muscles -Acne -Bugs and Bacteria -Minor Burns -Cuts and Wounds -Earache -Eczema -Fatigue -Fever -Headache -Insomnia -Menstrual Cramps If you want to experience the benefits of our Lavender essential Oil, find the "Add to Cart" button on the top of this page and start enjoying our premium oil now. Buy With Complete Confidence!