Silky Scents EO113-15ML 100 Percent Pure Therapeutic Grade Cornmint Essential Oil - 15 ml.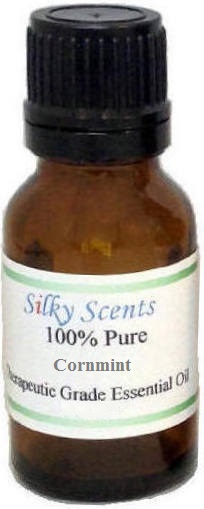 FeaturesCornmint Essential Oil Blends well with - Benzoin Rosemary Lavender 40/42 Marjoram Sweet Lemon and Eucalyptus Globulus. 100% Pure Essential Oil 100% Pure Therapeutic Grade Capacity - 15 ml. Aromatherapy PropertiesMenthol and menthyl acetate are the major constituents of this essential oil. Cornmint essential oil is used to treat rheumatic pain neuralgia toothache laryngitis indigestion colds bronchitis relieving earache treating tumors and some skin conditions. Not to be taken internally and it should not be used for Pregnant women and children. Cornmint is used as a Masking agent. It is used in Herbal Oral products (tooth paste and mouth washes) Mint ...
Buy Now
$17.63

Related Products
$10.95
Reduce Stress, Anxiety and Promotes Sleep. Zi essentials Lavender 100% Pure Therapeutic Grade Lavender Essential Oil (Lavandula Angustifolia). May Bring These Benefits: Improve Balance, Body systems balance, Relieve Bruises, Relieve Earaches, Reduce Fainting, Relieve Headaches, Reduce Hives, Relieve Insect bites, Relieve Bee stings, Repel Insects, Relieve Migraine, Improve Mental clarity, Reduce mucus, Improve Respiratory function, Enhance Skin. Common Uses: Apply to the bottom of feet or on a pillow before sleeping. Use to calm reactions to a bug bite. Use with bath salts for a relaxing spa bathing experience. Apply to wrists or inhale when traveling to ease motion upset. Lightly apply to soothe irritated skin. Apply to back, hands, or feet of a restless or agitated child. Use to calm and soothe minor skin irritations. Calm sensitive skin and soothe pores after hair removal. Apply to dry, chapped lips before applying lip balm. Use with Peppermint for a healthy scalp massage. Add to lotion for a stress-relieving hand massage. Application: Diffuser: Place 2-3 drops in water inside unit. Bath water: Place 2-3 drops and adjust as desired. Massage: Dilute with fractionated coconut oil for a full body massage. Dryer Cloth: Put two drops on a wet cloth and put the cloth in the dryer with washed laundry for great-smelling clothes. For Consumption: Place 1 drop in 4 fl oz. of liquid. Topical: Dilute with fractionated coconut oil when used on sensitive skin. Caution: Consult a physician if pregnant or under a doctor's care. Avoid sunlight or UV rays up to 12 hours after applying product. May cause skin irritation. For dietary, topical and aromatic use. Keep out of reach of children.
$17.97
This oil is formulated to address swimmer's ear, earaches, ear infections, and ringing in the ear.
$10.06
Dr. Mom is the first responder Learn natural suggestions for dealing with non-emergency situations that can be cared for at home using essential oils. From colds, headaches, earaches, upset tummies, skateboard scrapes and insect bites, this information w