Silky Scents EO191-10ML 100 Percent Pure Therapeutic Grade Onion Essential Oil - 10 ml.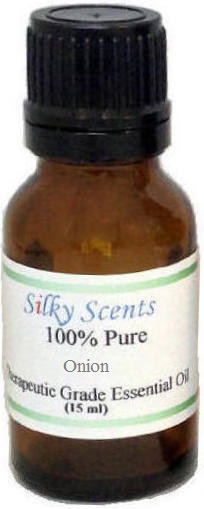 Aromatherapy Properties: (Uses) A perennial or biennial herb up to 1. 2m high with hollow leaves a flowering stem and a globe-like fleshy bulb. This is an oily and crystaline oil free of strange materials. This oil is a clear yellow to reddish yellow. Anthelmintic antimicrobial antirheumatic antiseptic antisclerotic antispasmodic antiviral bactericidal carminative depurative digestive diuretic expectorant fungicidal hypoglycemic hypotensive stomachic tonic vermifuge. Onion has a sound reputation for correcting glandular imbalance and weight problems; it also improved lymphatic drainage. Hollands gin in which onions have been macerated is given as a cure for gravel and dropsy. It is ...
Buy Now
$31.35

Related Products
$5.85
Aromatherapy Properties: (Uses)The 1.8 cineol chemotype of Rosemary is best used in connection with pulmonary congestion and to facilitate elimination from the liver and the kidneys. It is an expectorant and an antibacterial, especially on staph or strep germs. Indicated for earaches, sinus-bronchial-pulmonary infections, and all aspects of the ear, nose and throat.Blends well with: Basil Sweet, Bergamot, Cedarwood Atlas, Frankincense, Ginger, Lemon, Orange Sweet, and Peppermint.
$2.70
Aromatherapy Properties: (Uses) Menthol and menthyl acetate are the major constituents of this essential oil. Cornmint essential oil is used to treat rheumatic pain, neuralgia, toothache, laryngitis, indigestion, colds, bronchitis, relieving earache, treating tumors, and some skin conditions. Not to be taken internally, and it should not be used for Pregnant women and children. Cornmint is used as a Masking agent. It is used in Herbal, Oral products (tooth paste and mouth washes), Mint and peppermint.Blends well with: Benzoin, Rosemary, Lavender 40/42, Marjoram Sweet, Lemon, and Eucalyptus Globulus.
$18.00
Bay Leaf - Essential Oil (laurus nobillis) Common names bay laurel, bay, bay leaf, laurel leaf, sweet bay. An infused oil of bay has a long history of use as a pain reliever for arthritic aches and pains, lower back pain, earaches, and sore muscles and sprains. Aromatic and slightly bitter, spicy, sweet, medicinal. Blends well with Pine, Cypress and Juniper, Lavender. Frankincense and Clary Sage would be good partners in a spiritual/meditative blend. Combine it with Rosemary for a high-powered study blend. Citrus oils and other spices are also very nice. Please use in moderation, since it is easily overpowering other aromas and can make you feel drowsy. Country of Origin-France Disclaimer: This information is for educational purposes only, it is not intended to treat, cure, prevent or, diagnose any disease or condition. Nor is it intended to prescribe in any way. This information is for educational purposes only and may not be complete, nor may its data be accurate. As with all essential oils, never use them undiluted. Do not take internally unless working with a qualified and expert practitioner. Keep away from children. If applying an essential oil to your skin always perform a small patch test to an insensitive part of the body (after you have properly diluted the oil in an appropriate carrier.