100ml Essential Oil Diffuser with Colored Light and Auto-shut Off Feature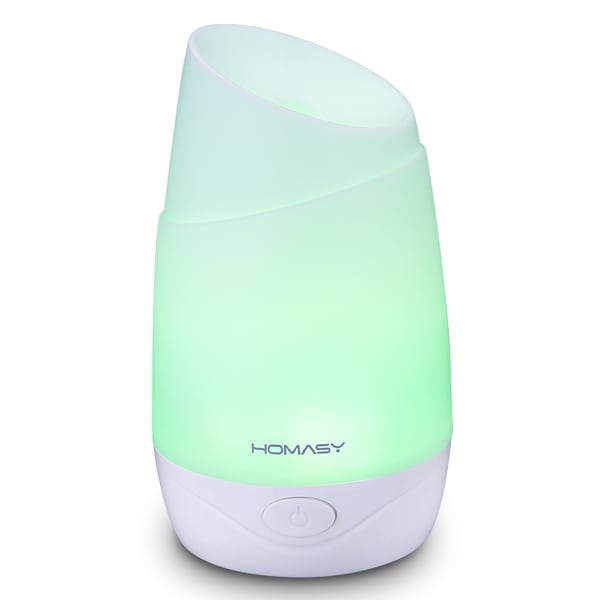 Do you feel dry skin in air-conditioned room? Do you feel stressful after the whole day work? Do you want to fill your space with lovely fragrance? The diffuser comes to help. It vaporized the water and essential oils into tiny particles to refresh the air with lovely fragrance, helping you to relieve from stress. Includes: One (1) Diffuser, One (1) Measuring Cup, One (1) Adapter 100ML Water Tank: The 100ml water capacity can easily offer you 4-7 hours mist time with the coverage of 15 square meters. Ultrasonic Design: With whisper-quiet technology, it works calmly and ...
Buy Now
£32.66

Related Products
$31.76
Nanum II Car Air Humidifier Freshner Purifier Steam Mist Maker Aroma Fragrant Diffuser Essential Oil Diffuser With Usb Ports - White
$15.71
Compact and portable, operates anywhere with 2AA batteries or with the USB cord included to plug in for endless diffusion. Silent fan broadcasts the fragrance, complete with 3 replaceable micro-absorbing pads. Take the spa with you! The Aromafier diffuser from SpaRoom Essentials is portable and offers that spa-like experience even while on the go. It works with two AA batteries, USB cord or AC adapter. Just add a few drops of your favorite essential oil and enjoy the fragrant experience. Because it uses absorbent pads, it does not need water or heat and is safe for travel.
$42.86
SpaRoom AmberMist Ultrasonic Essential Oil Diffuser: Coverage area: Up to 250 square feetLight mode: Rotating color, freeze color, or offContinuous run me: Up to 3 hoursIntermittent Operation: Up to 6 hours. Intermittent operation: Up to 6 hours6 removable decal labels: eucalyptus, lavender, lemongrass, peppermint, SpaRoom blend, plus one to customizeWater capacity: 3.38 fl ozMeasures: 8.25" H x 4" D