Aromatherapy Diffuser and Peppermint Essential Oil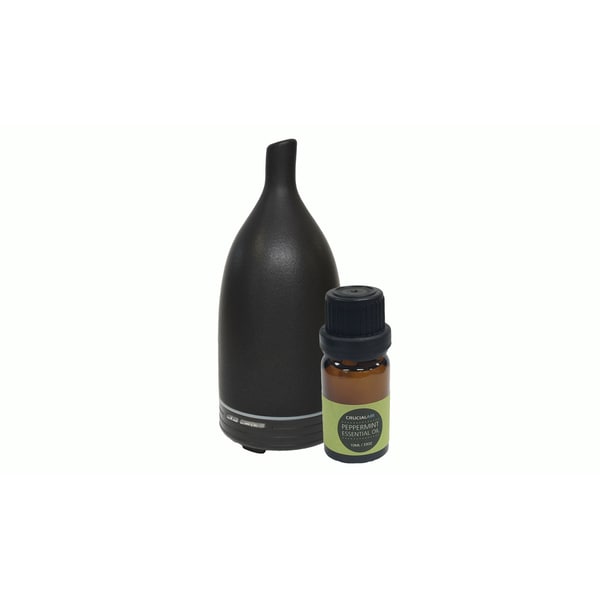 Crucial Essential Oil Diffuser by Crucial Air is the ultimate gift from nature. This unit has a remarkable ability to affect a person's well-being and improve the environment around them. A huge help for you to achieve physical, emotional, mental and spiritual well-being. Product is perfect for a gift or for your own use in your home, office and studio. It's a great looking, stylish, ceramic, aromatherapy essential oil diffuser that will fit in with your stylish furniture and won't stick out like a sore thumb. It's unique style will blend right in. Fits ...
Buy Now
£39.89

Related Products
£35.62
Diffuse your favorite essential oils in this LiteMist aromatherapy diffuser from Zaq. Benefit from the relaxing rewards of aromatherapy with this diffuser that evenly disperses any essential oil throughout the room, allowing you to distress and unwind. Relax with the soothing colors of the diffuser's LED lights, customizable to your favorite color or change between them. The Zaq diffuser holds a capacity of five ounces and is safe for all homes, businesses and dorm rooms, since it does not use heat to operate. The energy efficient aromatherapy diffuser features an auto shut-off for added convenience. Customizable LED light From the brand Zaq, this aromatherapy diffuser is featured in the color white Made of plastic Offers a five-ounce capacity Dimensions are 8 inches long x 6 inches wide x 5 inches deep
£33.12
Refresh your home with this Seneo ultrasonic high-capacity essential oil diffuser, which also humidifies your space. This whisper-quiet device operates silently, and the seven-color LED fills a room with soothing glow. Whisper-Quiet Ultrasonic Technology: Humidify your living space with a lovely fragrance which does not generate noise. You can rest assured to use it when you are sleeping, working or studying,doing Yoga, and enjoying SPA. Ultra-high Capacity and Output: This aroma cool mist humidifier can hold up to 2.3L of water and produce up to 300ml of moisture per hour. It can run up to 6 hours of continuous output at highest setting. It automatically stops working when water used up, which ensures safety and energy efficiency. 7 Changing Rainbow-colored LED Light: You can light up the fantastic LED light with 7 changing colors so it works like a night light at night time. It also creates sweet atmosphere and helps your children remove their fears in darkness at bedtime. Visually-appealing Design: It is in the shape of a teardrop, which looks very cute. The top spout can spin 360°so you can angle your vapor in any direction you want. The control knob allows you to easily adjust the vapor flow. Ultimate Home Relaxation Device: This aroma diffuser relieves you of cough, cold, and flu symptoms and helps lift mood and relieve stress while purifying the air and moisturizing your skin. It helps you unwind at the end of a hard day. Great for every room in your home, office, hotel- just about anywhere. Note: This product mainly services as a humidifier, and the aroma diffuser is an additional function. Please do not directly add essential oil into water tank or water basin, otherwise the product will be corroded by essential oil, which will lead to water leakage.
$21.99
Experience the benefits of essential oil aromatherapy all day long with this pendant necklace. Made from stainless steel with an 18-inch leather strap, this pendant features a soccer ball design with felt diffuser pads to soak up your choice of essential oils. Features: Based in Iowa Leather, stainless steel 3 felt diffuser pads in assorted colors 18-inch leather necklace with 2-inch extension 20mm circle pendant About the Manufacturer: Welcome to Destination Oils. My name is Kara and I am the owner of Destination Oils, a small essential oil business located in Iowa. We want to bring great, high quality essential oils and unique aromatherapy jewelry to the online marketplace. Our oils are 100-percent pure, therapeutic grade with no fillers, preservatives, or chemicals. Just oil. 'Pure and Natural- Essentials You Can Trust.'