Art Naturals Essential Oil Diffuser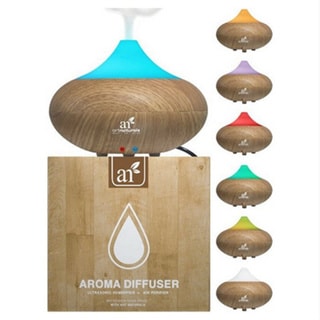 Infuse your air with rich, natural oils with this essential oil diffuser. This ultrasonic oil diffuser works quietly to fill your air with an ultrafine mist of water infused with the essential oil of your choice. Its powerful motor works silently and quickly to fill your air with rich aromas and therapeutic scents for a quiet, relaxing experience. Benefits of ArtNaturlas Aroma Diffuser: Ultrasonic: High frequency of ultrasonic vibrationsare used to create beautiful ultra fine mist. Power: 140ml capacity with 12w of power, and a high voltage of 110-240v. Easy to Use: Easy steps lets you start using your ...
Buy Now
£19.59

Related Products
$40.99
Features: Ultra-high Capacity and Output This aroma cool mist humidifier can hold up to 2.3L of water and produce up to 380ml of moisture per hour. It can run up to 6 hours of continuous output at highest setting. It automatically stops working when water used up, which ensures safety and energy efficiency. Whisper-Quiet Ultrasonic Technology Humidify your living space with a lovely fragrance which does not generate noise. You can rest assured to use it when you are sleeping, working or studying,doing Yoga and enjoying SPA. 7 Colors Changing LED Light You can light up the fantastic LED light with 7 changing colors so it works like a night light at night time. It also creates sweet atmosphere and helps your children remove their fears in darkness at bedtime. Visually-appealing Design It is in the shape of a teardrop, which looks very cute. The top spout can spin 360 so you can angle your vapor in any direction you want. The control knob allows you to easily adjust the vapor flow. Ultimate Home Relaxation Device This aroma diffuser relieves you of cough, cold, and flu symptoms and helps lift mood and relieve stress while purifying the air and moisturizing your skin. It helps you unwind at the end of a hard day. Great for every room in your home, office, hoteljust about anywhere.
$28.49
Show your blingy side with this 'Radiant' diamond shaped essential oil diffuser necklace. One of our larger styles, this pendant hangs from a 30-inch 316L Stainless Steel ball station chain. The chain secured close is reliable and easy to slide out when filling the lava stone. Features: Pendant necklace Stainless steel Essential oil diffuser Large diamond shape Includes 3 14mm lava stones 30-inch rhodium plated chain Pendant measures 1.5 inches x 1 inch About the Manufacturer: Welcome to Destination Oils. Our goal is to bring great, high quality essential oils and unique aromatherapy jewelry to the online marketplace. Our oils are 100-percent pure, therapeutic grade with no fillers, preservatives, or chemicals. Just oil. The Destination Oils line of aromatherapy diffuser jewelry is one of the largest, most diverse available to ensure something for everyone. 90 day warranty on all pieces too. Destination Oils- Your Essential Journey Starts Here
$64.98
HoMedics Ultrasonic Aroma Diffuser Color Change Light w/ Ellia Essential Oil 3pk