Basketball Stainless Steel Essential Oil Diffuser Necklace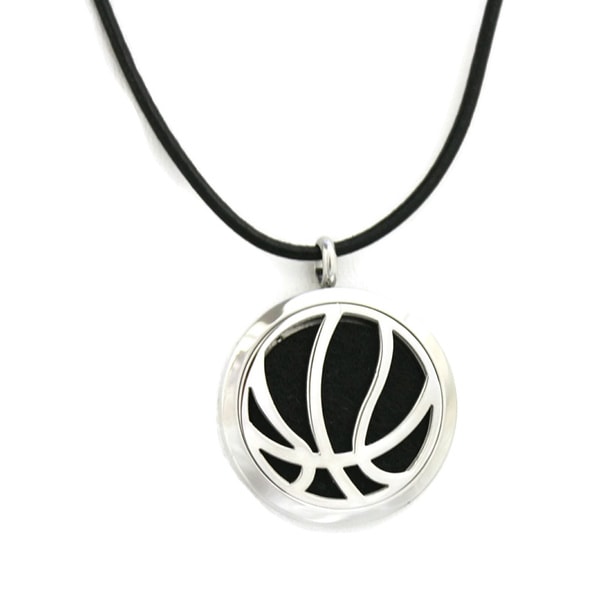 Show your love of the game with this Basketball essential oil diffuser necklace. Great for everyone, this surgical grade stainless steel basketball pendant is on a black cowhide chain. The necklace also includes three felt pads in assorted colors to complement your unique style. Company based in Iowa Pendant necklace Black cowhide chain Stainless steel volleyball pendant Essential oil diffuser Includes 3 felt diffuser pads 20 inches long Diffuser measures 1.2 inches in diameter How to Use: Open the pendant and remove felt insert. Add 2 drops of your favorite essential oil (or 1 drop of a few different ...
Buy Now
£14.04

Related Products
$17.99
The antique silver pendant compass gives great proportions to the wooden beads and lava stone part of this necklace. This diffuser necklace is very comfortable to wear with a very soft brown leather cord. The charm part of necklace attaches with a clasp, allowing you to change the lava stones. The beads slide down over the lobster clasp while wearing the necklace for seamless functionality. Features: Company based in Iowa Leather cord necklace Essential oil diffuser Compass shaped pendant Black lava stone 20 inches long Pendant measures 1.25 inches x 1 inch About the Manufacturer: Welcome to Destination Oils. My name is Kara and I am the owner of Destination Oils, a small essential oil business located in Iowa. We want to bring great, high quality essential oils and unique aromatherapy jewelry to the online marketplace. Our oils are 100-percent pure, therapeutic grade with no fillers, preservatives, or chemicals. Just oil. Pure and Natural- Essentials You Can Trust. How to Use: Unclasp charm and remove first wooden bead and lava stone. Add 2 drops of your favorite essential oil (or 1 drop of a few different oils to make a custom blend) to the reusable lava stone. Let it absorb for at least 5 minutes (15 minutes would be ideal), wipe off any remaining oil with a tissue to avoid any skin irritation, reassemble necklace, and enjoy the aromatherapy benefits on the go.
£39.18
This Mini-size humidifier looks very cute and fashionable. The essential oil diffuser designed to create high-grade, lightweight, elegant minimalist appearance, which is portable for home, Yoga, office, Spa, bedroom, baby room. You can light up the fantastic LED light with 7 changing colors so it works like a night light at bedtime and creates a romantic atmosphere with 7 color changing LED light. Features: Ultrasonic humidifier Compact size Auto shut-off function Whisper-quiet operation 7 color changing LED lights Aroma diffuser
$25.99
Notes: Please add water below the Max line(mist will become smaller when water is less than 100ml). Please press the "Mist" button for one second to turn on the mist. Please clean it once a week. Description: Mist Control Press the "Mist" button for more than one second, choose the timer from 60 mins, 180 mins, 360 mins or ON. Light Control Press the "Light" button to turn on the LED light, the color will change automatically. Press the "Light" button again to fix the color. Press the "Light" button again to change color. If you need to turn it off please long press the button for one second. Specifications: [Size] 110*154mm [Weight] 320g [Input] AC 100-240V 50/60Hz [Output] DC24V 650mA [Length of power line] 170cm [Timer] 60 / 180 / 360 minutes / On [Ultrasonic Frequency] 2.4 MHz - Advanced Ultrasonic Diffusing Technology [Duration Time] 6-7 hours. When time is up or there is no water, it will turn off automatically [Applicable Area] Aromatherapy: 215 Sq ft / Humidification: 108 Sq ft [Water Capacity] 300 ml [LED Light] 7 pcs - Independent Light Control / Multiple Color Light / Gradual Changing or Fixed Mode or Off. Provides soft illumination [Main Material] PP, ABS Package Contents: 1 x 300 ml Aroma Diffuser 1 x Charger Adaptor 1 x Measuring cup for filling water 1 x User Manual Note: Oil is not included in the package