Burst Filigree Essential Oil Diffuser 20-inch Stainless Steel Necklace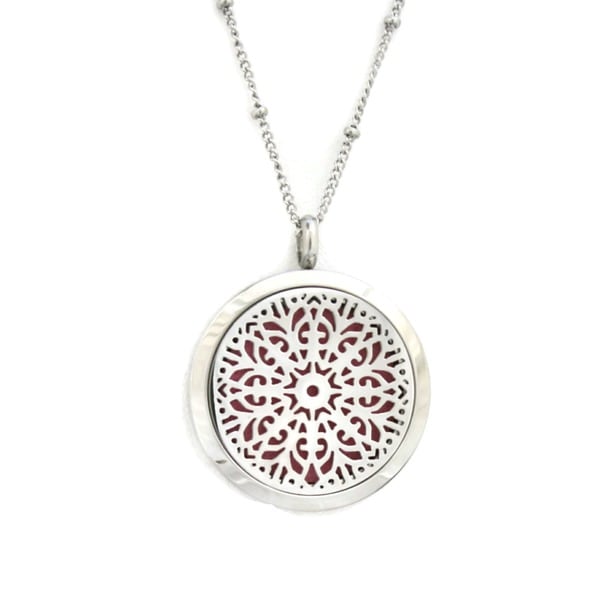 This lovely flower pendant necklace combines style with pleasing aromatherapy. Made from 316L surgical grade stainless steel, this 30mm necklace features a cutout design and opens to reveal a felt diffuser pad. Just drop some of your favorite essential oil on the pad to keep your favorite scent following you all day long. Features: Business based in Iowa Stainless steel 30mm pendant Laser cut flower design 20-inch ball station stainless steel chain Lobster claw clasp Includes 3 felt diffuser pads About the Manufacturer: Welcome to Destination Oils. My name is Kara and I am the owner of Destination Oils, ...
Buy Now
£18.69

Related Products
$19.50
Humidifier Aroma Essential Oil Diffuser, 290ml Ultrasonic Cool Mist Humidifier with LED Night Light For Office Home Bedroom Living Room Study Yoga Spa Light Wood ENERGY STAR: Yes Color: Yellow
£35.96
Natural essential oils are distributed throughout the room in the form of a gentle and smoke free mist which delivers delicate healing aromas while softly humidifying the dry atmosphere. Deep relaxation and stress relieving aromas of essential oils such as lavender, peppermint, eucalyptus, and tea tree fill you with a sense of serenity and peace, helping to relieve stress and improve the quality of life. Sonic vibrations silently create a delicate ultra-fine mist which delivers maximum humidity while dispersing aromas to all corners of your living or work space. The Top 16 Essential Oil Set combines our leading therapeutic-grade oils, derived from the latest steam-distilling techniques. An excellent gift for those interested in all-natural remedies or the perfect all-encompassing first-aid kit. These oils can be either mixed with a carrier oil for topical application to the skin, or used in a diffuser or humidifier for a delightful aromatic experience. This set includes Bergamot oil from Italy, Cinnamon Leaf oil for Sri Lanka, Grapefruit oil from USA, Lime oil from Mexico, Patchouli oil for Indonesia, Pine Tree oil from Austria, Tangerine oil from USA, Eucalyptus oil from India, Frankincense oil from India, Lavender oil from Bulgaria, Lemongrass oil from India, Sweet Orange oil from Brazil, Peppermint oil from Greece, Rosemary oil from Morocco, Tea Tree oil from Australia and Lemon Oil from Italy. Each essential oil can be used individually or in a mixture of your favorites for an aroma that is unique to you and an enhanced effect. This Top 16 Essential Oil Set relieves fatigue, nausea, depression, dry skin, dandruff, itchy scalp, stress, anxiety, insomnia, minor cut, burns, insect bites, eczema, nosebleeds, nasal congestion, respiratory issues, and more. The 10ml bottles are long lasting and the perfect size to pop into your purse or line up as a stylish display on your night table or bathroom counter.
£17.98
Add color and style to your wardrobe in an elegant way with this attractive Stainless Steel Essential Oil Diffuser Necklace. This pendant is on a 316L stainless steel 24-inch flat circle chain and is laser-cut with smooth edges and crisp design. Made with stainless steel Laser cut Pendant 24 inches Flat link chain