Burst Filigree Essential Oil Diffuser 20-inch Stainless Steel Necklace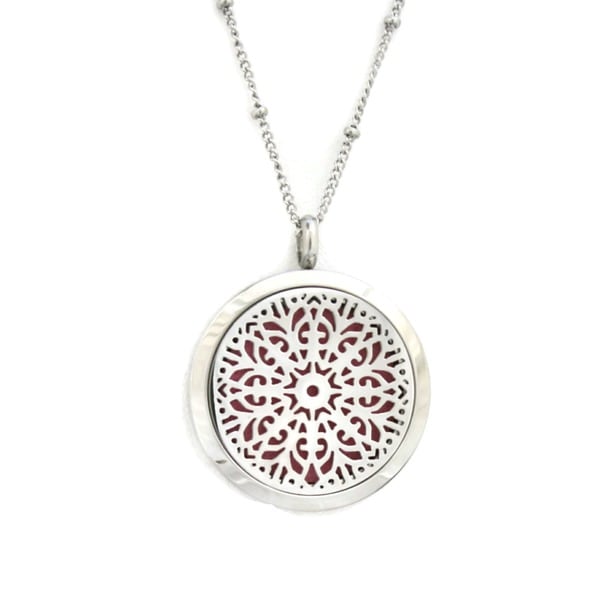 This lovely flower pendant necklace combines style with pleasing aromatherapy. Made from 316L surgical grade stainless steel, this 30mm necklace features a cutout design and opens to reveal a felt diffuser pad. Just drop some of your favorite essential oil on the pad to keep your favorite scent following you all day long. Features: Business based in Iowa Stainless steel 30mm pendant Laser cut flower design 20-inch ball station stainless steel chain Lobster claw clasp Includes 3 felt diffuser pads About the Manufacturer: Welcome to Destination Oils. My name is Kara and I am the owner of Destination Oils, ...
Buy Now
$26.49

Related Products
£23.01
Activate your senses to soothe and invigorate your mind, body and spirit with this stylish oil diffuser. ZAQ uses LiteMist Technology to break up the blending of essential oil and water into mist of micro-particles and disperses them into the air. Brighten up your home or office with the heavenly mist and warm glow from this ZAQ diffuser. This attractive aromatherapy essential oil diffuser is made from eco-friendly plastic. Choose from one of three vibrant colors: blue, pink or orange. The soft fragrance and radiant light from this ZAQ diffuser make your space exotic and inviting. Intended use: Aromatherapy Brand: ZAQ Color: Blue, pink, orange Eco-friendly Materials: Plastic Dimensions: 4.3 inches in diameter x 8.7 inches high
$19.99
Spread your trademark wafting aroma wherever you go, with this 20 mm Captain America diffuser necklace. On a black cowhide chain, this stainless steel pendant is lightweight and durable. And what could be better than showing off your patriotic pride, displaying your fandom of everyone's favorite American superhero, and deriving all the fabulous benefits of aromatherapy as you do so. Features: Made of 316L stainless steel, with a black cowhide necklace Includes necklace w/ 3 12.5-mm felt diffuser pads (assorted colors) 18 inch-chain w/ 2-inch extender Dual magnetic closure Dimensions: 0.8 (20 mm) inches in diameter About the Manufacturer: Destination Oils ' goal is to bring great, high-quality essential oils and unique aromatherapy jewelry to the online marketplace. Our oils are 100-percent pure, therapeutic grade with no fillers, preservatives, or chemicals. This custom-made item will ship within 1-10 business days.
$49.68
Now Foods Solutions, Ultrasonic Real Bamboo Essential Oil Diffuser Gender: Unisex Age: Adult