Compass Mens Leather Cord Essential Oil Diffuser Necklace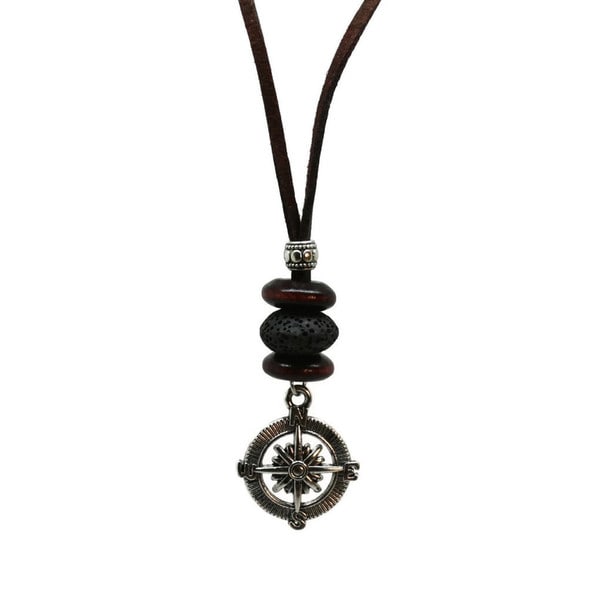 The antique silver pendant compass gives great proportions to the wooden beads and lava stone part of this necklace. This diffuser necklace is very comfortable to wear with a very soft brown leather cord. The charm part of necklace attaches with a clasp, allowing you to change the lava stones. The beads slide down over the lobster clasp while wearing the necklace for seamless functionality. Features: Company based in Iowa Leather cord necklace Essential oil diffuser Compass shaped pendant Black lava stone 20 inches long Pendant measures 1.25 inches x 1 inch About the Manufacturer: Welcome to Destination Oils. ...
Buy Now
£12.08

Related Products
$19.95
210 ML Cool Mist Humidifier Ultrasonic Aroma Essential Oil Diffuser Home Office
$39.99
Aromatherapy Essential Oil Diffuser Humidifier (Wood) - Electric Ultrasonic Aroma Lamp Scent Fragrance Burner Vaporizer Moist Mist Light, Portable for Personal Home Bedroom Office SPA 100ml
$27.49
Refresh your home with this Seneo ultrasonic high-capacity essential oil diffuser, which also humidifies your space. This whisper-quiet device operates silently, and the seven-color LED fills a room with soothing glow. Product Features 1. Whisper-Quiet Ultrasonic Technology: Humidify your living space with a lovely fragrance which does not generate noise. You can rest assured to use it when you are sleeping, working or studying,doing Yoga, and enjoying SPA. 2. Ultra-high Capacity and Output: This aroma cool mist humidifier can hold up to 2.3L of water and produce up to 300ml of moisture per hour. It can run up to 6 hours of continuous output at highest setting. It automatically stops working when water used up, which ensures safety and energy efficiency. 3. 7 Changing Rainbow-colored LED Light: You can light up the fantastic LED light with 7 changing colors so it works like a night light at night time. It also creates sweet atmosphere and helps your children remove their fears in darkness at bedtime. 4. Visually-appealing Design: It is in the shape of a teardrop, which looks very cute. The top spout can spin 360so you can angle your vapor in any direction you want. The control knob allows you to easily adjust the vapor flow. 5. Ultimate Home Relaxation Device: This aroma diffuser relieves you of cough, cold, and flu symptoms and helps lift mood and relieve stress while purifying the air and moisturizing your skin. It helps you unwind at the end of a hard day. Great for every room in your home, office, hotel- just about anywhere. Note: This product mainly services as a humidifier, and the aroma diffuser is an additional function. Please do not directly add essential oil into water tank or water basin, otherwise the product will be corroded by essential oil, which will lead to water leakage.