Compass Mens Leather Cord Essential Oil Diffuser Necklace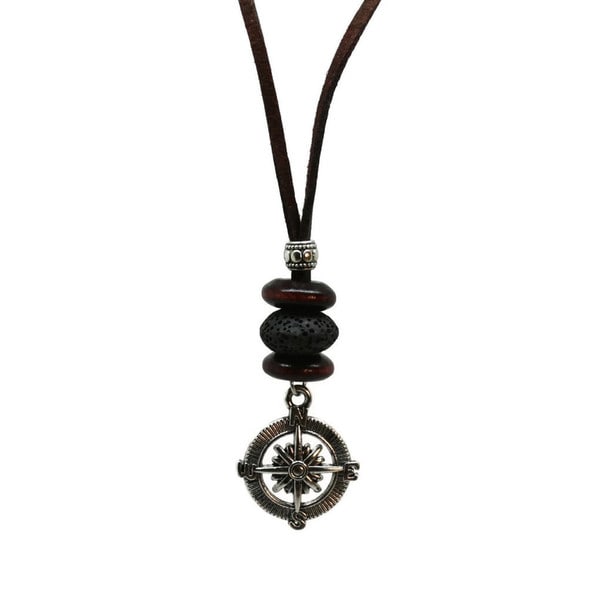 The antique silver pendant compass gives great proportions to the wooden beads and lava stone part of this necklace. This diffuser necklace is very comfortable to wear with a very soft brown leather cord. The charm part of necklace attaches with a clasp, allowing you to change the lava stones. The beads slide down over the lobster clasp while wearing the necklace for seamless functionality. Features: Company based in Iowa Leather cord necklace Essential oil diffuser Compass shaped pendant Black lava stone 20 inches long Pendant measures 1.25 inches x 1 inch About the Manufacturer: Welcome to Destination Oils. ...
Buy Now
$16.79

Related Products
$44.99
ZAQ Noor LiteMist Aromatherapy Essential Oil Diffuser - Green Type: Diffuser Size: 3 oz Color: Green Gender: Unisex Item Count: 1
£17.09
Fill this charming jewelry with your favorite essential oils to leave a lovely aroma wafting in your wake. The softest brown leather band doubles over with multiple loop charm accents and an essential oil diffuser locket on this adorable bracelet. Material: Leather, Metal States: Iowa Length: 18 inches with 2-inch extender Diffuser pendant size: 0.8-inch circle (20mm) Chain Material: Cowhide, black Pendant Material: Stainless Steel Included in package: Necklace and three 22mm felt diffuser pads (assorted colors) Story Behind the Art: Welcome to Destination Oils. My name is Kara and I am the owner of Destination Oils, a small essential oil business located in Iowa. We want to bring great, high quality essential oils and unique aromatherapy jewelry to the online marketplace. Our oils are 100-percent pure, therapeutic grade with no fillers, preservatives, or chemicals. Just oil. The best quality for a great price. How to Use: Unclasp the latch and open locket. Remove lava stone from locket. Add 2 drops of your favorite essential oil (or 1 drop of a few different oils to make a custom blend) to the reusable lava stone. Let it absorb for at least 5 minutes (15 minutes would be ideal), wipe off any remaining oil with a tissue to protect inside of diffuser locket, reassemble and enjoy the aromatherapy benefits on the go.
$24.68
Mini Air Humidifier USB With 7 Colors Led Light Changing Aroma Diffuser USB Air Humidifier Essential Oil Diffuser Aromatherapy-Black