Compass Mens Leather Cord Essential Oil Diffuser Necklace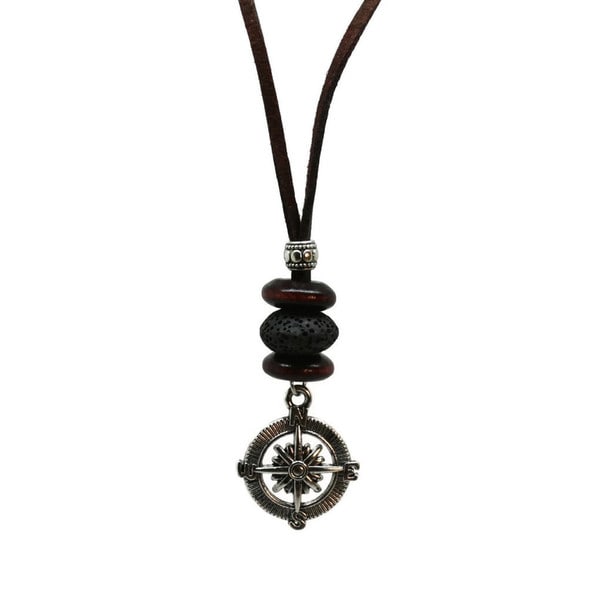 The antique silver pendant compass gives great proportions to the wooden beads and lava stone part of this necklace. This diffuser necklace is very comfortable to wear with a very soft brown leather cord. The charm part of necklace attaches with a clasp, allowing you to change the lava stones. The beads slide down over the lobster clasp while wearing the necklace for seamless functionality. Features: Company based in Iowa Leather cord necklace Essential oil diffuser Compass shaped pendant Black lava stone 20 inches long Pendant measures 1.25 inches x 1 inch About the Manufacturer: Welcome to Destination Oils. ...
Buy Now
$16.79

Related Products
$20.49
MONQ personal essential oil diffusers use vaporizer technology to deliver all-natural essential oil blends in classic aromatherapy combinations. The portable diffusers several blends, all of which are free of nicotine, tobacco, GMOs, artificial ingredients, and are 100% organic and vegan. Breathe into your mouth, pause, and exhale through your nose. Plant fragrances pass through your olfactory system inspiring relaxation. MONQ uses 100% naturally extracted and organic essential oils, harvested from eco-friendly farms across the world. Their essential oils are the highest quality, so that every breath is effective.
£19.47
Our "Love is Love" heart charm essential oil diffuser necklace is adorable! 16" is a great size for little girls, but women can wear it too. Multi-colored, it goes with many outfits. 16" stainless steel chain has a heart charm, aromatherapy diffuser, and turquoise blue crystal tassel. Jewelry Type: Fashion Necklace Type: Charm, Chain Gender: Girls Clasp: Spring Ring Country of Origin: United States Metal Color: White Metal: Stainless Steel Length: 16 Inch All measurements are approximate and may vary slightly from the listed dimensions.
$39.99
What you really need to know is this - You Get a LIFETIME WARRANTY on your purchase. Something happens to your diffuser - we got your back - No ifs.. No ands..and certainly No buts! Sound Good? Yes?So..When your cool Amazon box arrives at your doorstep, the first thing I want you to do, is take it inside, rip it open (and depending on how much tape they used..you may need a kitchen knife!) and take out your new AromaSoft Essential Oil Diffuser.Now, after making sure you have the diffuser, power cord, and handy dandy fill cup taken out of the box, head into the kitchen and grab yourself some water from your faucet. Yes..use the new, cute little fill cup thingie! Now grab a bottle of your favorite essential oil and lets get diffusing! Take off the top of your diffuser (a simple twist)..add the water...a few drops of your oil..put the top back on and decide where you want to plug it in. Any wall outlet will do. Now press the "Mist" button..and start smiling! Uh huh..Instant diffusion! What you have just read..is what our customers experience when they use our Aromasoft essential diffuser for the first time. We make no bones about it..it's small..that's what we wanted..a diffuser that can be taken from room to room easily and a diffuser that's also easy to take on the go! But most importantly...it's Powerful! And don't just take my word for it...take a minute or two and read the reviews. So..if you've made it down this far, all you need to do now is order! Oh..and maybe order 2..one for you...and one to give as a gift to your very best friend!