Compass Mens Leather Cord Essential Oil Diffuser Necklace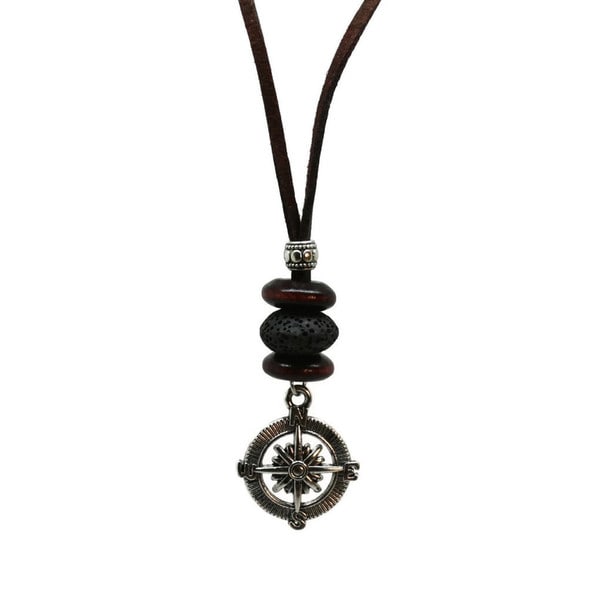 The antique silver pendant compass gives great proportions to the wooden beads and lava stone part of this necklace. This diffuser necklace is very comfortable to wear with a very soft brown leather cord. The charm part of necklace attaches with a clasp, allowing you to change the lava stones. The beads slide down over the lobster clasp while wearing the necklace for seamless functionality. Features: Company based in Iowa Leather cord necklace Essential oil diffuser Compass shaped pendant Black lava stone 20 inches long Pendant measures 1.25 inches x 1 inch About the Manufacturer: Welcome to Destination Oils. ...
Buy Now
$17.59

Related Products
$28.99
Small pendant, lotus design, gold color- what's not to love? Our 20mm Sacred Gold pendant and 18" chain is made of stainless steel so it will last for a very long time. Jewelry Type: Fashion Necklace Type: Chain Gender: Women's Clasp: Spring Ring Country of Origin: United States Metal Color: Yellow Metal: Sterling Silver Length: 18 Inch All measurements are approximate and may vary slightly from the listed dimensions.
$43.99
Note: The power adapter is packed in the water tank, please lift up the diffuser cap to find it. InnoGear 200ml New Plastic Wood Grain Aroma Diffuser is in gorgeous design. It fits in with any decor.The color changing lights make it beautiful in low light rooms. Most of all, this stylish cool mist humidifier adds moisture to your air to eliminate dryness and help with your dry chapped skin, chapped lips and dry sinuses. Add a drop of your favorite essential oil to give your room a fresh, clean scent. Notices: Please add water below the Max line. Oil is not included in the package Press the mist button for 2 seconds to switch between the strong and weak mist Do not press the "MIST" button when the tank is empty.If there is no water but press the "MIST"button,the diffuser will be burned out. Specifications: Weight: 14.5 oz Dimesion: 6.6(D)*6.6(D)*3.12(H) Material: Upper parts PP Capacity of water tank: About 200ml Noise Level: less than 25 dB Input Power: AC 100-240V 50/60HZ Most advanced ultrasonic technology: 2.4MHz Material: Upper parts PP, ABS, PC Package Contents: 1 x Aroma Diffuser 1 x Wall Charger 1 x User Manual
£38.96
This ultrasonic aromatherapy diffuser with 1.7MHz Vibration frequency, can help purify and improve air quality, ease tension, reduce illnesses enhance immunity, protect against secondhand smoke pollution and dispel the unusual smell. Features: 1. Handy, portable and practical 2. Low power consumption, energy-saving, environmental protection 3. Stylish appearance with special thread grain decorated on 4. The adoption of advanced ultrasonic technology 5. By injecting water supply, and touching the switch, it could spray fine atomizing particles for caring your skin 6. Keep the air at a comfortable moisture level to help protect your skin 7. It can be widely used in offices, car, laboratories, computer rooms, etc. Specifications: 1. Material: PP 2. Capacity: 100ml 3. Applicable Area: 8-12 4. Power: AC 100-240/50Hz 5. Voltage: DC 24V 6. Rated Frequency: 50/60Hz 7. Rated Power: 12W 8. Color: White 9. Dimensions: (6.10 x 4.53 x 3.15)" / (15.5 x 11.5 x 8)cm (L x W x H) 10. Weight: 7.41oz / 210g Package Includes: 1 x Ultrasonic Humidifier 1 x Adapter 1 x 100ml Measuring Cup 1 x User Manual