Compass Mens Leather Cord Essential Oil Diffuser Necklace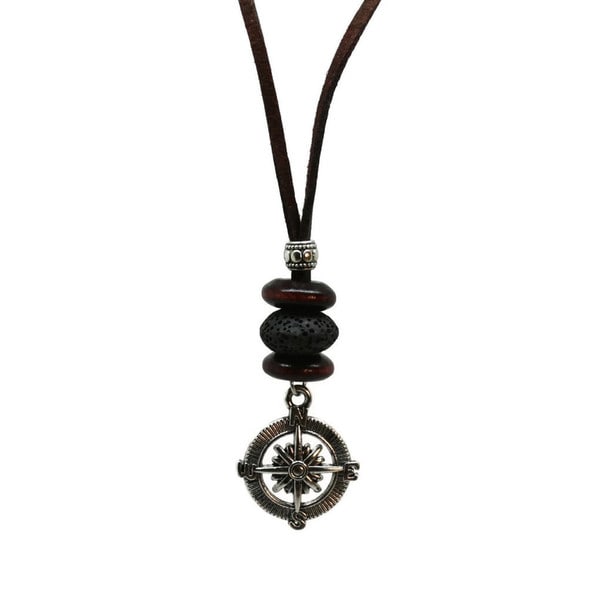 The antique silver pendant compass gives great proportions to the wooden beads and lava stone part of this necklace. This diffuser necklace is very comfortable to wear with a very soft brown leather cord. The charm part of necklace attaches with a clasp, allowing you to change the lava stones. The beads slide down over the lobster clasp while wearing the necklace for seamless functionality. Features: Company based in Iowa Leather cord necklace Essential oil diffuser Compass shaped pendant Black lava stone 20 inches long Pendant measures 1.25 inches x 1 inch About the Manufacturer: Welcome to Destination Oils. ...
Buy Now
$14.29

Related Products
$15.49
Take the benefits of essential oil aromatherapy wherever you go with this diffuser necklace. A gorgeous cross pendant on a ball station stainless steel 18" chain will last for a very long time. To add oil, just remove the chain, open the pendant, add two drops of essential oil and let it absorb for five to 15 minutes. Wipe off the excess oil with a tissue, reassemble the necklace and enjoy the essential oil all day. Features: Business based in Iowa Cross shape Dark grey lava bead 2 extra lava beads included 18-inch ball station stainless steel chain Rhodium pendant measures 1 inch wide x 1.5 inches tall About the Manufacturer: Welcome to Destination Oils. My name is Kara and I am the owner of Destination Oils, a small essential oil business located in Iowa. We want to bring great, high quality essential oils and unique aromatherapy jewelry to the online marketplace. Our oils are 100-percent pure, therapeutic grade with no fillers, preservatives, or chemicals. Just oil. Pure and Natural- Essentials You Can Trust.
$29.99
Portable USB Car Air Refresher Essential Oil Diffuser with Colorful LED lights for car, Office or Home Color: White
$39.99
Notes: Oil is not included in the package. To prolong the lifetime of the item,please keep it dry when storing. If the water added over max line, the mist will be very thin(less water, more mist) If the ultrasonic wave chip was polluted, it may cause error action or default. Please don't touch the internal ultrasonic wave vibration board inside of the water tank directly with your hands. Decription: Looking for a simple way to smell better in your room? The URPOWER Ultrasonic Aroma Essential Oil Diffuser is elegant and easy to use. just add 100ML of water and a few drops of your favorite essential oil. Advanced ultrasonic vaporizing diffusion technology quietly releases a soothing fragrant mist up to 6 hours. Automatic shut off safety system when waterless protects the product from being burned out. Keep essential oil 100% natural without burning or heating and automatic shut off safely. The URPOWER ultrasonic aroma humidifier does double duty to make your home smell better for up to 6 hours. First, the humidifier function adds moisture to the air to help you sleep better, cough less and alleviate dry sinuses. This handy unit also diffuses your favorite scented oils without heat, so their holistic properties stay intact. The result will be moist air. Features: No filters required Whisper-quiet operation Auto shutoff for safety Visually appealing,modern Japanese design Helps with dry, chapped skin, chapped lips and dry sinuses Works with ordinary tap water, plus 2 to 3 drops of essential oil Specifications: Size:3.1"x5.5" Material: Upper parts PP Input power: AC100-240V 50/60HZ Advanced ultrasonic technology: 2.4MHZ Length of the power supply cable: about 69.6 inch Package Includes: 1 x Oil Diffuser 1 x Charger Adaptor 1 x Measuring cup 1 x Manual