Divine Cross Essential Oil Diffuser Lava Stone 18-inch Necklace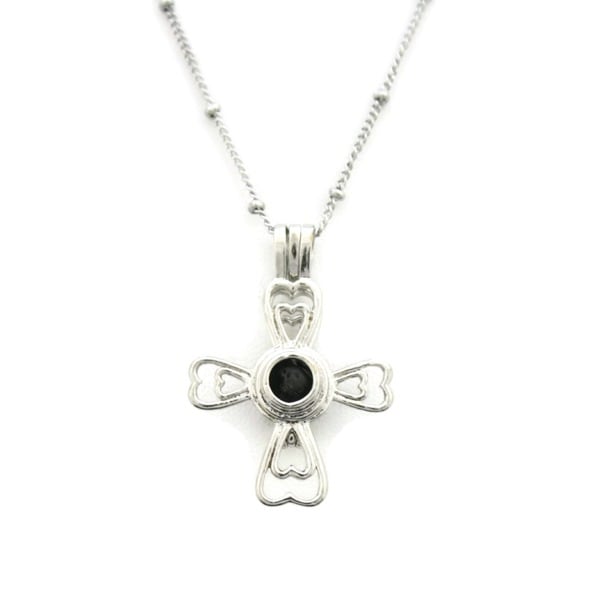 Take the benefits of essential oil aromatherapy wherever you go with this diffuser necklace. A gorgeous cross pendant on a ball station stainless steel 18" chain will last for a very long time. To add oil, just remove the chain, open the pendant, add two drops of essential oil and let it absorb for five to 15 minutes. Wipe off the excess oil with a tissue, reassemble the necklace and enjoy the essential oil all day. Features: Business based in Iowa Cross shape Dark grey lava bead 2 extra lava beads included 18-inch ball station stainless steel chain Rhodium ...
Buy Now
£12.44

Related Products
$18.65
Note: Only tap water is available. When adding water in the diffuser, please do not exceed the MAX LINE. Otherwise, it will not produce mist. Specifications: [Size] 3.9 X 5.5 inches [Weight] 0.57lb [Water Capacity] 100ml [Length of power cord] 67 inch [Output] DC 12V 1A [Intput] AC100-240V 50/60HZ [LED Light] 7 color lights Package Include: 1* LED Aromatherapy Diffuser 1* AC Adapter 2* Measuring cup 1* User Manual
$25.29
SODIAL Essential Oil Aroma Diffuser Ultrasonic Humidifier Air Mist Aromatherapy Purifier Light Woodgrain
$8.38
100% Plant Based All-Natural Essential OilNever any additives or fillers, all naturalGinger essential oil is a warming essential oil that works as an antiseptic, laxative, tonic and stimulant. We stand by the quality of our product, if ever you are not satisfied with our product we will be very happy to replace them or give you a refund for your purchase.