Divine Cross Essential Oil Diffuser Lava Stone 18-inch Necklace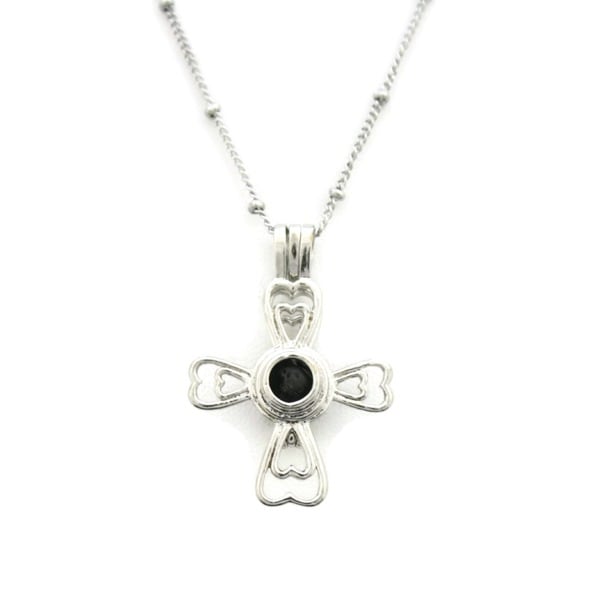 Take the benefits of essential oil aromatherapy wherever you go with this diffuser necklace. A gorgeous cross pendant on a ball station stainless steel 18" chain will last for a very long time. To add oil, just remove the chain, open the pendant, add two drops of essential oil and let it absorb for five to 15 minutes. Wipe off the excess oil with a tissue, reassemble the necklace and enjoy the essential oil all day. Features: Business based in Iowa Cross shape Dark grey lava bead 2 extra lava beads included 18-inch ball station stainless steel chain Rhodium ...
Buy Now
£15.65

Related Products
$9.62
Ecogecko100% Pure Eucalyptus Essential Oil, Aromatherapy Oil, 30ml - use with EcoGecko Air Revitalizers or Diffusers, or anywhere you use essential oils. Made in the USA. Size: 1 oz Color: Eucalyptus
£16.63
MONQ personal essential oil diffusers use vaporizer technology to deliver all-natural essential oil blends in classic aromatherapy combinations. The portable diffusers several blends, all of which are free of nicotine, tobacco, GMOs, artificial ingredients, and are 100% organic and vegan. Breathe into your mouth, pause, and exhale through your nose. Plant fragrances pass through your olfactory system inspiring relaxation. MONQ uses 100% naturally extracted and organic essential oils, harvested from eco-friendly farms across the world. Their essential oils are the highest quality, so that every breath is effective.
£18.52
One of our smaller stainless steel essential oil pendants, this Sacred Lotus locket is about the size of a dime (20mm). On a 20" stainless steel link chain, this necklace is beautiful and perfect for everyday wear! Type: Oils Country of Origin: United States