Divine Cross Essential Oil Diffuser Lava Stone 18-inch Necklace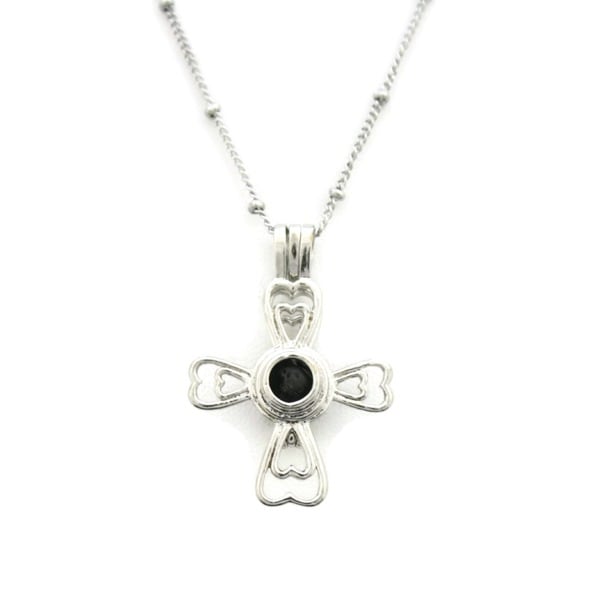 Take the benefits of essential oil aromatherapy wherever you go with this diffuser necklace. A gorgeous cross pendant on a ball station stainless steel 18" chain will last for a very long time. To add oil, just remove the chain, open the pendant, add two drops of essential oil and let it absorb for five to 15 minutes. Wipe off the excess oil with a tissue, reassemble the necklace and enjoy the essential oil all day. Business based in Iowa Cross shape Dark grey lava bead 2 extra lava beads included 18-inch ball station stainless steel chain Rhodium pendant ...
Buy Now
£13.06

Related Products
$34.99
Spread sweet aromas throughout your vehicle with this essential oil travel car diffuser. This ultrasonic diffuser is specially designed to fit in a car's cup holder and comes with a 12-volt adapter. Fits in a cup holder and resists tipping Comes with a 12-volt adapter to keep it from running out of power Uses ultrasonic technology One-year limited manufacturer's warranty
£23.01
Activate your senses to soothe and invigorate your mind, body and spirit with this stylish oil diffuser. ZAQ uses LiteMist Technology to break up the blending of essential oil and water into mist of micro-particles and disperses them into the air. Brighten up your home or office with the heavenly mist and warm glow from this ZAQ diffuser. This attractive aromatherapy essential oil diffuser is made from eco-friendly plastic. Choose from one of three vibrant colors: blue, pink or orange. The soft fragrance and radiant light from this ZAQ diffuser make your space exotic and inviting. Intended use: Aromatherapy Brand: ZAQ Color: Blue, pink, orange Eco-friendly Materials: Plastic Dimensions: 4.3 inches in diameter x 8.7 inches high
£33.96
Create a peaceful, calming feel in any room with this color-changing humidifier. The dehumidifying function prevents dry skin and chapped lips, and the color-changing design makes this essential oil diffuser a beautiful addition to your home. Adjustable settings make it easy to control the amount of moisture in the room, and the aromatherapy humidifier's diffusing capabilities send the warm fragrance of essential oils into the air. Our aroma diffuser is recommended to help ease the problems caused by stuffy nose, cracked lips, itchy skin caused by dryness and dry throat. It makes a perfect gift for new mothers and the new born or anyone who just require a little bit more moisture in the air. It has three variable mist control settings: high, medium and low so you can adjust to the perfect moisture of your room. Use low mode for longer use, before the next refill. Melt away stress, relax and rejuvenate with the most advanced and effective method of diffusing tap water with a few drops of your choice of essential or fragrant oil, using ultrasonic aromatherapy technology. Ultra high capacity mist volume adjustable and durations as follows: Lo - 4 to 4.5 hrs. Medium - 2 to 2. 5 hrs., and High 1 to 1.5 hrs. Auto shut-off when water runs low- adds to safety, energy efficiency, and peace of mind- especially for use at night. Soothing light which you can set the colors to the color of your choice, let it run continuously morphing from one color to another, or you can simply turn the light off. It is a great tool for relaxation. One year hassle free waranty.