Divine Cross Essential Oil Diffuser Lava Stone 18-inch Necklace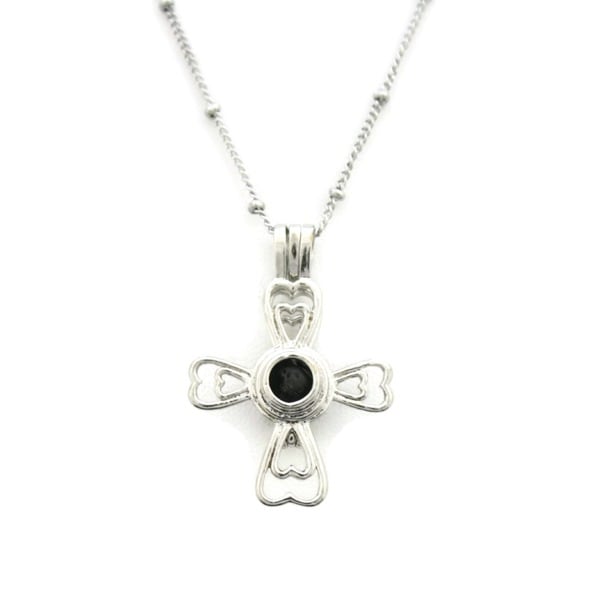 Take the benefits of essential oil aromatherapy wherever you go with this diffuser necklace. A gorgeous cross pendant on a ball station stainless steel 18" chain will last for a very long time. To add oil, just remove the chain, open the pendant, add two drops of essential oil and let it absorb for five to 15 minutes. Wipe off the excess oil with a tissue, reassemble the necklace and enjoy the essential oil all day. Features: Business based in Iowa Cross shape Dark grey lava bead 2 extra lava beads included 18-inch ball station stainless steel chain Rhodium ...
Buy Now
$18.79

Related Products
£13.45
Elegant and practical, this black braided bracelet showcases a small ball locket with filigree design that diffuses your favorite essential oil throughout your day. With one lava rock diffuser bead included, 2 extra assorted color stones are included for a different look. Features: How to Use: Unclasp the latch and open locket. Remove lava stone from locket. Add 2 drops of your favorite essential oil (or 1 drop of a few different oils to make a custom blend) to the reusable lava stone. Let it absorb for at least 5 minutes (15 minutes would be ideal), wipe off any remaining oil with a tissue to protect inside of diffuser locket, reassemble and enjoy the aromatherapy benefits on the go. About the Manufacturer: Welcome to Destination Oils. My name is Kara and I am the owner of Destination Oils, a small essential oil business located in Iowa. We want to bring great, high quality essential oils and unique aromatherapy jewelry to the online marketplace. Our oils are 100-percent pure, therapeutic grade with no fillers, preservatives, or chemicals. Just oil. Pure and Natural- Essentials You Can Trust.
$29.95
Plant Therapy's KidSafe® Lil' Stinkers? Essential Oil Diffuser Aroma Plush? Animal Coco the Bird & Signature Essential Oil
$48.78
FeaturesSteady and high frequency that makes the molecules of water and the essential oils Creates the negative ions and moisturizes air & skin allowing you to enjoy the aromatherapy effectively Brings the all-natural healing power of aromatherapy Stylish design that complements any decor Auto shut off at low water level Built in overheating protection