DW-R-400ML 400 ml Ultrasonic Air Humidifier Aroma Essential Oil Diffuser with Remote - LED Changing Color Light for Home Office SPA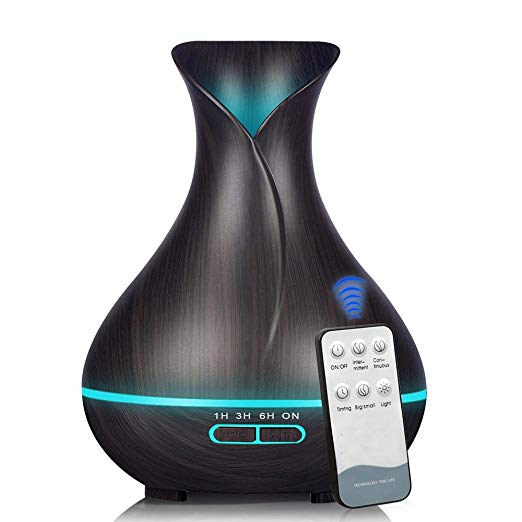 Aromatherapy diffuser has 1.7 million ultrasonic vibrations per second. Keep all natural ingredients and essential oils 100% used, make sure that the body and the skin can feel with aromatherapy. With the concept of health and exquisite design, this diffuser is ideal for any special occasional gift for them to share with family and friends. When the water tank is empty, it ends automatically, safely and reliably fog for 1/3/6 hours setting. Includes:7 Color change Orange, Green, Pink, Green, Yellow, Blue, Red or automatically changing. External transformer, Low energy consumption, Harmless and natural Where to Use ...
Buy Now
$49.87

Related Products
$28.99
120ml Aromatherapy Essential Oil Diffuser with 7 Color LED Lights Changing waterless Auto Shut-off (Square Size). 1.ULTRASONIC OPERATION: Simply add water and 2 to 3 drops of essential oil. Ultrasonic vibrations diffuse the water and oil into the room for relaxing aromatherapy. Enjoy Aromatherapy Experience with Your Favorite Scented Essential Oils in this essential oil diffuse, helps revitalize your spirit and nurture relaxation. 2.PORTABLE: Make your home smell wonderful. Stay Healthy; humidify your living space to prevent dry, stuffy air and flu/cold germs infecting your loved ones. Prevent dry and chapped skin in dry winter or air conditioned room in summer. 3.FILTERING HARM FUL GAS FOR YOUR HEALTH. Add a few drops of your favorite essential oil (NOT INCLUDED) to enjoy wonderful aromas throughout your home. Humidify the air, breathe easier, and relieve cough and sinus congestion due to colds, allergies, and flu. Reduce odors in your house from cigarettes, cooking, and pets. 4. 7 COLOR-CHANGING NIGHT LAMP: Spark your kids imagination with 7 changing mood lights, each of which is adjustable between bright and dim modes, and could be set steady on. Great night light for young children scared of the dark at bedtime. Color including: Green, Dark blue, Red, Yellow, Pink, Light blue, White. 5.SAFETY&EASY TO USE: AGPtek essential Oil Diffuser will power off if there should be no water in it for safety. The top of this device twists off for easy fill. Power cord plug from the bottom with a place for the cord to carry out from the side of the diffuser offering stability. 6.Portable for Home, Yoga, Office, Spa, Bedroom, Baby Room. Perfect gift idea for family and friends who love aromatherapy or can benefit from Aromatherapy healing. Notes: Two settings when press the mist button (Green/Red): * Green - intermittent mist (30 seconds on and off) * Red - continuous mist coming out Please add water below the Max line (less water, more mist) Function: Beauty: refresh skin, keep skin healthy and moist. Decoration: choose the light color you like to make the room romantic. Humidify: humidify and refresh the air in the room we breathe. Relief: aroma therapy, relieve stress. Specifications: [Applicable Area] Aromatherapy: 20 Square Meters / Humidification: 10 Square Meters Material: Upper parts PP, lower base ABS Capacity of water tank: About 100ML Noise Level: less than 35 dB Input power: AC100-240V 50/60HZ Most advanced ultrasonic technology: 2.4MHZ Automatically shut off when the water is not enough. Keep essential oil 100% natural without burning or heating and automatic shut off safely. Content: Wall charging length: 170cm Size: 100*140MM Weight: 200g Material: PP Hard plastic Working time: up to 3 hours Package Contents: 1 x Aroma Diffuser 1 x Charging Adaptor 1 x Measuring cup for filling water 1 x User Manual Note: Oil is not included in the package While we aim to supply accurate product information, it is sourced by manufacturers, suppliers and marketplace sellers, and has not been provided by Overstock.
$19.09
AromatherapyFor Use at Home, Travel, OfficeConstant IntervalUSB ConnectionJust Add Water Plus Essential Oil
$39.33
Family is like branches on a tree; we all grow in different directions yet our roots remain as one essential oil diffuser. Diffuser is made from frosted glass. Extremely quiet, no heat or vibration allowing for deep relaxation. Safe and easy to use. Continuous mist - lasts up to 8 hours. LED light with 8 different colors. It can also be used with essential oils. Ul approved. Automatic shut-off timer or until water runs out. Add water up to fill line inside diffuser. Add oil. Oils are not included with this diffuser. Never submerge unit in water. To clean inside and outside surface, use a soft cloth and warm soapy water. Do not use abrasive cleaners. Wipe dry. This appliance is for household use only. SpecificationsMaterial: Frosted glass Imprint: Family is like Weight: 1.5 lbs