Elegance Essential Oil Diffuser Bracelet Braided Grey Aromatherapy Jewelry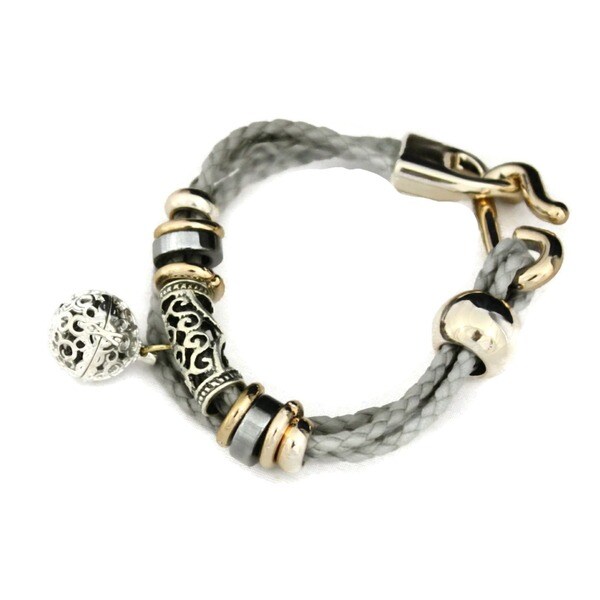 Wear this bracelet to experience the effect of essential oil aromatherapy the entire day. Made from leather with metal accents, this bracelet holds a 10mm lava stone that will soak up a few drops of your favorite essential oil for mobile diffusing. This bracelet comes with three lava stones in a variety of colors. Features: Business based in Iowa Leather, metal 7-inch bracelet Includes 3 lava stones in assorted colors About the Manufacturer: Welcome to Destination Oils. My name is Kara and I am the owner of Destination Oils, a small essential oil business located in Iowa. We want ...
Buy Now
£15.97

Related Products
$24.74
Natural essential oils are distributed throughout the room in the form of a gentle and smoke free mist which delivers delicate healing aromas while softly humidifying the dry atmosphere. Deep relaxation and stress relieving aromas of essential oils such as lavender, peppermint, eucalyptus, and tea tree fill you with a sense of serenity and peace, helping to relieve stress and improve the quality of life. Enjoy the benefits of aromatherapy to help aid in the relief of stress, and fight the effects of eczema, nausea, nosebleeds, dandruff, joint pain anxiety, nasal and chest congestion. Our essential oils diffuser uses patented ultrasonic technology to deliver a safe, heat free and smoke free mist. Sonic vibrations silently create a delicate ultra-fine mist which delivers maximum humidity while dispersing aromas to all corners of your living or work space. This silence means that you can enjoy the benefits of your diffusers aromatherapy without disruption or noise pollution. The zero heat process also makes our diffuser child safe and eliminates the risk of injury or fire that candles or smoky incense pose. Choose from 7 soft led colors or variations to set the perfect mood for you and your guests. Powerful 110-240V, 12W to ensure mist distributes even in larger rooms. Auto off function allows you to leave your diffuser unattended. 100% Customer satisfaction guarantee. If at any time you are not completely satisfied with your essential oils diffuser feel free to return it to us for a full and prompt refund. Made with BPA Free materials. Packaging Made with Recycled Materials.
£32.48
The geometric linear details on the outer shell exude a sleek visual appeal while longer operation and increased mist output support natural wellness. Add water and a few drops of essential oil to the 33.8 fl oz water tank for an instant aromatic environment. Incorporate the optional color-change lighting effect to further support your experience plus one of our newest features allows you to turn the diffuser off by holding the power button for 3 seconds. Continuous Run Time: Up to 20 hrs Intermittent Run Time: Up to 40 hrs Water Capacity: 1000 mL (33.81 fl oz) Coverage Area: Up to 400 sq ft Light Mode: Rotating color or Off Power: AC Adapter
$30.86
Samsonic Trading AD220 Essential Oil Aroma Diffuser with Remote Control