Elegance Essential Oil Diffuser Bracelet Braided Grey Aromatherapy Jewelry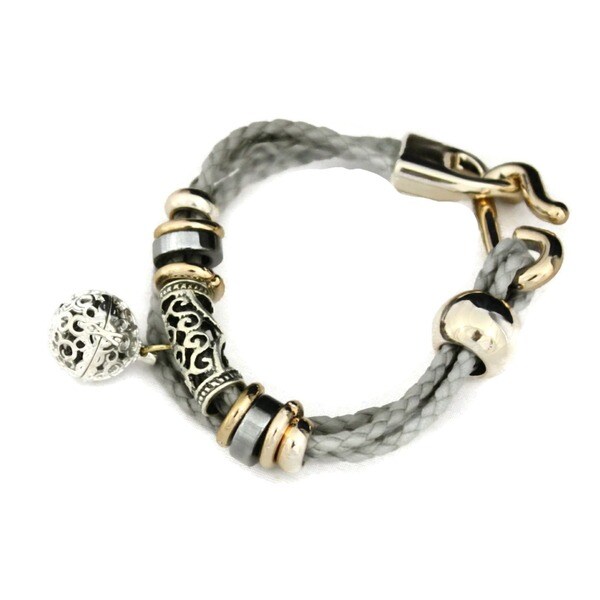 Wear this bracelet to experience the effect of essential oil aromatherapy the entire day. Made from leather with metal accents, this bracelet holds a 10mm lava stone that will soak up a few drops of your favorite essential oil for mobile diffusing. This bracelet comes with three lava stones in a variety of colors. Features: Business based in Iowa Leather, metal 7-inch bracelet Includes 3 lava stones in assorted colors About the Manufacturer: Welcome to Destination Oils. My name is Kara and I am the owner of Destination Oils, a small essential oil business located in Iowa. We want ...
Buy Now
$19.29

Related Products
$24.99
PureGuardian SPA125CA Personal USB Aromatherapy Essential Oil Diffuser
$21.96
OMNIHIL Replacement 2-Port USB Car Charger+ (WHT)30FT MICRO-USB for ZAQ Portable Ultrasonic Essential Oil Diffuser
$24.19
This gold essential oil diffuser necklace has a classic design with exquisite filigree cutouts. The chain is a long, luxe 30-inch ball station design. The whole aromatherapy necklace is 316L Stainless Steel and is rust, tarnish, lead, and nickel free. Features: Pendant necklace 316L stainless steel Essential oil diffuser Filigree details Tarnish, lead, and nickel-free 30-inch long chain Dual magnet pendant closure Pendant measures 1.2-inch diameter (30mm) Includes 3 22mm felt diffuser pads About the Manufacturer: Welcome to Destination Oils. Our goal is to bring great, high quality essential oils and unique aromatherapy jewelry to the online marketplace. Our oils are 100-percent pure, therapeutic grade with no fillers, preservatives, or chemicals. Just oil. The Destination Oils line of aromatherapy diffuser jewelry is one of the largest, most diverse available to ensure something for everyone. 90 day warranty on all pieces too. Destination Oils- Your Essential Journey Starts Here.