Galaxy Boy's/ Men's Planet Essential Oil Diffuser Leather Necklace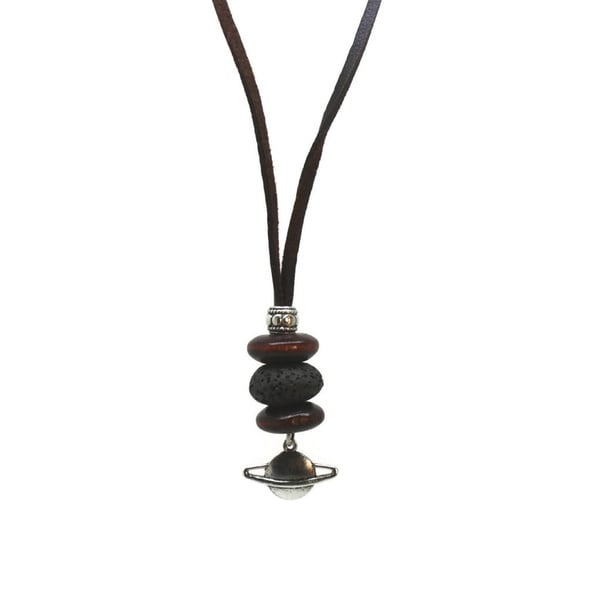 This is a great essential oil diffuser necklace for the man in your life. Just drop a few drops of oil on the lava stone hanging from this leather necklace and experience pleasing aromatherapy all day long. Business based in Iowa 18-inch leather necklace with 2-inch extender Metal, lava stone planet pendant Includes 2 extra lava stones About the Manufacturer: Welcome to Destination Oils. My name is Kara and I am the owner of Destination Oils, a small essential oil business located in Iowa. We want to bring great, high quality essential oils and unique aromatherapy jewelry to ...
Buy Now
£14.51

Related Products
£16.37
200mL Ultrasonic Oil Diffuser that Effectively Disperses Essential Oils for Aromatherapy and Relaxation Earth Vibes 200mL Ultrasonic Essential Oil Diffuser, has so many benefits packed into one visually pleasing device. Our diffuser distributes essential oils throughout the room using 2 mist power settings - low mist for a gentle aroma and high mist for a more powerful aroma. Our diffuser delivers powerful healing aromas while softly humidifying the dry atmosphere. Rid stress and take your relaxation to the next level with this beautiful healing device. Choose between 7 interchangeable colors to heighten your experience. The Bottom Line: Effective For Air Purification, Removing Harmful Impurities In The Air 2 Mist Power Settings - High & Low Peaceful Quiet & Temperature Safe Safe For Children & Adults Alike Secure With An Auto Shut-Off Function Easy To Use With An Easy-To-Understand Step-By-Step Manual Features 7 Beautiful Colors Large Tank That Holds 200mL Of Water & Essential Oil Provides 10 Full Hours Of Continuous Mist Made With BPA Free Materials Specifications: Adapter: 12V / 1000ma Output: 12W Tank Capacity: 200ml Accessories: Adapter & Cup Product diameter: 130mm Height: 120mm Net Weight: 320g Gross Weight: 500g
£24.61
SCENT YOUR SPACE AND SERENADE YOUR SENSES Relaxation in a Bottle Clean and invigorating, our Classic Breeze fragrance reed diffuser fills your space with an enchanting scent that is beautifully-balanced to make an inviting impression without being overpowering. And our fresh fragrance doesn't just smell amazing, it also treats you to authentic aromatherapy properties that you'll love. Classic Breeze improves your mood, helps you relax, and creates the ideal environment to melt stress away and shed fatigue. Uncompromising Quality We take great pride in giving you products for your home created with impressive quality in mind. That's why we've combined high-grade essential oils with premium packaging to create a reed diffuser stands out. Our oils are VOC & CARB compliant and completely free of alcohol, parabens, or phthalates. And the reed diffuser kit comes packed in a lovely gift box that eliminates the hassle of gift wrapping. If you're looking for a perfect present to crown a housewarming, anniversary, birthday, or the holidays, this premium spa reed diffuser will be a total hit. Here are more reasons to love our non-toxic reed diffuser: - Comes in a 2.5oz. bottle that lasts over 2 months. - Beautiful glass bottle blends into just about any decor. - Very easy to use; doesn't need any electricity or flame. - The intensity of the scent can be easily adjusted by adding or removing sticks. - Diffuser sticks are made using fiber for superior diffusing action. - Backed by our 100% customer satisfaction guarantee. Click 'Add to Cart' now for a home fragrance reed diffuser that smells great, lasts longer, and treats you to genuine aromatherapy benefits!
$17.70
Simply Diffusers Lavender, Peppermint, Sweet Orange and Pine Scotch Essential Oils with Travel Case: Therapeutic-grade essential oilsFour 5mL bottles: lavender, peppermint, sweet orange and pine scotchAlso includes travel case for easy storagePerfect to get started in essential oils or to give as a gift