Galaxy Boy's/ Men's Planet Essential Oil Diffuser Leather Necklace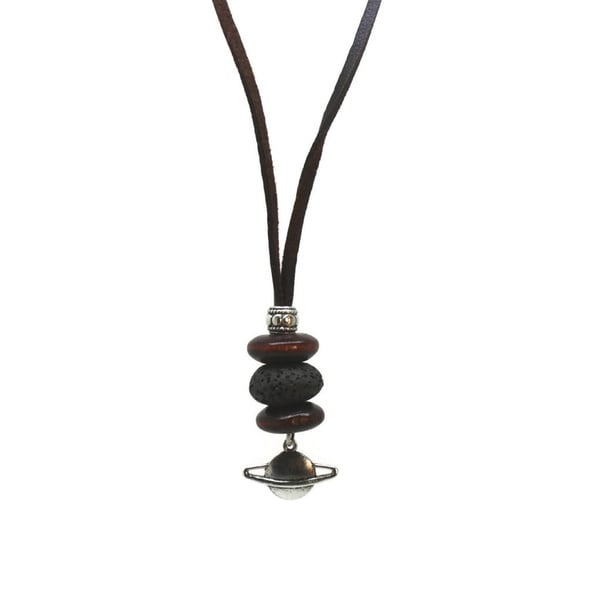 This is a great essential oil diffuser necklace for the man in your life. Just drop a few drops of oil on the lava stone hanging from this leather necklace and experience pleasing aromatherapy all day long. Business based in Iowa 18-inch leather necklace with 2-inch extender Metal, lava stone planet pendant Includes 2 extra lava stones About the Manufacturer: Welcome to Destination Oils. My name is Kara and I am the owner of Destination Oils, a small essential oil business located in Iowa. We want to bring great, high quality essential oils and unique aromatherapy jewelry to ...
Buy Now
£13.30

Related Products
$27.94
Ultrasonic Mist Humidifier Essential Oil Aroma Diffuser 100ML
$8.38
100% Plant Based All-Natural Essential OilNo additives, making it safe to use even on the most sensitive skin. Marjoram essential oil has been shown to calm the nervous system and, in turn, positively impact your cardiovascular system by improving blood flow and lowering blood pressure. Itâ s been used to treat coughs, runny noses, gallbladder issues, digestive problems, depression, dizziness, migraines, nervous headaches, nerve pain and paralysis as well. We stand by the quality of our product, if ever you are not satisfied with our product we will be very happy to replace them or give you a refund for your purchase.
£25.89
Our "Blooming" Tree of Life essential oil diffuser bracelet is made completely of stainless steel- it will not tarnish at all! Very durable, the 20mm pendant is about the size of a dime. Jewelry Type: Fashion Gender: Men's, Women's Clasp: Spring Ring Bracelet Style: Chain Country of Origin: United States Metal Color: White Metal: Stainless Steel Length: 7 Inch, 9 Inch, Adjustable Length All measurements are approximate and may vary slightly from the listed dimensions.