Galaxy Boy's/ Men's Planet Essential Oil Diffuser Leather Necklace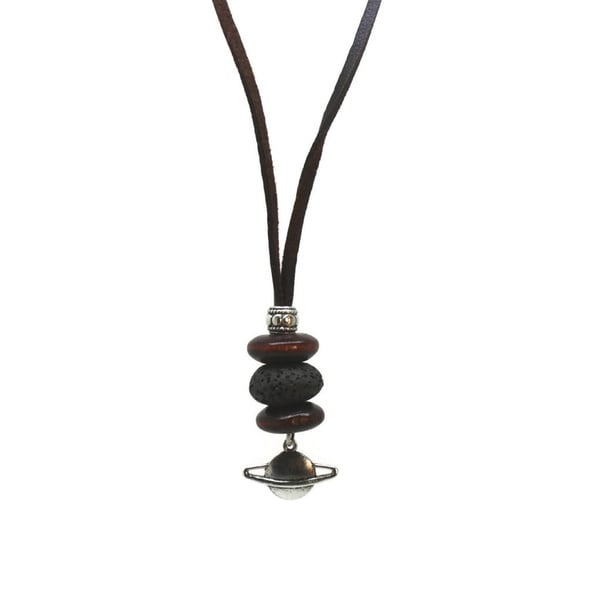 This is a great essential oil diffuser necklace for the man in your life. Just drop a few drops of oil on the lava stone hanging from this leather necklace and experience pleasing aromatherapy all day long. Business based in Iowa 18-inch leather necklace with 2-inch extender Metal, lava stone planet pendant Includes 2 extra lava stones About the Manufacturer: Welcome to Destination Oils. My name is Kara and I am the owner of Destination Oils, a small essential oil business located in Iowa. We want to bring great, high quality essential oils and unique aromatherapy jewelry to ...
Buy Now
$18.09

Related Products
$19.69
Aromatherapy has been known to have many lasting effects for both the mind and body. From reducing stress, eliminating headaches, increasing relaxation and easing anxiety, many people incorporate essential oils into their everyday lives in simple ways by spraying various scents on their pillow cases and taking scent-filled bubble baths. This necklace combines the benefits of aromatherapy with the aesthetic benefits of jewelry. This necklace features a flower. The locket part opens up to a white, cotton/polyester blend disc, where you can fill your necklace daily with the oils you desire. The pendant measures about 1 inch in diameter. It comes with an 18 inch cable chain with lobster-claw clasp. This entire necklace is crafted in stainless steel and is hypoallergenic. Jewelry Type: Fashion Chain Style: Cable Necklace Type: Pendant Stone: No Stone Clasp: Lobster Claw Jewelry Finish: High Polish Metal Color: White Metal: Stainless Steel Gender: Women's Length: 18 Inch All measurements are approximate and may vary slightly from the listed dimensions.
$29.98
Humidifier Ultrasonic Room Oil Air Essential Aroma Diffuser Purifier Atomizer Type: Decorations
£42.73
Enjoy gentle fragrances as a mist floating through your immediate environment with this aromatherapy diffuser from ZAQ. This diffuser is ideal for use in salons and spas, and operates up to 15 hours at a time without condensation. Quiet, compact, and energy-efficient Operates for up to 9 hours in high mist mode and 15 hours in low mist mode without condensation No heat source required Essential oils do not degrade during operation Auto shut-off feature Operates in high, soft, or no light mode