Galaxy Boy's/ Men's Planet Essential Oil Diffuser Leather Necklace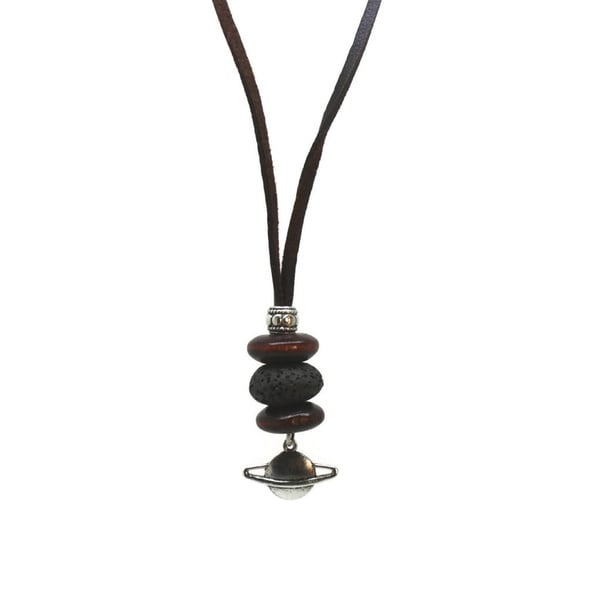 This is a great essential oil diffuser necklace for the man in your life. Just drop a few drops of oil on the lava stone hanging from this leather necklace and experience pleasing aromatherapy all day long. Business based in Iowa 18-inch leather necklace with 2-inch extender Metal, lava stone planet pendant Includes 2 extra lava stones About the Manufacturer: Welcome to Destination Oils. My name is Kara and I am the owner of Destination Oils, a small essential oil business located in Iowa. We want to bring great, high quality essential oils and unique aromatherapy jewelry to ...
Buy Now
$18.29

Related Products
$13.00
Two USB Ports Auto Humidifier Aroma Diffuser Mini Car Aromatherapy Essential Oil Diffuser Air Purifier with Dual USB Car Charger
$8.38
100% Plant Based All-Natural Essential OilNo additives, making it safe to use even on the most sensitive skin. Spearmint essential oil promotes digestion and helps reduce occasional stomach upset, supports healthy respiratory function, provides a refreshing aroma that clears the mind and uplifts mood and promotes oral healthWe stand by the quality of our product, if ever you are not satisfied with our product we will be very happy to replace them or give you a refund for your purchase.
£16.32
This gold essential oil diffuser necklace has a classic design with exquisite filigree cutouts. The chain is a long, luxe 30-inch ball station design. The whole aromatherapy necklace is 316L Stainless Steel and is rust, tarnish, lead, and nickel free. Pendant necklace 316L stainless steel Essential oil diffuser Filigree details Tarnish, lead, and nickel-free 30-inch long chain Dual magnet pendant closure Pendant measures 1.2-inch diameter (30mm) Includes 3 22mm felt diffuser pads This product is part of our 'Main Street Revolution' - a partnership between Overstock.com and small businesses around the USA. Welcome to Destination Oils. Our goal is to bring great, high quality essential oils and unique aromatherapy jewelry to the online marketplace. Our oils are 100-percent pure, therapeutic grade with no fillers, preservatives, or chemicals. Just oil. The Destination Oils line of aromatherapy diffuser jewelry is one of the largest, most diverse available to ensure something for everyone. 90 day warranty on all pieces too. Destination Oils- Your Essential Journey Starts Here.