Galaxy Boy's/ Men's Planet Essential Oil Diffuser Leather Necklace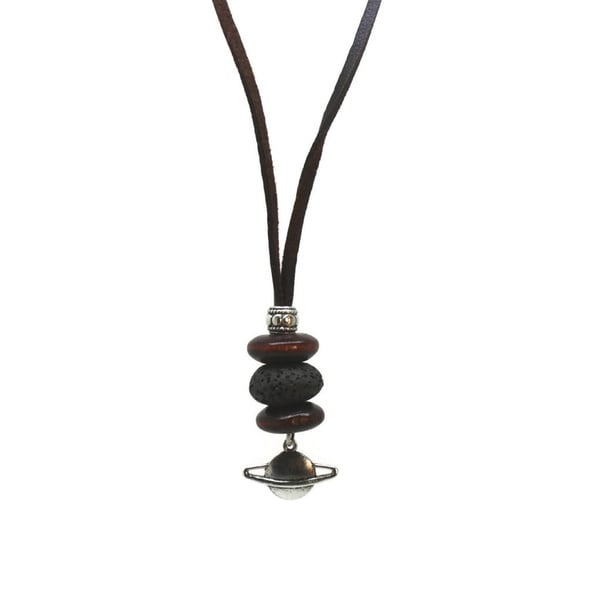 This is a great essential oil diffuser necklace for the man in your life. Just drop a few drops of oil on the lava stone hanging from this leather necklace and experience pleasing aromatherapy all day long. Business based in Iowa 18-inch leather necklace with 2-inch extender Metal, lava stone planet pendant Includes 2 extra lava stones About the Manufacturer: Welcome to Destination Oils. My name is Kara and I am the owner of Destination Oils, a small essential oil business located in Iowa. We want to bring great, high quality essential oils and unique aromatherapy jewelry to ...
Buy Now
$17.79

Related Products
$16.85
Homedics Armh-110gy Aroma Essential Oils Personal Portable Diffuser
$29.82
NOW Solutions Real Bamboo Ultrasonic Oil Diffuser unites aromatherapy with modern scientific innovation to create an essential oil diffuser that's the perfect complement to your home or office. This attractive diffuser is BPA-free and utilizes high-frequency ultrasonic electrical vibrations to create an ultra-fine mist. This diffusion method doesn't utilize heat, which maintains essential oil integrity and holistic properties.
£17.57
Spread your trademark wafting aroma wherever you go, with this 20 mm Captain America diffuser necklace. On a black cowhide chain, this stainless steel pendant is lightweight and durable. And what could be better than showing off your patriotic pride, displaying your fandom of everyone's favorite American superhero, and deriving all the fabulous benefits of aromatherapy as you do so. Features: Made of 316L stainless steel, with a black cowhide necklace Includes necklace w/ 3 12.5-mm felt diffuser pads (assorted colors) 18 inch-chain w/ 2-inch extender Dual magnetic closure Dimensions: 0.8 (20 mm) inches in diameter About the Manufacturer: Destination Oils ' goal is to bring great, high-quality essential oils and unique aromatherapy jewelry to the online marketplace. Our oils are 100-percent pure, therapeutic grade with no fillers, preservatives, or chemicals. This custom-made item will ship within 1-10 business days.