Harmony Multi-colored Girls Essential Oil Diffuser Organza Interchangeable Necklace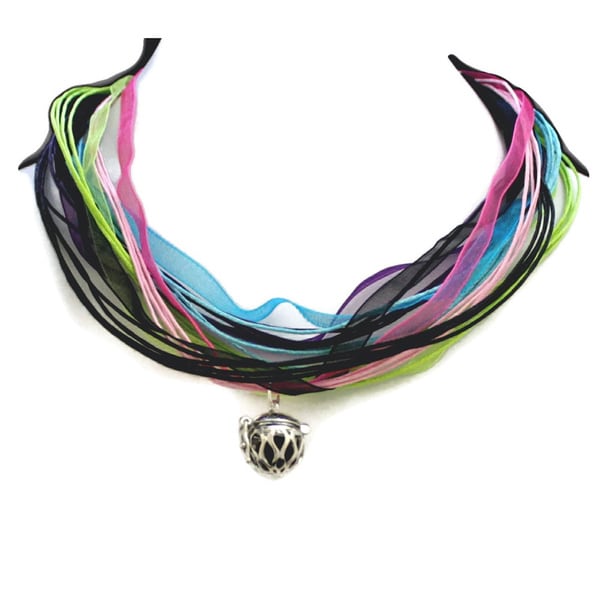 Look gorgeous while you bask in the convenience of portable aromatherapy with this unique diffuser necklace set. The silvertone diffuser locket pairs excellently with any one of the five vibrant organza necklace cords, which can be switched out to match any outfit. Just add a few drops of your favorite essential oil to the lava stone inside the locket and let the wholesome benefits of essential oil aromatherapy accompany you throughout the day. Features: Made of metal and organza Set includes lime green, pink, purple, black, and turquoise blue colored necklace bands Includes 3 10mm lava stones Ready to diffuse ...
Buy Now
£18.77

Related Products
$41.80
Health care has gained a lot more importance than it ever had. People are resorting to anything and everything in order to stay healthy. Monitoring health personally has become easier with our wide range of Health Care Products. Browse through our extensive collection of healthcare products which are safe and reliable. FeaturesA gray glaze on an elegantly shaped sleeve with a quatrefoil pattern Perfect accent to enhance any room SpecificationsFlavour: Airome & Jasmine Weight: 6 lbs
$21.61
Car Aroma Essential Oil Diffuser Air Humidifier Purifier Freshener 220ML Green Color: Green
£20.06
With the fun versatility of this charming piece of jewelry, you can adorn your neck, wrist, or ankle with pizzazz. This wooden bead essential oil diffuser piece can be worn as a triple wrap bracelet or longer necklace. Fill it with your favorite essential oils to leave a lovely aroma wafting in your wake. Material: Wood, Metal States: Iowa Measuring 22-23.5 inches with 3 snap options, this colorful piece is perfect for everyone Size: 7 or 7.5 inches triple wrapped as bracelet; 22-23.5 inches as single strand necklace Diffuser locket size: 0.5 inches x 0.5 inches Included in package: Bracelet and three 10mm lava stones (assorted colors) Closure: durable snap, 3 positions Materials: Leather, wooden beads and quality cotton cord, rhodium plated diffuser locket Length: 18 inches with 2-inch extender Diffuser pendant size: 0.8-inches circle (20mm) Chain Material: Cowhide, black Pendant Material: Stainless Steel Included in package: Necklace and three 22mm felt diffuser pads (assorted colors) Story Behind the Art: Welcome to Destination Oils. My name is Kara and I am the owner of Destination Oils, a small essential oil business located in Iowa. We want to bring great, high quality essential oils and unique aromatherapy jewelry to the online marketplace. Our oils are 100-percent pure, therapeutic grade with no fillers, preservatives, or chemicals. Just oil. The best quality for a great price. How to Use: Unclasp the latch and open locket. Remove lava stone from locket. Add 2 drops of your favorite essential oil (or 1 drop of a few different oils to make a custom blend) to the reusable lava stone. Let it absorb for at least 5 minutes (15 minutes would be ideal), wipe off any remaining oil with a tissue to protect inside of diffuser locket, reassemble and enjoy the aromatherapy benefits on the go.