Harmony Multi-colored Girls Essential Oil Diffuser Organza Interchangeable Necklace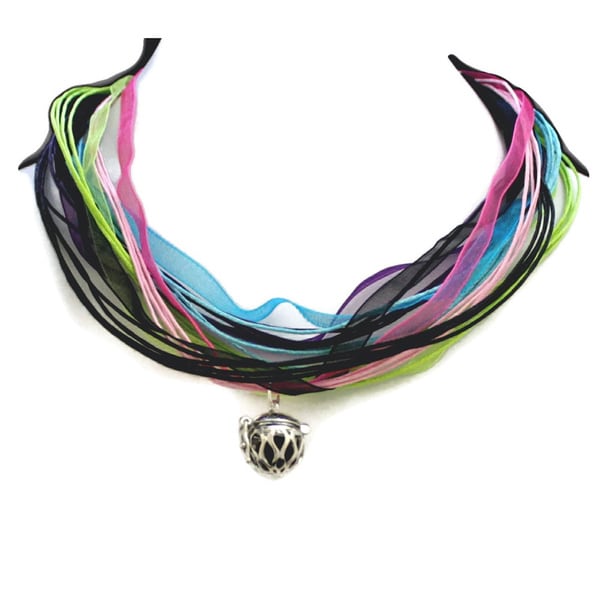 Look gorgeous while you bask in the convenience of portable aromatherapy with this unique diffuser necklace set. The silvertone diffuser locket pairs excellently with any one of the five vibrant organza necklace cords, which can be switched out to match any outfit. Just add a few drops of your favorite essential oil to the lava stone inside the locket and let the wholesome benefits of essential oil aromatherapy accompany you throughout the day. Features: Made of metal and organza Set includes lime green, pink, purple, black, and turquoise blue colored necklace bands Includes 3 10mm lava stones Ready to diffuse ...
Buy Now
£17.09

Related Products
$24.74
Natural essential oils are distributed throughout the room in the form of a gentle and smoke free mist which delivers delicate healing aromas while softly humidifying the dry atmosphere. Deep relaxation and stress relieving aromas of essential oils such as lavender, peppermint, eucalyptus, and tea tree fill you with a sense of serenity and peace, helping to relieve stress and improve the quality of life. Enjoy the benefits of aromatherapy to help aid in the relief of stress, and fight the effects of eczema, nausea, nosebleeds, dandruff, joint pain anxiety, nasal and chest congestion. Our essential oils diffuser uses patented ultrasonic technology to deliver a safe, heat free and smoke free mist. Sonic vibrations silently create a delicate ultra-fine mist which delivers maximum humidity while dispersing aromas to all corners of your living or work space. This silence means that you can enjoy the benefits of your diffusers aromatherapy without disruption or noise pollution. The zero heat process also makes our diffuser child safe and eliminates the risk of injury or fire that candles or smoky incense pose. Choose from 7 soft led colors or variations to set the perfect mood for you and your guests. Powerful 110-240V, 12W to ensure mist distributes even in larger rooms. Auto off function allows you to leave your diffuser unattended. 100% Customer satisfaction guarantee. If at any time you are not completely satisfied with your essential oils diffuser feel free to return it to us for a full and prompt refund. Made with BPA Free materials. Packaging Made with Recycled Materials.
$18.43
ABLEGRID AC DC Adapter For ZAQ GALAXY LiteMist Aromatherapy Essential Oil Diffuser Power Supply Cord Cable PS Wall Home Charger Mains PSU
$40.47
FeaturesA refill for reed diffuser with essential oils Available in a wide range of scents Durability: 100ml lasts around one month. 200Ml lasts around two to three months SpecificationsColor: Green Seas Capacity: 3.38 oz