Harmony Multi-colored Girls Essential Oil Diffuser Organza Interchangeable Necklace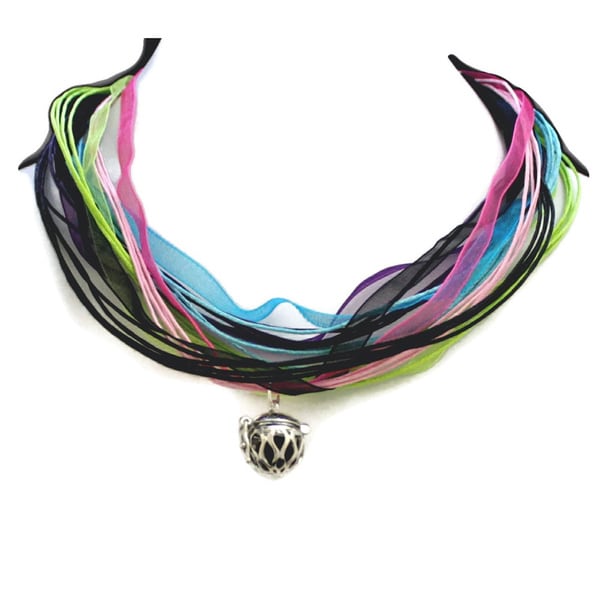 Look gorgeous while you bask in the convenience of portable aromatherapy with this unique diffuser necklace set. The silvertone diffuser locket pairs excellently with any one of the five vibrant organza necklace cords, which can be switched out to match any outfit. Just add a few drops of your favorite essential oil to the lava stone inside the locket and let the wholesome benefits of essential oil aromatherapy accompany you throughout the day. Features: Made of metal and organza Set includes lime green, pink, purple, black, and turquoise blue colored necklace bands Includes 3 10mm lava stones Ready to diffuse ...
Buy Now
£15.86

Related Products
$33.99
ZAQ Sky is the All in One Mini-humidifier, Ionizer, Aroma Diffuser and Night Light to help rid of your child's air of any germs, dust and odors.As a Mid-Sized Diffuser (6.88" x 4.65" x 3.35") - 120 ML, its large enough to moisturize your child's skin and assist in their breathing5 Different Light Mode (No Light Mode) - Warm Night Light - Upto 12 Hours Run Time - Intermittent and Continuous Mist ModeZAQ SKY is BPA Free and Made of Safe, Health Friendly Materials. No Heat So its perfect for Kids and the Whole Family1 Year ZAQ Manufacturer's Warranty - If any problems please contact us and we will get it taken care of as soon as possible. Perfect Gift for Babies, Baby Shower, Christmas, Birthday
£32.57
Soothe the senses and improve air quality of any home with this ZAQ Dew LiteMist aromatherapy essential oil diffuser. The LiteMist technology disperses a mist of micro-particles, made from a blend of oil and water, into the air to help relax the mind and body. This aromatherapy diffuser has a humidifying effect that does not use heat, and the simple design has a decorative quality that adds to the look of any room. Use for aromatherapy Made of white plastic Power consumption: 12 W Voltage: 24V DC, 100-240V AC Operates for 4 hours and shuts of automatically Dimensions: 4.2 inches high x 7.1 inches round
$6.43
NATURAL AND ORGANIC: Made of 100% plant based oil and organic ingredients that is safe to use even on the most sensitive skin. No chemicals or alcohol that can harm your skin, safe to use every day for that invigorating feel all the time. MULTIPLE USES: It's not just a body and room spray, it can also be used in linens, car and even safe to use in your baby's room to freshen up its atmosphere. LOTS OF BENEFITS: This aromatherapy body spray is perfect to keep you relaxed and revives your body any time and anywhere. Refreshes and revitalizes your spirit to keep you on the go and hydrates your skin for that more youthful glow. VARIETY OF SCENTS TO CHOOSE FROM: Feel the summer mist even on cold winter days with our SUMMER FRESH scent. Smell fresh and natural like a breeze blowing through a summer garden. This spray is sunshine in a bottle all year long. MONEY BACK GUARANTEE: We love our customers more than anything else and we also believe in our product, so should you not be happy with your purchase feel free to contact us so we can arrange a replacement or give you a refund on your purchase.