Harmony Multi-colored Girls Essential Oil Diffuser Organza Interchangeable Necklace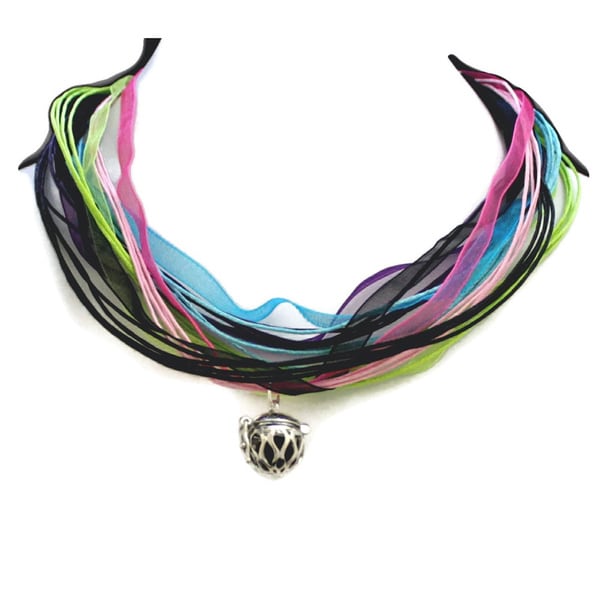 Look gorgeous while you bask in the convenience of portable aromatherapy with this unique diffuser necklace set. The silvertone diffuser locket pairs excellently with any one of the five vibrant organza necklace cords, which can be switched out to match any outfit. Just add a few drops of your favorite essential oil to the lava stone inside the locket and let the wholesome benefits of essential oil aromatherapy accompany you throughout the day. Features: Made of metal and organza Set includes lime green, pink, purple, black, and turquoise blue colored necklace bands Includes 3 10mm lava stones Ready to diffuse ...
Buy Now
$23.39

Related Products
$36.62
THZY Aromacare Oil Essential Aroma Diffuser Ultrasonic Air Humidifier Aromatherapy Mist Purifier LED light
$38.24
Electric Aromatherapy Ultrasonic Air Humidifier Essential Oil Diffuser
$56.49
For the perfect indoor climate day and night. This product is equipped with ultrasound humidification technology and two stage nebulization that helps prevent excessive dryness in your home. LED indicators show you the selected output. Place a few drops of your favorite aroma oils into the tray to disperse soothing fragrance around the room. High frequency vibrations release tiny drops from the surface of the water. The fan air flow transports the humidified air out into the room in a fine visible mist. This prevents excessive dryness, dry out damage to plants and furniture and static electricity. Night mode can be selected; this results in an extremely quiet operation and no LED light shining so that you can have the device in the bedroom and still get to sleep at night. The LED displays red and the humidifier switches off automatically when the tank is empty of water. The water reservoir plug can be removed by turning it counterclockwise. You then need to fill the tank with clean, cool water - the tank capacity is 67.6 fl. oz. (2L). Replace the plug and turn clockwise to secure. You should change the water regularly to ensure a fresh supply. Water filter optionally available for hard water. Simple operation by pressing the on/off button. The LED indicators show which mode the humidifier is operating on. Blue LED: High level of output 200 ml/h White LED: Low level of output 100 m/h Night mode with no LED: Low level of output 100 m/h Red LED: empty water tank Scented oils can be added to the aroma pad holder. Add a few drops of your favorite aroma scent onto the aroma pad. Replace the pads for each different scent. Never add oil directly to the water. 15 aroma pads are included. The modern design makes it a perfect fit for use in all rooms; living room, bedroom, kitchen, office, children's room etc. The device is suitable for a room size of 215 sq. ft.. Ultrasonic humidification technology helps to quickly and quietly disperse fine humidifying moist and prevent excessive dryness in the home The humidifier is equipped with an easily removable and refillable 67.6 fl. oz. tank that lasts for hours and automatically shuts off when tank is empty Adjustable nozzle to control the amount of mist, plus includes 15 aromatherapy pads to diffuse your favorite scents By using aromatic oils, the humidifier exudes your favorite fragrance and ensures a pleasant feel-good atmosphere in all rooms up to 215 square feet When using the beurer ultrasonic air humidifier and aroma diffuser, night mode can be selected so that you can have the device in your bedroom and still get to sleep at night With a sleek modern design, this humidifier is a perfect fit for use in all rooms; living room, bedroom, kitchen, office, children's room etc.