Silicone Slap Essential Oils Diffuser Sporty Red, Green, Blue Bracelets (Set of 3)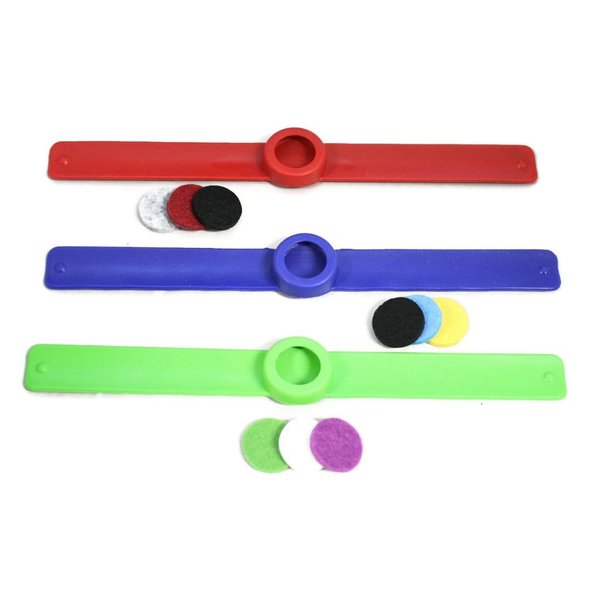 Looking for an inexpensive way to have your kids use essential oils at school? This is the solution. All kids love slap bracelets; this set is red, blue and green. You will receive each individually packaged, with three felt diffuser pads, so you can share with friends or keep for yourself. Features: Features: Made of plastic Handcrafted in the great state of Iowa 3 fabulous colors: red, purple, lime Each comes with 3 felt diffuser pads Aromatherapy on the go Dimensions: 7.5 inches long x 1.5 inches wide x 0.25 inches thick About the Manufacturer: Destination Oils ' ...
Buy Now
£15.59

Related Products
$39.89
Aroma Essential Oil Diffuser with 300ml Capacity and 30ml/h Output, New Wood Grain Cool Mist Ultrasonic Whisper-Quiet Humidifier with 7-Color LED Lights Changing and 4 Time Settings, Waterless Automat Color: Yellow
$33.47
Better Homes and Gardens Essential Oil Diffuser, Felicity:250mL reservoir lasts for up to 24 hours on intermediate settingHumidifies the air and enhances environment with aromatherapyUltrasonic vibration of the Better Homes and Garden oil diffuser releases a cool mistAutomatically shuts off when dry
$25.49
Displayed on a single rolo style chain, this cunning little bracelet made of 316L surgical grade stainless steel. It opens on the side and has a dual magnet closure, making it easy to remove the felt pad to add your favorite essential oils. Details: Material: Surgical Steel, Stainless Steel States: Iowa Exact Color: Silver Size: 7.25 inches Diffuser locket size: 1-inch circle (25mm) Pendant Closure: Dual Magnet Bracelet Closure: Lobster Clasp Included in package: Bracelet and three 17.5mm felt diffuser pads (assorted colors) Chain and Pendant Material: 316L Surgical Grade Stainless Steel Size: 7 or 7.5 inches triple wrapped as bracelet Dimensions: 22-23.5-inches as single strand necklace Included in package: Bracelet and three 10mm lava stones (assorted colors) Closure: durable snap, 3 positions Materials: Leather, wooden beads and quality cotton cord, rhodium plated diffuser locket Length: 18 inches with 2-inch extender Diffuser pendant size: 1.2-inch circle (30mm) Chain Material: Cowhide, black Pendant Material: Stainless Steel Included in package: Necklace and three 22mm felt diffuser pads (assorted colors) Story Behind the Art: Welcome to Destination Oils. My name is Kara and I am the owner of Destination Oils, a small essential oil business located in Iowa. We want to bring great, high quality essential oils and unique aromatherapy jewelry to the online marketplace. Our oils are 100-percent pure, therapeutic grade with no fillers, preservatives, or chemicals. Just oil. The best quality for a great price. How to Use: Open the pendant and remove felt insert. Add 2 drops of your favorite essential oil (or 1 drop of a few different oils to make a custom blend) to the reusable felt pad. Let it absorb for a few seconds, reassemble necklace and enjoy the aromatherapy benefits on the go.