Silicone Slap Essential Oils Diffuser Sporty Red, Green, Blue Bracelets (Set of 3)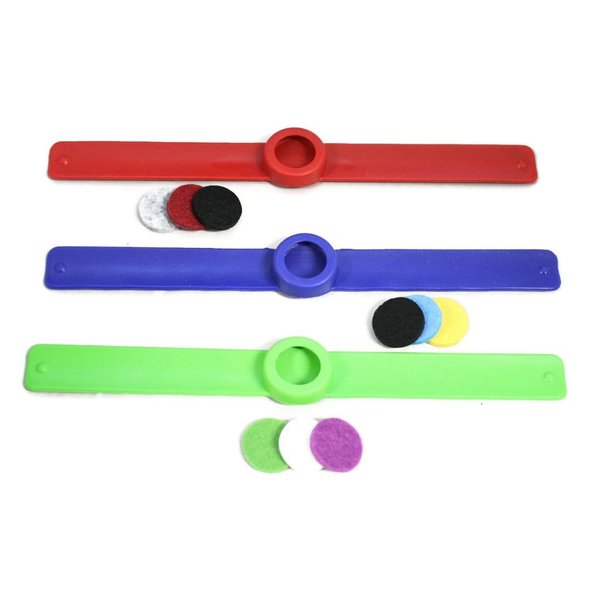 Looking for an inexpensive way to have your kids use essential oils at school? This is the solution. All kids love slap bracelets; this set is red, blue and green. You will receive each individually packaged, with three felt diffuser pads, so you can share with friends or keep for yourself. Features: Features: Made of plastic Handcrafted in the great state of Iowa 3 fabulous colors: red, purple, lime Each comes with 3 felt diffuser pads Aromatherapy on the go Dimensions: 7.5 inches long x 1.5 inches wide x 0.25 inches thick About the Manufacturer: Destination Oils ' ...
Buy Now
£15.56

Related Products
$25.99
Let your inner animal-lover shine with this adorable stainless steel oil diffusing pendant necklace. Designed to take the remarkable, therapeutic effects of essential oils with you wherever you go, you'll love the charming paw-print design and easy magnetic closing mechanism. Sport this superb, aromatic accessory on the included black cowhide leather chain and let the benefits of essential oils be your constant companion. Features: Made of sterling silver, stainless steel, and cowhide 3 Paw-print design Includes pendant and 18-inch cowhide cord Pendant measures 1.2-inches in diameter About the Manufacturer: Welcome to Destination Oils. My name is Kara and I am the owner of Destination Oils, a small essential oil business located in Iowa. We want to bring great, high quality essential oils and unique aromatherapy jewelry to the online marketplace. Our oils are 100-percent pure, therapeutic grade with no fillers, preservatives, or chemicals. Just oil. Pure and Natural- Essentials You Can Trust. Essential oils not included
$34.99
SCENT YOUR SPACE AND SERENADE YOUR SENSES Relaxation in a Bottle Clean and invigorating, our Classic Breeze fragrance reed diffuser fills your space with an enchanting scent that is beautifully-balanced to make an inviting impression without being overpowering. And our fresh fragrance doesn't just smell amazing, it also treats you to authentic aromatherapy properties that you'll love. Classic Breeze improves your mood, helps you relax, and creates the ideal environment to melt stress away and shed fatigue. Uncompromising Quality We take great pride in giving you products for your home created with impressive quality in mind. That's why we've combined high-grade essential oils with premium packaging to create a reed diffuser stands out. Our oils are VOC & CARB compliant and completely free of alcohol, parabens, or phthalates. And the reed diffuser kit comes packed in a lovely gift box that eliminates the hassle of gift wrapping. If you're looking for a perfect present to crown a housewarming, anniversary, birthday, or the holidays, this premium spa reed diffuser will be a total hit. Here are more reasons to love our non-toxic reed diffuser: - Comes in a large 6oz. bottle that lasts over 4 months. - Beautiful glass bottle blends into just about any decor. - Very easy to use; doesn't need any electricity or flame. - The intensity of the scent can be easily adjusted by adding or removing sticks. - Diffuser sticks are made using fiber for superior diffusing action. - Backed by our 100% customer satisfaction guarantee. Click 'Add to Cart' now for a home fragrance reed diffuser that smells great, lasts longer, and treats you to genuine aromatherapy benefits!
$50.89
Viva Naturals Aromatherapy Essential Oil Diffuser - Vibrant Changeable LED Lights, Soothing Mist & Oxygen, Automatic Shut Off